by Robert A. Scott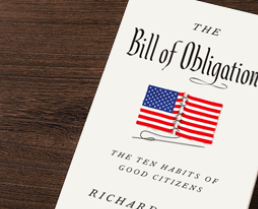 Dr. Richard Haass, who holds the rank of Ambassador, recently stepped down after twenty years as President of the Council on Foreign Relations, the foremost think-tank on international affairs. A specialist in national security who helped negotiate the Irish peace accords, for which he earned the 2013 Tipperary International Peace Award, Haass has served in the Department of State, in the Department of Defense, and as special assistant to President George H. W. Bush.
This precis of his career is relevant to this book because, as an expert on U.S. national security, he has been asked about the greatest threat to our nation. Increasingly, he has said that the greatest threat to our security is not from a foreign adversary but from internal conflicts. He even references the "Troubles" in Ireland as a possible future for us.
Our democracy is not working because our citizenry does not know how it is supposed to work. We do not teach civics, and Haass wants us to do so. His book is a call for civics education in the national interest and a suggestion of topics to teach. At a minimum, his book should be required for high school and college students and all those studying to be teachers.
During my 30 years as a university president, I often said that a college education is as much about character and citizenship as it is about careers and commerce. Of course, the challenge was how to do this. In what ways should and can a private or public college or university foster good character and active citizenship? In some quarters, these efforts are called "woke" or politically inspired. It seems that most public schools gave up on teaching civics long ago. Add to this is the fact that colleges are encouraged to emphasize career preparation through degree programs based on professions.
Well, here is a book that helps answer these questions and guide the development of programs, services, and activities to prepare informed and effective citizens. "The Bill of Obligations" is a valuable starting point.
The book starts with a discussion of "rights," especially those enumerated in the first ten amendments to the Constitution, the Bill of Rights of 1791. These were adopted as a matter of compromise negotiated to bring the Constitution forward. But with rights come responsibilities. These are the obligations enumerated in the second part of the book.
Haass quotes Patrick Henry's famous phrase, "Give me liberty or give me death," to emphasize the priority given to rights. The book describes these rights and provides context for how they are used, and often misused, for parochial rather than public interests. These include the four freedoms of religion, speech, press, and assembly. They also include petitioning the government; the Second Amendment, so greatly misunderstood about the meaning of militia and citizens bearing arms; unwanted quartering of soldiers; unreasonable searches and seizures; and other legal protections, including double jeopardy, due process, witnesses, and testifying against oneself, the 5th Amendment. For each, he provides examples and explanations.
Reading this first half of the book is a reminder of the various ways people have cited their "rights" and "freedom" to engage in all manner of selfish activities. Consider the promotion of false data and other misinformation, protecting the possession and use of guns that have no role in a community or neighborhood, and protesting government actions to implement the rule of law. These people emphasize freedom "to" rather than freedom "from." Haass discusses how our focus on rights, freedom "to," has led to a "Democratic Deterioration," a decline in common cause.
The second part of the book is an innovative approach to the responsibilities or habits of good citizenship that ought to accompany rights. It is an interesting attempt to enumerate ten obligations or requirements, ten norms, for citizens to follow.
The ten are basic and should not be controversial. "Be informed" and "get involved," such as voting. Simple, yes, yet both take work. We must be vigilant about sources of information to be informed with accuracy. The demands of jobs and family can make it difficult to get involved in community affairs. We certainly experience attempts to limit voting.
He advises us to "stay open to compromise" and to "remain civil," both challenging in these times of divisive politics and partisan media. Furthermore, he urges us to "reject violence," "value norms," and "promote the common good." These are basic expectations, but we must remind people of them. Think of the January 6th insurrection. He then urges us to "respect government service," "support the teaching of civics," and "put country first." For this, he quotes President John F. Kennedy's inaugural admonition to "ask not what your country can do for you — ask what you can do for your country."
In saying this, Kennedy was not denying the role of government in providing defense, schooling, diplomacy, and a social safety net. Instead, he was emphasizing the role of citizens in helping make government work for all through active participation, including protests such as those against the Vietnam War.
These ten obligations should be habits. They should be taught at the dinner table, in school and college, in religious institutions, and in the media. They are not partisan or parochial; they are humane and universal.
Each obligation is discussed with historical examples and quotations that add to the breadth and depth of the book. The final section of the book is entitled "Where to Go for More," which he says could just as easily could be called, "How to Become and Remain an Informed Citizen." It is a compendium of classics such as "The Federalist Papers" and newer books such as Jill Lepore's "These Truths," and texts on the American experiment in democracy. Some are focused on a particular period in our history or on a theme or a president. Others, such as Tocqueville's "Democracy in America," are foundational in scope and sweep. They also include Supreme Court cases and select online sources on civics, including free classes.
In sum, this is a lively and informed lesson plan on being an engaged citizen of the United States. I am better informed for having read it.
A Rhodes Scholar, Dr. Haass was also awarded the Presidential Citizens Medal. He is the author or editor of sixteen books, including "The World: A Brief Introduction," another book suitable for required reading.