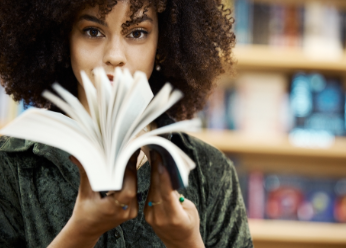 PeopleImages.com – Yuri A/ Shutterstock
The "Campus Novel" has become a popular subgenre — recommendations for books like "Prep," "A Separate Peace," and "The Secret History" are all over social media — for those looking to experience or recapture the undeniable sense of excitement that comes with the start of a new academic year. For many of us working in higher education, this excitement is something that we get to experience vicariously each year as we welcome the new students to campus, but the transition from the empty campuses of summer to the bustling class can sometimes feel abrupt. Today, I'm offering five recommendations for campus novels that focus on the experience of working in higher education to help you get back in the swing of things — even if you're not currently working in higher education, don't worry; the novels on this list will still enthrall you. So grab a steaming cup of tea, curl up in your favorite reading nook, and prepare to lose yourself in these compelling stories.
1. "Dear Committee Members" by Julie Schumacher
Told in a series of letters from Jay Fitger, a (increasingly beleaguered) creative writing and literature professor, to his colleagues, his students' potential employers, his department chair, and his school's president, "Dear Committee Members" is a hilarious journey through the life of an academic. Through the letters, we learn about Jay's struggles to appease his ex-paramours (all colleagues of his), his attempts to stop one of his mentee's downward spiral, and weary determination to protect his department from shuttering under financial constraints. His gripes about the defunding of his department in favor of other programs, his frustration with the management of the school, and his willful refusal to submit online letters of recommendation will feel familiar to anyone who works in academia and will have you alternately rooting for Jay and rolling your eyes at his antics.
Memorable quote: "And to begin this recommendation on the proper footing: no, I will not fill out the inane computerized form that is intended to precede or supplant this letter; ranking a student according to his or her placement among the 'top 10 percent,' 'top 2 percent,' or 'top 0.000001 percent' is pointless and absurd. No faculty member will rank any student, no matter how severely lacking in ability or reason, below 'top 10 percent.' This would be tantamount to describing the candidate in question as a witless beast. A human being and his or her caliber, intellect, character, and promise are not reducible to a check mark in a box."
Read if: You just generally need a good laugh, or your department is going through budget cuts.
2. "Confessions of the Fox" by Jordy Rosenberg
Structured as a story within a story, "Confessions of the Fox" begins with Dr. R. Voth, (a professor at a New England college known only as The University) discovering a collection of papers in his school's library that prove to be the confessions of 18th-century thief Jack Sheppard. In Sheppard's confessions, he reveals that he is a transgender man; through Dr. Voth's commentary in the margins, we learn that he, too, identifies as a transgender man. Sheppard's confessions go on to recount his romance with his partner-in-crime, Bess, and their subsequent crimes, and through Dr. Voth's increasingly personal commentary, we see the resonances between Sheppard's time and our own.
Memorable quote: "Although eighteenth-century usage of 'fox' indicated a man, now, of course, 'fox' broadly denotes a fetching individual of whatever gender. Perhaps 'fox' has transited through underworld patios? After all, one of the first things lost in translation is the apparent fixity of gender… This seems a marvelous loss. Perhaps 'fox' has emerged, ungendered, from the embrace of early modern rogues to signify simply an object of desire. An endearment. Rather: an enfoxment."
Read if: You loved Nabokov's "Pale Fire," or you wish there was more diversity in historical fiction.
3. "Galatea 2.2" by Richard Powers
An oddly prescient novel in the era of ChatGPT, "Galatea 2.2" follows Richard Powers (the narrator shares a name with the novel's author), a humanist in residence at the Center for the Study of Advanced Sciences, as he tries to teach a computer program to pass the comprehensive exams in English literature. As Richard engages more and more with "Helen," the computer program learns to appreciate and analyze literature, art, and culture, and Richard's feelings towards his task and his mechanical protegee grow deeper and more complex. Through the novel, Powers explores profound themes, including the nature of consciousness, the boundaries of artificial intelligence, the relationship between humans and machines, and the role of literature and art in our lives.
Memorable quote: "Speech baffled my machine. Helen made all well-formed sentences. But they were hollow and stuffed–linguistic training bras. She sorted nouns from verbs, but, disembodied, she did not know the difference between thing and process, except as they functioned in clauses. Her predications were all shotgun weddings. Her ideas were as decorative as half-timber beams that bore no building load."
Read if: You love Pygmalion retellings, or ChatGPT has sent you into existential crises.
4. "Admission" by Jean Hanff Korelitz
"Admission" is centered around Portia Nathan, a highly regarded admissions officer at Princeton University with a keen eye for identifying promising candidates and a passion for shaping the future of the institution. Portia's structured and predictable life takes an unexpected turn when she is tasked with visiting a progressive New Hampshire high school, where she encounters the exceptionally bright Jeremiah. As she gets to know Jeremiah, she begins to suspect there might be a connection between him and her past, triggering a series of events that unravel long-buried secrets from her own time in college. "Admission" raises thought-provoking questions about privilege and ambition, making it a thought-provoking read on the sometimes murky process of gaining entry into the Ivory Tower.
Memorable quote: "They were soft-centered, emotional beings wrapped in a terrified carapace, that even though they might appear rational and collected on paper, so focused that you wanted to marvel at their promise and maturity, they were lurching, turbulent muddles of conflict in their three-dimensional lives…the creative ones were desperately afraid they were talentless, and the intellectuals deeply suspected they weren't brilliant, and that every single one of them felt ugly and stupid and utterly fake."
Read if: You like a good mystery or grapple with the ethics of highly competitive admissions processes.
5. "Straight Man" by Richard Russo
"Straight Man" follows William Henry Devereaux Jr., a middle-aged English professor at the fictional West Central Pennsylvania University who finds himself thrust into a series of comical and absurd situations (notable moments include our hero threatening to strangle a goose on television if he doesn't get funding for his department) as he navigates the eccentricities of university life. Faced with a plague of rumors around budget cuts, new hires, and a purge of tenured faculty members, the English department is worked into a veritable frenzy as each faculty member struggles to advance their own agendas and secure their jobs. Devereaux, who is acting as interim chair of the department, takes on the role of the eponymous 'straight man' as he struggles to navigate the chaos of academic politics and the bizarre behavior of his colleagues.
Memorable quote: "Common sense efficiently disposed of, endless discussion of the three remaining candidates ensued… No one seemed able to recall what had attracted us to these three candidates in the first place. I doubted, in fact, that we ever were attracted to them. They represented what was left after we'd winnowed out the applications that were personally threatening. To hire someone distinguished would be to invite comparison with ourselves, who were undistinguished."
Read if: You're a fan of satirical literature, or you've sat through one too many committee meetings this week.