Witness Ireland through the eyes of Student Ambassador Dana Deleon: A captivating journey of culture, landscapes, and unforgettable moments.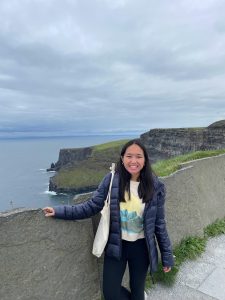 Hi friends, my name is Dana and I am studying at the University of Galway in the Digital Marketing master's program! I am from Texas, in the United States. Galway is such a beautiful place, and I am eager to share my experience as an international student. Hopefully, I can help you learn more about Ireland through an American perspective.
These are just a few of my thoughts after spending five months here. Feel free to let me know what you think down below or message me on Instagram at @danaadominique! 
Irish weather is always changing 
One minute you look out the window, and it's pouring rain, the next it's bright and sunny. My tip: invest in a good raincoat. You want one that is waterproof, so you'll stay nice, warm, and dry. 
Another thing, the temperature is fairly mild in Ireland compared to Texas. Fall weather stays in the 50s and 60s Fahrenheit (10 to 16 Celsius). While winter dips to 20s Fahrenheit (-6 Celsius), so pack accordingly.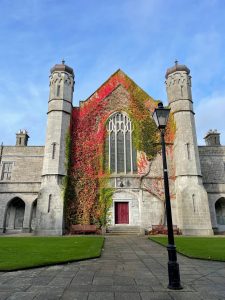 Transportation is different 
Back home, I come from a town where I drove my car to go to the grocery store or to meet with a friend, but in Ireland I've adjusted to taking public transportation. 
Riding the bus is fairly simple. As students, we have access to student pricing and if you apply for a TFI Leap Card: you just tap and hop on. Also, most people just walk around town. Galway is a walkable town, be prepared to have your raincoat with you in case of random rain showers. Ireland in general is a safe country, so remember to have lots of fun but don't go too late and be careful. Other ways to get around include taxis and biking!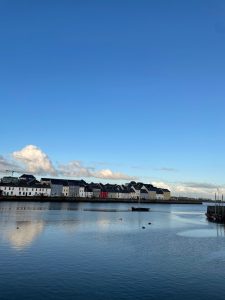 Dining plans don't exist here 
At my undergraduate university back in the United States, we had dining halls and a food court to buy food on campus. However, universities in Ireland do not offer meal plans, rather The University of Galway has An Bhialann (a canteen) and cafés around campus that offer affordable meals, snacks, and coffee for those long study sessions that won't break the bank. 
Co-ed housing is the norm 
Your flat mates (aka roommates) will be males and females. Back in the States, student housing is normally separated but in Ireland it is normal for student accommodation to be mixed. We're all adults here. You learn to get along and it's good fun, or good craic as the Irish like to say! 
Please make sure to clean up after yourself and remember to clean the lint out of the dryer. If you need any help, just ask your roomie or call your mom, make sure to check the time zone before you call home. 
 Making friends isn't as hard as you think it will be 
Whether you're in an undergraduate or a post graduate program, you'll find your people, even if it might take some time. I'm used to Southern hospitality being from Texas, but the Irish are just as nice and so friendly. Your course mates might be Irish or other international students, hopefully you'll meet people from all over the world. 
You will get homesick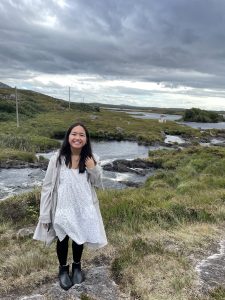 I get it, you're all alone in another country, all the way across the pond, in a town you might have never been to before. Learn to count on your new friends. You can always call home and tell your friends and family about the exciting courses you're taking. Homesickness comes and goes, but just imagine all the memories you'll make and the fun you'll have, if you put yourself out there.   
Traveling around on the weekends is super easy 
Why your homesickness ever gets to be too much, hop over to another country, and remember why you decided to study abroad – to see the world and learn about other cultures! 
I usually take a bus from Galway to Dublin and either take a train across Ireland or hop on a Ryanair flight to see more of Europe. My Top 3 trips have been to the Cliffs of Moher in the East of Ireland, Belfast in Northern Ireland for the Giant's Causeway, and a weekend trip to Italy which was truly iconic. 
No matter if you're in Ireland for just a semester or for your whole degree, you'll come to learn that Ireland is definitely worth the trip for the good craic and friendly faces you meet along the way!  
Dana is studying at University of Galway