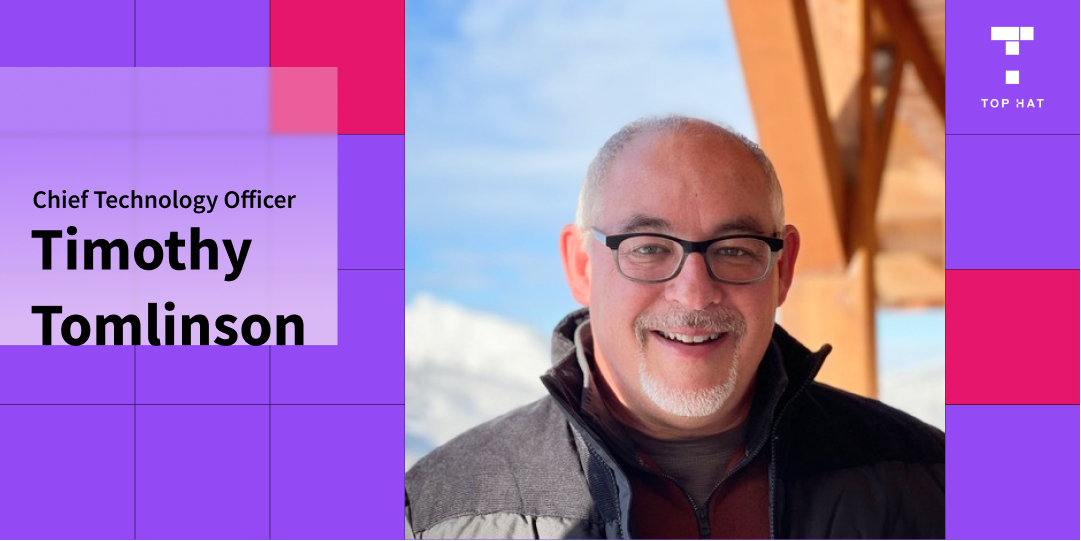 A transformational leader of product and technology teams, Tomlinson's deep knowledge of the education technology landscape will be indispensable in advancing Top Hat's growth and innovation strategy
TORONTO – November 23, 2022 – Top Hat, the leader in student engagement solutions for higher education, is delighted to welcome Timothy Tomlinson as Chief Technology Officer. Tomlinson brings extensive executive experience having led product and technology teams at Blackboard, one of the largest educational technology companies in North America. Tomlinson's record of driving transformation and sustainable value creation will be instrumental in supporting Top Hat's efforts to deliver personalized, engaging, and equitable learning through next generation educational technology. 
"As we transform the learning experience for millions of students across North America, Tim is exactly the technology leader we need to increase the reach and impact of Top Hat," said Joe Rohrlich, CEO of Top Hat. "From engagement across Higher Ed institutions to discipline-specific solutions, this appointment reflects our commitment to delivering the innovation our institutional partners need to improve student engagement, retention and outcomes at scale." 
Tomlinson brings more than 15 years of senior executive experience in the educational technology industry. He most recently served as Blackboard's Chief Product and Technology Officer, a role that included guiding the company's global technology organization. A proven leader of product and technology teams, Tomlinson spearheaded multiple M&A initiatives along with the transition of Blackboard's technology portfolio to SaaS and public Cloud technologies. As a champion of education as a pathway to opportunity and personal development, Tomlinson has also served on the Executive Committee of the Technical Advisory Board for the IMS Global Learning Consortium. 
"I'm thrilled to join an organization whose mission is so closely aligned with my belief in the power of technology to serve as a force for good in student learning," said Tomlinson. "Top Hat has had a remarkable journey and I look forward to helping write the next chapter with a customer experience that creates meaningful impact for students, faculty and institutions alike."
About Top Hat
As the leader in student engagement solutions for higher education, Top Hat enables educators to employ proven student-centered teaching practices through interactive content, tools, and activities in in-person, online and hybrid classroom environments. To accelerate student impact and return on investment, the company provides a range of change management services, including faculty training and instructional design support, integration and data management services, and digital content customization. Thousands of faculty at 750 leading North American colleges and universities use Top Hat to create meaningful, engaging and accessible learning experiences for students before, during, and after class.
Contact
Top Hat
Eric Gardiner
eric.gardiner@tophat.com