by Daniel B. Griffith, J.D., SPHR, SHRM-SCP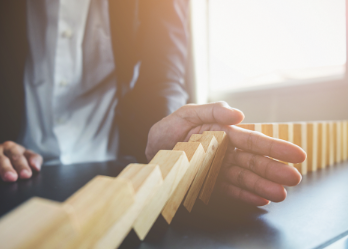 MIND AND I/Shutterstock
Are we always responsible for the "impact" of our words and actions on others? Do we bear some responsibility for our perceptions and reactions to another's words and actions, or does "intent" simply not matter? These questions arise in the ongoing debate about "intent vs. impact" – a debate suggested by the "vs." in between, as though "intent" and "impact" must inherently be in conflict.
"Intent" is the desire or motivation behind an action or what we hope to achieve by acting in a certain way. In conversation, it's the message we hope to convey. How our actions or words are received or perceived, of course, may be different than what we intended. This is "impact," or the effect our words and actions have on another or a community.
"Intent v. Impact" is the common parlance used in guidance involving equity and fair treatment concerns, such as sexual harassment, discrimination, bias, and interpersonal and workplace interactions. The teaching is that it's not the intent behind our words and actions that matter, but how our words and actions impacted others. Our intent becomes problematic if our words and actions caused another harm or are perceived to have done so. It is why "I didn't mean it that way," "it was just a joke," and "you're so sensitive," among others, are losing defenses against allegations of inappropriate conduct.
This is sensible, but taken to the extreme, emphasis on "impact" can be used to wholly discount the intent behind someone's words and actions, no matter how reasonably and thoughtfully conveyed, and ignore the nature of the impact, no matter how unreasonably or thoughtlessly perceived. Your intent doesn't matter. If the recipient was hurt, they were hurt, end of story.
This view removes responsibility for how we perceive others' words and actions. It can foster a blaming perpetuator/victim mentality that may be understandable for cases of clear misconduct, but becomes problematic for everyday interpersonal interactions. It also creates doubt for actors who legitimately feel they aren't responsible for recipients' feelings, especially erroneous ones, nor owe an apology when they've done nothing wrong. One argument asserts that blanket acceptance of "impact" fosters its own form of bullying where anything an actor says or does is subject to punishment. This raises the potential for chilling speech. Further, as noted by Jonathan Haidt and Greg Lukianoff in The Coddling of the American Mind: How Good Intentions and Bad Ideas Are Setting Up a Generation for Failure, implicit institutional messages that intent doesn't matter fosters "feelings of victimization, anger, and hopelessness [where students] come to see the world — and even their university — as a hostile place where things never seem to get better."
This debate is unnecessary. We can bridge this divide and communicate in ways that avoid "intent v. impact" confusion. Consider these suggestions:
Seek congruence in your actions and messages. Communication 101 teaches us that the total message we seek to convey involves more than words, but how our words are conveyed by non-verbal language (body language, etc.) and para-verbal language, or the emphasis placed on words (grunts, groans, tone, verbal modifiers, etc.). We are responsible for this total message, so we must take care to ensure that what we wish to say is conveyed in a way that has the best chance of being received as intended. Misunderstandings will occur, but others will quarrel less with our intent if we are more conscious about how we communicate our message.
Assume positive intent as the recipient. While some communicate with ill intent, more often we simply wish to get along with others as we share information, ask a question, clarify a misunderstanding, or engage in other interactions facilitated through communication. Recall when you've felt misunderstood and what it took to achieve clarity with the other person so you could proceed with a more productive exchange. Give this same consideration to others as they seek, and sometimes struggle, to have you understand.
Be curious. When you realize someone doesn't understand your message, be curious about where misunderstandings lie. Have you omitted important details? Are you mindful of your body language? Have emotions gotten in the way, causing you to feel distressed or anxious or to act in ways that create discomfort or confusion in the other person? Is the problem you or is the person choosing to misunderstand, misinterpret, or play some other game? Curiosity about the disconnect will help you identify the breakdown so you can address it.
As recipient, perhaps the other person said something hurtful, distressing, or off-putting. Was this deliberate, or has the speaker misjudged the context, misjudged you, or simply come across as awkward, nervous, or lacking in skills to manage the communication process more effectively? Your curiosity will help you identify how or why they spoke or acted as they did before you overreact and draw unfounded conclusions.
Combine curiosity with inquiry. As speaker, when it becomes clear the recipient has misunderstood you, avoid defensiveness and inquire about what caused the misunderstanding. For example, ask, "Is there something I said that is making you uncomfortable?" or "Can you help me understand what I've said that has created this [discomfort, confusion, etc.]?" Affirm that you'd like to understand, so you can have the chance to correct the matter and, if needed, apologize.
Conversely, if you are uncertain about the speaker's message, inquire about its basis. You might ask, "Can you tell me more about why you feel that way?" Or state, then ask, "You know there is something you said a minute ago that I'm not sure about; could we take a moment to talk about it?" If the speaker reverts to defensiveness, and if you feel comfortable, add a challenge, such as, "It's just that what you said could be taken different ways, and I want to be sure you didn't mean to say [x]. Do I have reason to be concerned?"
Check your reactions. Sometimes a difficult message received is the precise message intended. Your manager wants to address a performance issue, or a loved one seeks to express serious concerns about your relationship. The message calls you to evaluate your reactions. One approach is to respond with defensiveness and accusations of your own. A better approach is to assess whether there is truth behind the message, no matter how poorly delivered, and determine what actions you must take to respond. Avoid knee-jerk responses that the speaker's "impact" is all that matters. Beneath these messages, you might learn something that will benefit you.
Take ownership. When harassed or bullied, we shouldn't accept excuses of "intent." But claiming that "impact" is all that matters, no matter how benign the interaction, says less about the speaker than the recipient who fails to own their reactions. Conversely, the speaker who takes no responsibility for their message because they don't care or believe free speech allows them to spout off indiscriminately, shouldn't wonder why their messages aren't received well. We can overcome the "intent vs. impact" debate if we are mature and take responsibility for our actions and reactions in the communication exchange.