by Dr. Meseret F. Hailu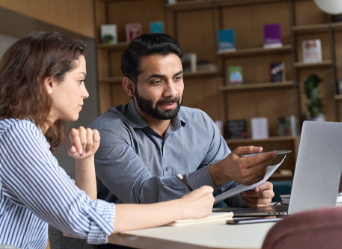 Ground Picture/Shutterstock
Over the past few years, I have had the privilege of engaging in collaborative social science research with colleagues and students from a range of disciplines, ranging from economics, ethnic studies, public administration, and of course, education (including sub-disciplines such as higher education, teaching and learning, education leadership and policy studies, and engineering education). Having written nearly 20 peer-reviewed articles, as well as book chapters and other scholarly products, I have learned a few key features about team-based research and collaborative work: the need to clearly define roles and goals, the value of multiple levels of feedback, and the value of breaking up large writing goals into discrete tasks.
Define Roles and Goals
Often, clarifying roles and goals from the outset can seem like it is counterintuitive to the collectivist ethos of many of our intellectual communities. For example, having a conversation about authorship order right at the outset might feel uncomfortable because the person who ends up being the first author might come off as overly forceful or ambitious. Similarly, identifying a target journal right away might appear to be careerist. However, having this sort of clarity right away helps focus conversations and keeps us from pursuing an ever-shifting goal post. Identifying a target journal is akin to identifying a target "home" for the project, which can help researchers better tailor their writing and communicate their ideas effectively to their intended audience. Additionally, clarifying these roles at the very beginning helps individuals identify when they do not actually have shared visions for their work. A very early discussion about roles and goals can help researchers from embarking on a partnership that will ultimately be unsuccessful. The more that can be clarified early, the better.
Take Advantage of Various Levels of Feedback
It is valuable to build in multiple levels of feedback. At my institution, Arizona State University, faculty are very fortunate to have an in-house team of editors through ASU Knowledge Enterprise. This means that before submitting a journal article, I have the support of experts who provide developmental and technical feedback for my work. This feedback time also gives each of my collaborators downtime to go work on other tasks and a moment to step away from the piece. Stepping away from a manuscript for a few days and coming back to it can allow us to assess its strengths and limitations more clearly.
Break Up Goals into Smaller, Achievable Tasks
I find it important to also break up large writing tasks into discrete tasks that can be completed regularly (i.e., daily, weekly, bi-weekly) and within the target end date for the project. For example, instead of agreeing to complete a draft of the manuscript by the end of the month, two co-authors may break up which section of the paper (e.g., methods, findings, discussion) to complete. This approach helps to more accurately estimate how long a task will take. Borrowing language from the National Center for Faculty Development and Diversity (NCFDD), this requires that each of our writing tasks needs to "meet our calendar." Additionally, doing this enables collaborators to have a sense of accomplishment that might provide momentum to finish the project. At the same time, having a target date for the conclusion of the project keeps collaborators from losing their steam or feeling like the project is eclipsing other priorities.
To be sure, there are many factors that may impede the implementation of these strategies. For example, faculty at teaching-intensive institutions or with limited external funding may not have the time or capacity to engage in long-term collaborative research or writing. Oftentimes, these individuals do not have the time and financial resources required. For graduate students, applying these tips might not be as feasible given the potential power dynamics among co-authors, especially when collaborating with faculty members who have more power. For individuals with these contexts, it might be helpful to work with peers who have similar external realities and commitments (i.e., graduate students collaborating with other graduate students and determining if these strategies work for them).
In addition to these suggestions, there are many excellent existing resources on academic publishing and writing, especially "Writing Your Journal Article in Twelve Weeks: A Guide to Academic Publishing Success" by Wendy Laura Belcher and "How to Write a Lot" by Paul J. Silvia. I share these lessons with others because for me, writing with people I respect and care about also provides a built-in time to check in with each other and stay updated on one another's lives. In this way, collaborative writing is not just a way to advance my career, it gives me a way to keep up with colleagues who are also often become my friends. Thus, making the process of collaborative writing and research as smooth as possible is a worthwhile endeavor.