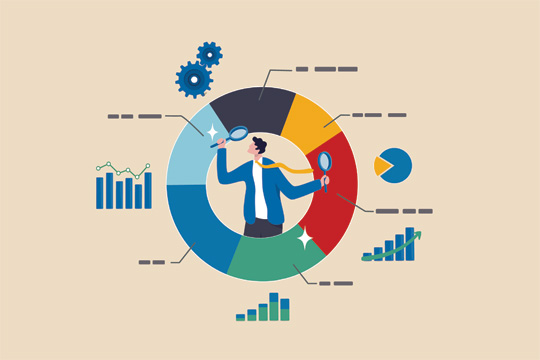 It is beneficial to see the big picture of student satisfaction for the total population you serve. But you may want to consider taking your data review a step further by data slicing on key demographic variables to clarify the picture for you when it comes time to targeting initiatives. I had a client once say to me: "When we just look at the data at the aggregate level, we don't know how to move forward so we get stuck. We need to dive deeper into the subpopulation data to be able to identify specific initiatives."
So yes, the data slicing is valuable but the caution here is to be careful not to get sucked down a rabbit hole, trying to slice and dice the data every which way. Too much data can become overwhelming and paralyzing instead of motivating to take action to improve the student experience. So what are the most important data variables to isolate your student satisfaction results by and how can the different data elements inform campus decision making? 
Recommended data slicing
The dashboards in the RNL Client Portal allow institutions to analyze their student satisfaction data by all of the standard and campus-defined demographic variables. But which variables are most critical to look at first? Here are my recommendations:
Class level: At four-year institutions serving undergraduate students, my first recommendation is to slice the data by class level. By understanding the strengths (high importance and high satisfaction items) and challenges (high importance and low satisfaction items) for first-year students separate from sophomores, juniors, and seniors, you can provide campus support services accordingly, communicate better around course access issues and assist students with moving through their educational experience successfully. Focusing on the perceptions of first-year and second-year students can help improve your retention. Efforts with your seniors can best position you to maintain engagement with them as alumni. 
Class load:  For two-year institutions, this data slice may be more valuable than by class level in order to see different perceptions of full-time and part-time students, especially with course access, availability of services, and financial aid assistance. 
Campus-defined majors/programs: The RNL surveys allow for an unlimited list of majors or programs defined by the institution. This is a powerful way to review the results since clear differences in student perceptions can be documented. Faculty and deans may also be more interested in looking at results for just their students rather than viewing the data for the institution as a whole. For example, when you can show the Nursing faculty that students in their program are concerned with faculty providing timely feedback or the lab equipment, more immediate action can be taken rather than trying to implement improvements across all programs on campus. The data can also be used for program-specific accreditation requirements. 
Campus-defined demographic items: The RNL surveys also allow for two additional campus-defined demographics, which are anything else demographically that would be of value for the institution to know about their population. For example, many campuses use these items to have students identify the campus location where they take the majority of their classes or to self-report if they are student-athletes or first-generation students. With data slices in any of these areas, appropriate follow-up can be implemented that will be especially relevant for your institution. 
These are the four areas that I recommend as priorities for slicing the satisfaction-priorities results. In addition, other standard demographic items can provide direction for targeted initiatives. These include data slicing by race/ethnicity, age, gender, residence classification etc. These may be data reviews you do as requested or as time permits as you continue to work with your data between survey administrations, which typically take place once every two years to stay current on student perceptions. 
We have additional considerations and guidelines for reviewing data slices on our SPS Client Resources site in the newly published SPS Use and Share Guide.
Ways to review your data
The data slices provided by RNL are available in three different formats, depending on what you are trying to understand about your student population. The various options allow you to see where students in one population may be more or less satisfied than students in another population. For example, your full-time students compared with your part-time students. The reporting also allows you to compare with the same demographic population nationally, such as your part-time students with part-time students at two-year colleges in the national comparison group. One other great feature of the reporting is the ability to see strengths and challenges specific to the identified demographic population. This allows you to better target improvements. For example, you can create an Excel spreadsheet like the example below to compare and contrast identified issues.
| | | | | |
| --- | --- | --- | --- | --- |
| ITEM | FULL-TIME | PART-TIME | DAY | EVENING |
| I am able to register for classes with few conflicts. | Strength | Challenge | Strength | Challenge |
| The campus is safe and secure for all students. | Strength | Strength | Strength | Challenge |
| This institution helps to identify resources to help me finance my education. | Challenge | Challenge | Challenge | Challenge |
This view gives you a better idea of how to tackle the concerns identified by students with targeted efforts for specific student populations. 
Understanding demographic variable trends
Through our national data analysis, we have discovered that certain demographic subpopulations tend to have higher satisfaction scores. These include:
Females
First-year students
Students who are 25 years of age and older
Students attending their first-choice institution
Students enrolled primarily online rather than in online programs while also attending classes on campus
You may want to conduct your own analysis with your student responses to see if these trends hold true on your campus as well. This perspective is also important to keep in mind as you compare your student satisfaction levels with the national comparison group results. If you have more or fewer students in any of the populations identified above, it may have an impact on your overall satisfaction scores. 
Final thoughts
Are you ready to think about taking your student satisfaction analysis to the next level or conducting an assessment for the first time? Contact us to discuss the options for making the most of your investment. Your students want to share their feedback and the tools from RNL can help you capture this information and analyze it in ways that will provide the most meaning and value for your institution. 
Complimentary consultation on student satisfaction assessment
Talk to our satisfaction assessment experts about how you can easily implement the survey on your campus, including when is the best time to survey and how to get strong completion rates.