by Monika Sziron, Ph.D.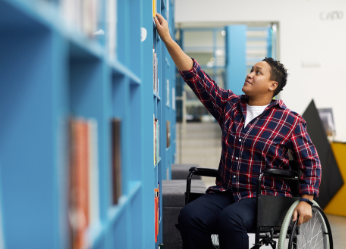 SeventyFour/Shutterstock
In episode 37 of the HigherEdJobs Podcast Kelly and Andy meet with Hira Byrne Paulin, a certified rehabilitation counselor and community college professional to talk about disability services on campus.
Byrne Paulin discusses the myths that hover around disability services on campus, "…one of the first and biggest myths that we see in disability services for students is [that] they think the only people that we serve and work with are those with learning disabilities. When in fact, we actually support the full spectrum of disabilities to include those with mental health, chronic health conditions, physical, visual, deaf and hard of hearing, neurodivergent. Disability services is not solely learning disabilities. It is all disabilities."
Another misconception "…is that we are the enemy of academic rigor and integrity, when actually we are very strong allies in supporting student success and retention. We as disability professionals are here to support the faculty in creating inclusive environments and accessible content and hopefully support them really in developing universal design practices that not only aid the students with disabilities, but all students."
Byrne Paulin hopes to see "…departments like ours be more normalized, like the other college supports."
Double check the inclusivity of your campus projects, disability services should be a part of your strategic plan and/or institutional foundation.
"I'm a staff member with disabilities. So, if disability is being left out of DEI or a strategic plan, but other marginalized groups are being included, then you're not truly being inclusive."
_____________
Listen to the full episode and send us your thoughts and ideas for future episodes via email at podcast@higheredjobs.com.