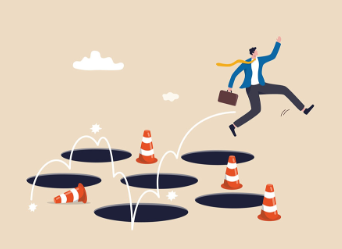 eamesBot/Shutterstock
Receiving a rejection letter can set off a firestorm of emotions and leave you wondering where you went wrong. Frustration is understandable, especially when you have so much time and energy invested in your job search, but identifying areas where you need to improve can help you move on and improve your chances of receiving future job offers. While some recruiters and hiring managers will provide feedback when asked, candidates are often left to figure out why they were rejected on their own.
To help you identify potential areas for growth, we recently surveyed employers who post jobs on HigherEdJobs. They shared some ways candidates can stand out. Surprisingly, many candidates still make some basic mistakes — from resume to interview blunders.
Your resume and cover letter are the very first touchpoints you have with an employer. Think of them as the key that unlocks the door to a potential opportunity. As such, they aren't something you should rush through. Yet, many applicants still do, and rather than leaving hiring managers curious to know more about them, they're landing in the rejection pile for avoidable mistakes. Those who make it to an interview run the risk of underpreparing and failing to impress the search committee.
As you retrace your steps and try to make corrections for the future, consider these five questions after rejection.
1. Was your resume easy to read?
23% of employers said that clear, easy-to-read resumes help a candidate stand out, so it's best to do your research on resume best practices. Check out these 10 do's and don'ts of resume writing to help you avoid mistakes, like using shaded text boxes or other fancy formatting that may not convert within an applicant tracking system or won't open in various versions of Microsoft Word. When your resume is only being glanced at for 6-8 seconds, it's important to make sure everything is legible and your experience is clear.
2. Did you customize your resume?
The number one thing that employers look for is whether your skills match those of the position. Using keywords from the posting in your resume and highlighting skills specifically mentioned in it should be a no-brainer, yet many use a generic resume saved in their files.
"I think it's easy for applicants to get caught up in the routine of applying for positions when job searching," says Jess Luciano, a human resources generalist at Saint Peter's University. "Rather than looking at specific opportunities and investing time in customizing their applications, people are approaching job searching as more of a numbers game. Applicants are submitting the same application materials to as many relevant roles as possible to cast a wide net in their search while investing less time working on each application or preparing for interviews." She warns that although casting a wide net has some benefits, rushing through applications and failing to customize them can be missed opportunities. "My suggestion is that applicants dedicate time and effort into creating great templates for their resumes and cover letters early into their job search," Luciano explains. "Applicants should be leaning on their resources like friends, colleagues, or career counselors to ensure that these templates are strong and free of errors. Once you have a strong template to work with, customizing your resume and cover letter to align with the needs of specific roles is much less time-consuming."
Tailoring your resume doesn't have to be a whole redesign. It could be as simple as switching out a few phrases or moving bullet points around to highlight the skills that the job calls for. Don't overthink it. Sarah Lobb, Faculty Affairs Manager in the College of Education at the University of Iowa, says, "While it is absolutely essential to individualize and tailor your resume (and cover letter) to fit the job you are applying for, no one wants to read anything long-winded. It might feel like a hurdle to come up with something unique and compelling to say, so remember that it only needs to be a sentence or two!"
3. Did you proofread?
This may elicit some eye rolls, but over and over again, employers are seeing typos. While no one expects perfection, it can be hard to overlook a grammatical error, misspelling, or other typo when the candidate claims to be "detail-oriented." Our mind is good at correcting errors and glossing over them, so instead, try reading your materials out loud, having a friend read them, or running them through a free tool such as Grammarly to help you spot mistakes. After all the hard work you've put into tailoring your resume and crafting your cover letter, it would be a shame to land in the rejection pile over a simple typo.
4. Did you practice for your interview?
These days, virtual interviews are commonplace in higher ed. Do you know best practices for both virtual and in-person interviews? One employer from our survey recommends filming a practice interview on a computer and conducting one in person. "Review how you come across in each setting," they said. "Are your eyes looking up or down instead of at the interviewers? (Paste a photo next to the camera.) Are you providing too much information without answering the question? Answer the question and then expand or bridge to what you want to say. Are you sitting forward to show your interest? You only get one chance at first impressions."
Rehearsing and replaying the video can help you spot any problematic behaviors and remedy them ahead of your interview. For instance, do you have any distracting nervous tics, like saying 'um' or 'uh'? Are you talking negatively about former team members? Are you disclosing confidential information? Kathleen Hermacinski, director of human resources at Eureka College, says the latter two behaviors raise major red flags for employers. "A few years ago, we had a director level candidate who disclosed sensitive information about a Title IX investigation they were involved with at their current institution," she explains. "Not only did this information reflect poorly on the candidate, but the search committee also cringed at the lack of confidentiality regarding Title IX. Another time, we had a faculty candidate talk poorly about their division chair and president at their former institution, including bringing up email and social media exchanges. We did not hire this candidate."
If you are going through some practice interview questions with a friend or trusted colleague, make sure this is among the criteria on which they are judging you. Lastly, employers responding to our survey highlight the importance of "being able to articulate relevant skills and how they apply to the job," so make sure you are accomplishing this. Overall, practice interviews can increase your awareness of how you come across and help you avoid some of these common mistakes.
5. Did you apply for the right reasons?
Though work might be a means to an end for some people, that's the last thing you want to convey to an employer. Many employers who responded to our survey indicated that they look for candidates who have specific interest in their institution or the job, and they can see right through those who don't. "Tell us why you want to work for us!" said one employer. "We want to hire people who really want to join our team, not just get a job that offers benefits and retirement." Another said: "Tell me why you want this specific job… I don't want to hire someone just trying to get a paycheck… That comes through on a resume and cover letter." The sooner you can convey real interest and passion, the better. Make sure it leaps off the page of your cover letter.
While these five tips might seem basic, it's easy to make one of these simple mistakes. If you have, you're not alone. Job searches are stressful and time-consuming and can really make you question your own self-worth when things don't go as expected. Remember to give yourself grace, explore possible missteps, and then resolve to improve for that next application.
"At the end of the day, everyone has made mistakes while job hunting," Luciano says. "Ultimately, the mistakes you make during your job search may hurt your candidacy in the moment, but they can also provide valuable learning lessons that can only make your application stronger when the right opportunity comes around."