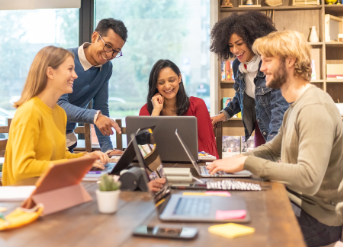 MandriaPix/Shutterstock
Even when you have done extensive research on an institution and the department for which you're applying, there are many unknowns. Sometimes, fit (or lack thereof) doesn't reveal itself until we have already made the leap and have been on the job for a few weeks or months.
Determining if the work environment and department culture are right for you before accepting the offer can be difficult, but it's not impossible.
"I have found that for academic jobs, and specifically academic jobs in music, so much of the cultural vibe within a department is 'felt' as part of being on the ground surrounded by the faculty, staff, and students that you might be working with," said Lee Hinkle, a music professor who joined Penn State during the COVID-19 pandemic and had only remote interviews. "Obviously, this is a hard thing to gauge when you are in the resume and phone interview stages of an academic search."
Your on-campus interview and other conversations with hiring managers and prospective colleagues are the prime time to identify and evaluate workplace culture. Here are some good signs of one in which you can thrive.
High Employee Retention
Pay close attention when introductions are made to search committee members and other employees in the department. Do you notice a pattern of longevity? Have people always worked in their role or have they been promoted? These can be good indicators that employees are happy, treated well, and have growth opportunities.
To delve deeper, when it's your turn to ask questions, consider inquiring about their reasons for working at the institution. "Most interviews I have been a part of have asked this same question to me as the candidate: 'Why us? What makes you want to work here?'," Hinkle said. "I think it is a very common job interview question, or at least it is in my field. I like to turn the tables and ask this question of the search committee because it allows me to see how the committee (may or may not) bounce ideas off of each other during their responses, smile at each other, make jokes and have fun (or not), etc. For me, I could tell almost immediately that my search committee was made up not only of colleagues, but of people who were most likely friends and shared social time together by the fact that their answers involved their families, shared experiences, and positive body language towards one another."
You might also ask what projects they are working on right now and how they are going, which can help to paint a picture of how work is done in the department and how employees are supported. Another question that can help you evaluate culture is "Why is this position vacant?" to get a sense of why they couldn't retain your predecessor.
Employee Appreciation/Recognition
How do the search committee members talk about each other and their colleagues? How does leadership within the department talk about employees? Look for signs of positive, supportive talk. Other signs of employee appreciation may be evident in the benefits that are offered, employee incentives, and employee events the department hosts.
A Diverse Workforce
Is there diversity of age, race/ethnicity, and gender on the search committee? In the department or office? Is each group heard and supported? Try to get a feel for this during your campus interview.
Discussion of Family and Personal Life
Some people wish to keep a clear divide between work and personal life, and there are certainly legal implications for employers when it comes to discussing these topics in an interview. However, if you notice employees having open and friendly conversations about children and families, that can be reassuring. We all have things in our personal life that can cause conflicts with work or require moving our schedules around, so it can be comforting to know that others in the department have family obligations and feel supported. A culture that values employees as individuals with their own personal lives can indicate that you can achieve a healthy work-life balance.
Flexible Schedules
Are flexible schedules on the table for you in this role you're seeking? Is working from home an option, at least part of the time? If this doesn't come up, asking about flexibility can help you determine fit. Will you be micromanaged, or will your supervisor trust you to make up hours in the evening when need be? Having flexibility and establishing trust are good indicators that you can thrive in a department.
Office Friendships
Do employees seem to be strictly professional with each other, or are there signs that some have become friends?
"On many searches you'll be invited out to dinners and lunches with members of the department," shared Gareth Barkin, dean of operations and technology and distinguished professor of anthropology and Asian studies at the University of Puget Sound. "At those, I'm always looking at the rapport they have with each other, in addition to how well I get along with them. Are they joking around with each other? Do they seem like they're having a good time being out together? If they're entirely focused on you and have only minimal or forced conversation with one another, it's likely a sign of a struggling departmental culture. But if they're happy to be out having dinner with one another and the conversation seems loose and comfortable, that's a great indicator."
Camaraderie and employee bonding signals a supportive culture that likely doesn't involve office politics.
Health and Wellness Offerings
Health and wellness is increasingly a priority for employers. Does the institution you're interviewing for offer fitness programs, gym memberships, counseling services, etc.? Are health screenings encouraged? Having a robust health program in place shows that employers are prioritizing the well-being of their employees.
Student Satisfaction
Student feedback can give you a glimpse into the successes or struggles of a department or office on campus. "At most searches, you'll be set up with some time to speak with students," Barkin explains. He cautions remaining professional but says "…it is a good opportunity to ask open-ended questions about departmental culture, and hopefully get some unvarnished responses. What's it like being a student in this department? If I were to be offered this position, what advice would you have for me? If you could wave a magic wand and change anything about your experience in the department, what would it be? Questions like these allow students to dish the dirt if they want to, but don't tip your hand that you're digging for it. If the departmental culture is healthy, you're likely to hear plenty about it."
Remember
Accepting a job can be risky business when you don't have a full picture of the culture you're walking into. While you can't be 100% sure, asking the right questions and looking for certain signs when you're on campus for your interview can help you to avoid a toxic or struggling workplace.