Donor engagement is about making a personal connection. We've known that for years. In the world of broad-based engagement, that can be a challenge: no one person could possibly send out thousands of versions of an email campaign or ask the interests of each potential donor individually. That's where technology comes in.
For the past few years, we've worked with a group of innovative client partners using the QuadMail engagement platform. They all embraced a strategy of personalizing outreach to constituents based on the real interests shown from actual engagement data: what their donors opened and showed interest in. And over the years, these programs massively increased their effectiveness in reaching alumni, potential donors, and current givers. Open rates went, to use a technical term: way, way up.
I'm excited to share the results. Here's what happened when RNL client partners used technology to truly personalize outreach, and why we think it nearly tripled open rates.
Personalized outreach matters in donor engagement: results of 49 million emails
We took a look at four RNL QuadMail client partners who executed a careful personalization strategy for up to 6 years of email engagement. Basically, using insights available within their QuadMail data, they tailored communications over time to the interests of donors, based on what donors opened, clicked on and read.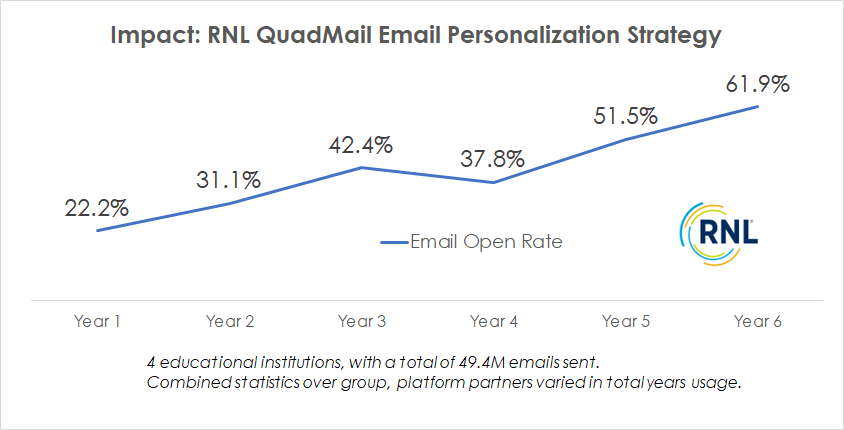 Image: RNL QuadMail users see massive increases in open rates when they use data to personalize based on constituent interests.
What these institutions did was simple: They paid close attention, aided by technology, to what constituents and donors actual cared about, and targeted their communications to the real interests of their audience. Open and click rates massively improve when you can get information that shows you care what donors care about – you reciprocate by sending them personalized content.
Listening to donors, and easy access to data about their real interests is crucial to fundraising success
Using the data you have on hand is important: If you have a group of people who are showing up for plays, they likely want more information on the arts. Those business majors probably still want to hear about the stock market, but some of them also care about the marching band and medical research. You're not going to be able to interview or survey them all, and their interests will change. That's why – just like our Netflix and Spotify queues – AI-enhanced and data-driven personalization shines in today's engagement world.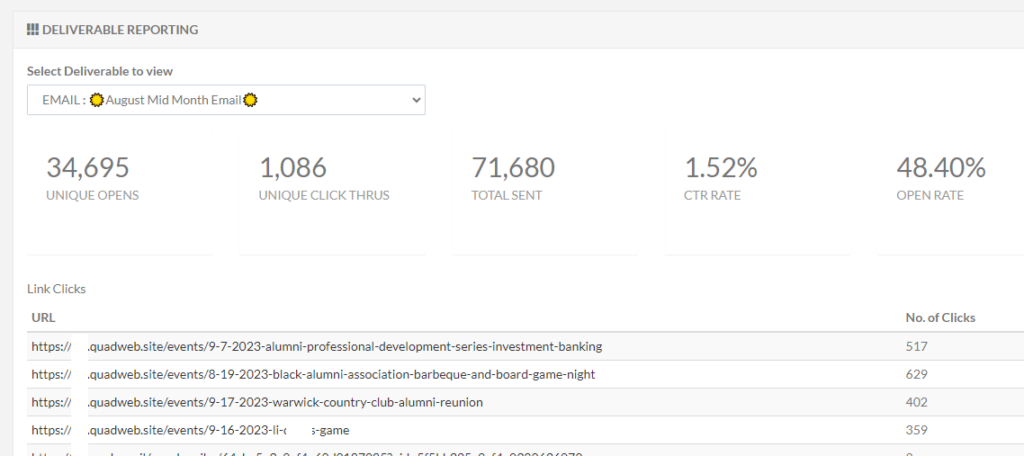 Image: Every RNL QuadMail partner gets advanced reporting, with actionable lists, on the specific areas of interest for each constitutent.
That's also why reporting and easy access to data is at the core of RNL QuadMail. For every message you send, we will tell who has opened etc. – save that as a list for next email, don't have to go outside the system – group for next campaign. That's why RNL partners who utilize QuadMail get reports on what key content topics their constituents are clicking on and viewing. More importantly, you can easily pull out lists of these clickers and target new campaigns based on their previous interest. That's what makes the strategy described above all possible.
When you have the right tools to listen to donors, fundraising and marketing decisions are better
It's not enough to listen. Sending a report to your VP or Director about trending topics in your content is one thing. Using that data to personalize outreach to every donor is a game changer. So, providing real tools that make a marketing, engagement, and fundraising team's job easier is crucial.
That's also why every time someone makes a gift in RNL ScaleFunder, it flows into QuadMail. You can use the giving records and content engagement to similar themes, build campaigns, and select groups of constituents ready to respond to specific areas of passion.. We see a lot of success with smaller, carefully targeted emails.
Our entire goal is to turn to turn data into actionable information. That's what creates a better, more meaningful donor experience.

–Solomon Grey
The QuadMail list builder really shines in this functionality. We offer the ability to create custom affinities based on this data, and then encourage you to create email campaigns with sends to these email addresses.
You can even use these affinities to tailor versions of communications from "senders" that are people your donors will recognize: a leader, volunteer, dean, professor or classmate. This offers a truly personal touch with very low lift by your team, because you've done the affinity identification ahead of time, and simply apply it to campaigns going forward.
If your engagement platform doesn't let you see who's engaging on specific content by topic, allow your to version based on affinity, or offer AI-driven personalization based on real constituent interest, it might be time to consider a change.
The future of donor engagement is using data to provide a personalized experience
Our roadmap for the future RNL's tech-enabled donor engagement tools is about personalization at scale. We'll be sharing more over the coming year, but what you'll hear from us is a focus on putting tools in your hands as fundraising professionals to your job in a more personal way.
It's about responsive engagement. Our entire goal is to turn to turn data into actionable information. That's what creates a better, more meaningful donor experience. And we're about making things easier for fundraisers, because we've been in your shoes and we know your goals are going up and your resources are tight.
Free demo of RNL QuadMail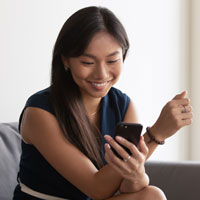 RNL QuadMail™ is the only fundraising email solution that combines the power of artificial intelligence with the ease of drag-and-drop design. In just minutes, you can create engaging emails that speak to the specific interests and passions of your donors, increasing their willingness to give.