"Charles, does digital lead generation really (still) work?" Over the last several months I've been asked this question with increasing frequency. It makes me wonder whether the question is based on strategic curiosity or a hope that an increasingly expensive lead source is not as effective as once thought. If this were the case, perhaps schools could credibly consider less-expensive options.
The answer? Regardless of the common misperception that prospective graduate students do not click on digital ads, they do click, and therefore digital lead generation really does work. In fact, digital lead generation makes up a significant proportion of total graduate lead volume—with more than 70 percent of leads coming from digital lead generation and search engine optimization SEO.
I wrote on just this topic in RNL's recently released RNL 2023 Graduate Student Recruitment Report. Our survey of 1,500 graduate students indicates that 60 percent of prospective graduate students click on digital ads during their search. These patterns were true across all age groups. In fact, students who are 30-49 are most likely to click on ads.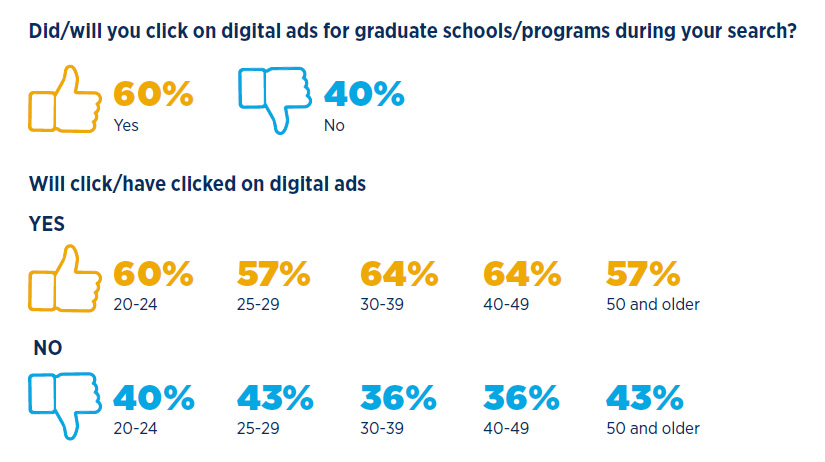 It is clear that digital lead generation continues to perform, and doing without it could significantly impact enrollment success. But consider this: compared with our 2021 graduate study, 10 percent fewer graduate students clicked on digital ads. Does this show a potential erosion in interest from the market? Does it show a decline in the performance of digital advertising?
This two-year change helps me understand why colleagues from around the country could be curious as to the value of digital lead gen. If they see such a change, the question about whether the strategy is still critical is entirely valid. But I think that interpreting any shift as the beginning of the end for digital lead generation is actually misreading what is really going on.
So what IS going on with digital campaigns for graduate programs?
The key issue is very likely how graduate schools are creating ads that (should) drive the prospective student to specific calls to action. I've seen ads, messaging, and creative become more vanilla recently in order to get to market faster. The level of sophistication is likely not as sharp as those targeting traditional undergraduate students, or even more certainly online students. Many graduate programs just don't have the internal resources to develop and manage the level of sophistication necessary to compete effectively.
The key is developing the right messaging that reflects the extent to which graduate students now see their higher education as a commodity—applying their expectations as consumers to the colleges and universities that interest them. This means that they want communication that is personalized, authentic, and targeted to programs and outcomes they are interested in as they look at the next phase(s) of their career. Those expectations can only be met by sophistication, personalization, and a need to be intriguing—no matter the age group.
Younger prospective graduate students are already savvy digital natives, significantly influenced by ever-more sophisticated marketing efforts from the likes of Google, Starbucks, and Netflix. Anything less just does not call their attention. Older prospective students—having evolved into the digital scene after growing up in a digital-less/limited world—are not as demanding, but they still expect a high level of personalization and authenticity because they experience sophisticated digital marketing in their daily lives asl well.
Are you providing a compelling reason to click?
Therefore, the question is not are students clicking on ads, but rather are you providing compelling content and creative that attracts and converts students throughout their funnel. In order to ensure that you are optimized to attract and convert students to leads, you need to honestly consider the following questions:
Are your ads, messaging, channel strategies, and overall approach informed by the personas you are looking to attract? Are you rushing less sophisticated program-specific ads to market quickly instead of taking the time to develop more effective messaging that is specific to the personas you need to reach?

The latter drives less interest and is not intriguing—particularly to more digitally-native audiences—and has less of an impact in driving the call to action(s) schools seek as part of such campaigns.

Do your ads, and the subsequent landing pages they lead to, convey value proposition-rich messaging that drives why your institution is one they should be interested in, rather than just what your program(s) entail?
What kind of digital experience will the student have as they navigate their way eventually to your website? In other words, how confident are you that your website and program pages will positively influence the student to take the next call-to-action?
Ready to build campaigns that will engage and enroll graduate students?
If you need help in developing more compelling persona-driven ads that successfully draw more qualified leads into your funnel, please do not hesitate to reach out to me and my colleagues at RNL. With the ever-growing sophistication of the market, your campaigns need to meet/exceed their expectations in order to drive the volume and quality of leads you need to achieve increased enrollment goals for the foreseeable future.
Talk with our graduate and online enrollment experts
Ask for a free consultation with us. We'll help you assess your market and develop the optimal strategies for your prospective graduate students and online learners.