Let's hear from Student Ambassador May Herrera since she moved to Ireland!  She's been through an amazing journey of growth, finding her life priorities, and embracing the joy in every single moment!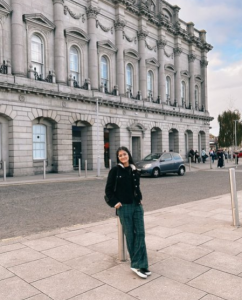 Every day, new thoughts and ideas come to our minds as we live new experiences, but not all these ideas end up becoming real. It was always clear to me that I wanted to move from Honduras and study abroad. I'm not going to lie, Ireland wasn't my first option. I first gave Mexico and Colombia a shot because I guess I wanted to keep myself close to home, yet somehow those were not the right plans for me. It is interesting how out of curiosity one day the idea of moving to Ireland started growing up in my mind and as everything that is meant to be, it ended up becoming a life plan. 
There are many reasons why I decided to move to Ireland and at the same time after I moved in realised many more that made me want to move out. So how do I know what I want? How do I balance all these reasons and make up my mind? 
It is important to know and be aware that moving out of your country to study abroad, even though it's like a dream come true, its also not an easy journey. Living in Ireland is one of the best experiences I've lived in my life but not everything is rainbows, leprechauns, Guinness, and butterflies. I was thrilled and couldn't wait to move to Ireland, the first days were like a honeymoon but as the days went by this dream stage started to phase out. The cultural shock I was experiencing was real! It suddenly hit me, I was not a tourist, this was my new home! I found myself dealing with strong accents that I could barely understand, a new education system, no friends or family and a crazy weather that had me spending more than the usual time trying to figure out what to wear and getting myself a new umbrella every day. 
But here comes the good news! Same as the honeymoon phase that didn't last forever, the culture shock phase eventually became more of an adjustment phase. I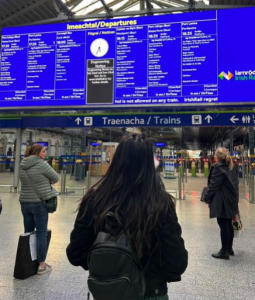 met new people in my Dental Public Health programme, started attending UCC's and Cork's social events, made new friends, joined the film & photo and yoga societies amongst others, found a job and became part of the Education in Ireland International Students Programme! Of course, not everything happened the same week, not even the same month or semester! It took me some time and a lot of "coming out of my comfort zone" attitude involved but it was worth it.  
Now this is how I get to balance between the cons and pros of living in Ireland. Don't get me wrong, I've never stopped missing my friends, family, or my home country food and weather!  But when I decided to open myself and appreciate the new experiences Ireland and its people were giving me, it certainly became easier.  
How does the balance work? To be honest, the balance is never perfectly even. But I can say that the amazing Ireland's landscapes and nature help me every time I'm missing my dog "Suki" and made me experience my love for photography even more. On the other side, the same month I became a Honduran Student Ambassador I missed my mother's 60th birthday and when I finally found a nice apartment to move in with my friends, my best friend who I met when I was in kindergarten, was giving birth to her first child many kilometers away from here. 
This experience has helped me to grow in many ways, to sort my life priorities, and to enjoy and appreciate every moment in my life. It's like a bittersweet symphony this life, from late night lectures and video calls with friends and family, to a fulfilling yoga class at campus or going out for a pint with friends. I can't say I'm fully adapted to living in Ireland and that my path is already set, but I surely am enjoying the ride. 
May is pursuing a Master's in Dental Public Health at UCC