A year ago, my friends at ZeeMee were brave and decided to join me in a journey to understand better the emotions that come into play during the last year of high school during college planning. Over the next ten months, we surveyed over 10,000 12th graders using the ZeeMee app.
This blog is not about the results of our study; we will be releasing our report at the end of September. Instead, I will talk about what our colleagues, experts, and professionals in the admissions, marketing, enrollment, and financial aid offices at hundreds of colleges told us just a few weeks ago at the RNL National Conference.
At the conference, my colleague Harrison "Soup" Campbell from ZeeMee and I presented the preliminary results of our upcoming study, on "College Planning and Emotions." The room was packed with more than 200 professionals eager to learn about our findings. We started our session by asking the attendees what they knew about the mental and emotional health of teenagers. Their responses were not surprising, yet they were an affirmation of why we must continue exploring and researching this topic. This image summarizes what they said.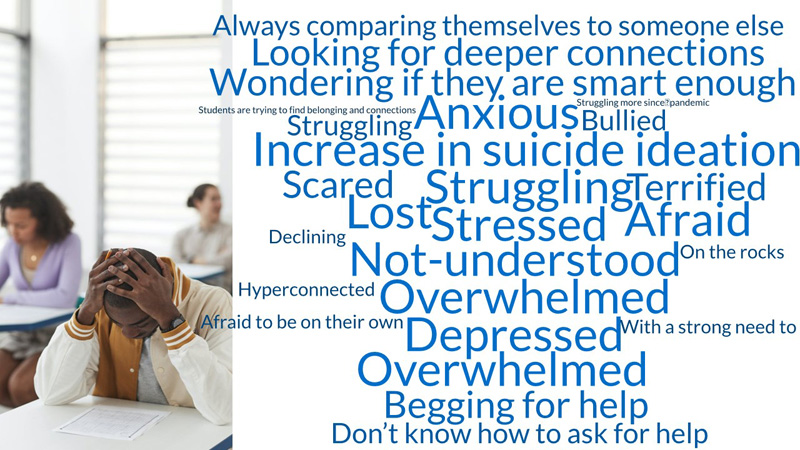 Our colleagues are spot on! Now see what the students told us about how they are feeling.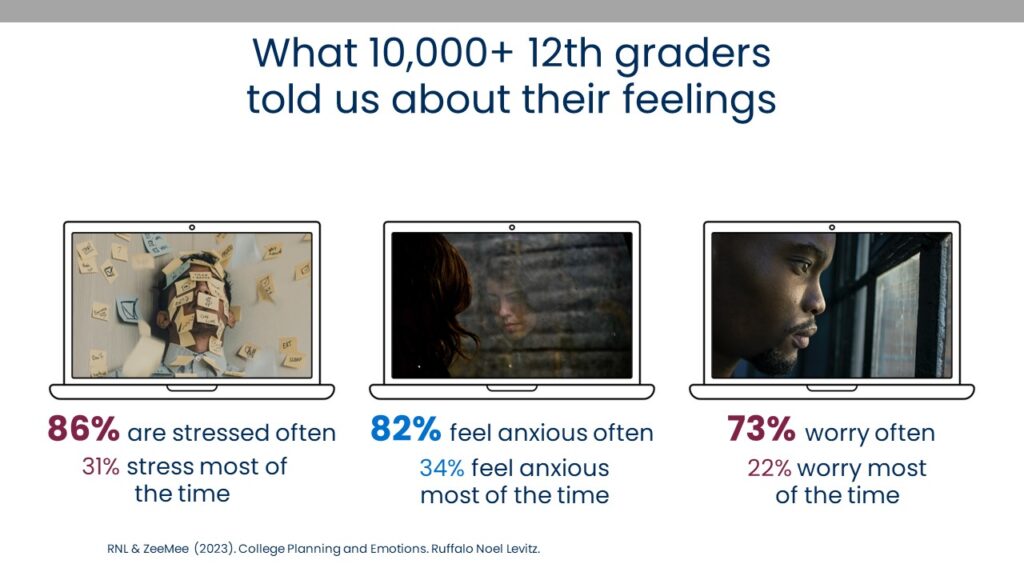 After listening to us present the data from our study, the attendees shared their takeaways from the session. Their responses and enthusiasm for making a difference were humbling and very encouraging. Here are their top takeaways: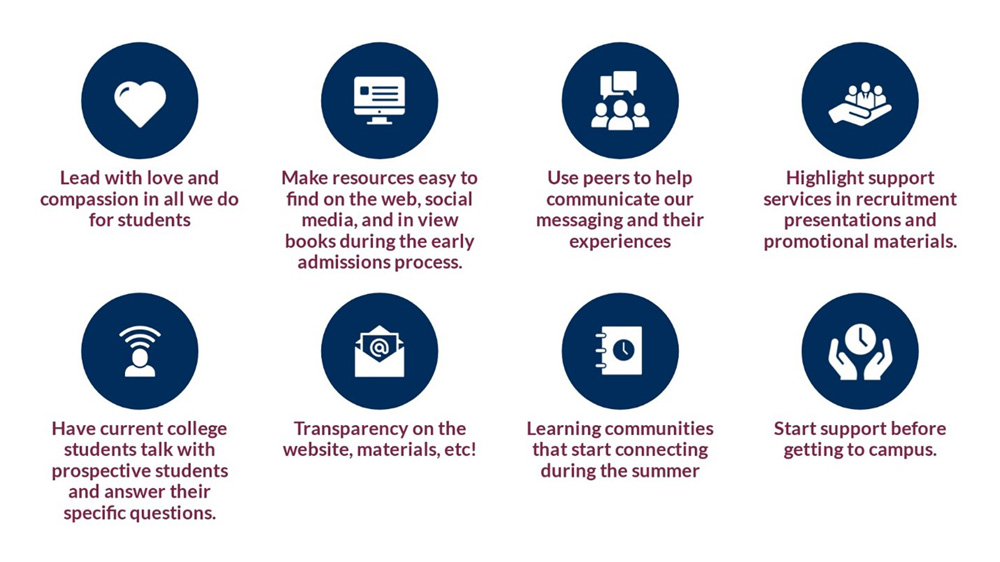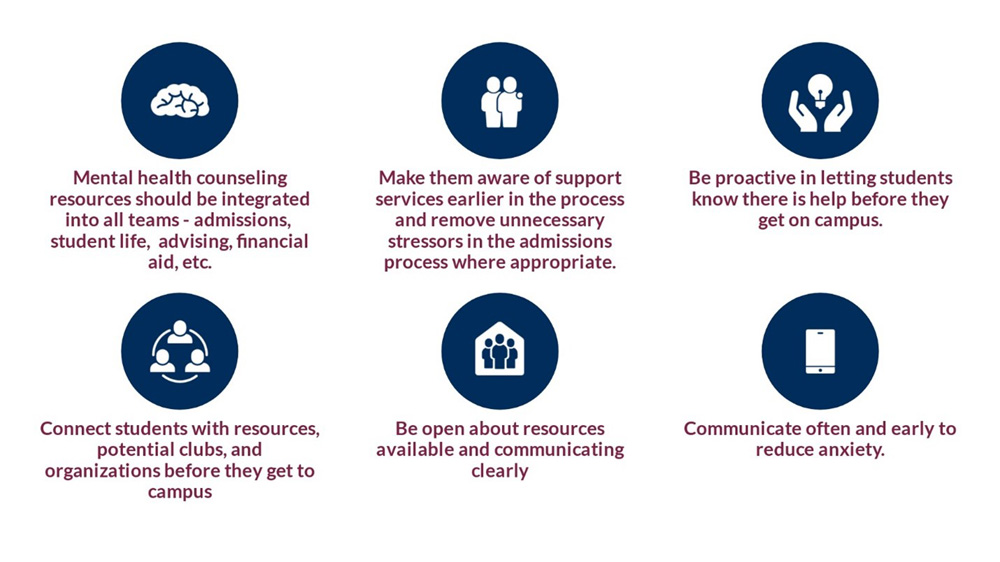 Fear and anxiety paralyze people; we do not make good decisions when we are feeling afraid, stressed, and anxious. Students are no different. Yet while we have a very stressed, anxious, and fearful generation of teenagers, enrollment and admissions offices continue to conduct business as usual. We cannot brush aside that stress and anxiety during the college planning process with the aim to "fix it" by passing students on to other offices they students arrive on campus.
The good news is that you already have all the resources and teams needed to shift this paradigm. Think carefully about these questions:
Do you want to increase your applications?
Then consider the obstacles that may paralyze your prospective students from starting an application. How can you help them? How can you help minimize their stress?
Do you want to increase the number of completed applications?
Be proactive about anticipating the areas of the application where students are dropping off and not completing it.
What can you do to help students complete their application? How can you involve other partners across campus to help you with this?
What about deposits? Who doesn't want more deposits?
What can you do to help students feel great about their decision to attend your institution? If you wait for them to arrive on campus to tell them how your institution will support their success, you may be missing a huge opportunity. Tell them right away! T
Introduce them to all the offices, teams, and PEOPLE that will be there every step of the way to care, support, and cheer them on. Their success is your success; it's not about getting them to enroll; it's about providing them with an incredible educational and life experience to be successful!
Are you worried about your summer melt?
Think about ways in which you can engage students during the summer. How they feel, what they anticipate about their first year of college, and the changes ahead are very emotional.
How can your institution help find how you will support and care for them once they arrive on campus? Please don't wait to tell them until they move in because that may be too late. Fear of not being supported, alone, and not fitting in may work against you.
My final advice, borrowing the attendees' words to our July session, is below.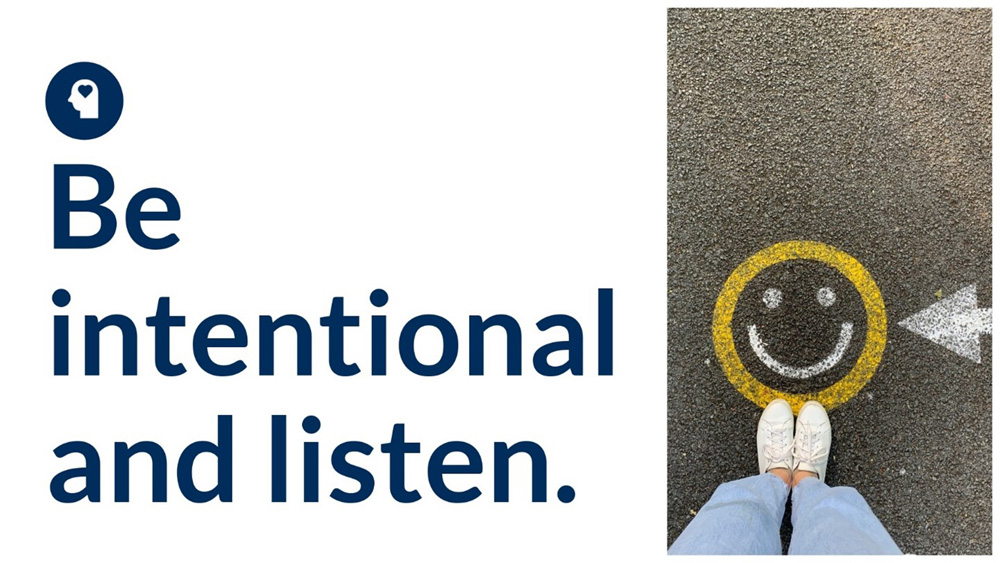 And, of course, stay tuned for the RNL and ZeeMee report in late September about this topic! You can also talk with our enrollment experts about how you can engage students and guide them to enrollment without a lot of stress or anxiety.
Maximize the impact of your student search campaigns on enrollment
Ask for a free walkthrough of RNL Student Search and Engagement and see how you can increase volume at the top of the funnel, increase conversion and velocity through the funnel, and achieve your enrollment goals.