Student satisfaction surveys are a key component in assessing the student experience. In fact, more than 600 institutions capture this data at least once every three years. Are you gathering student satisfaction data regularly? If so, this blog is for you…and if not, this blog is also for you.
Studies have shown that there is a link between student satisfaction and student retention, graduation rates, alumni giving, and lower loan default rates. These are four major components of institutional health and wealth. For those who are regularly assessing student satisfaction, are you truly using your data to inform your decision making to improve the student experience? And if you are not capturing these data, are you putting yourself at risk for more than just having unhappy students, but risking the future of your institution?
RNL works with every type of institution—public and private, two-year and four-year, online and bricks and mortar—to gather data on the student perspective in order to develop retention/student success plans, add the student voice to strategic planning efforts, and document improvements over time for regional accreditation purposes. Institutional research (IR) offices are typically responsible for conducting, analyzing, and distributing satisfaction survey results on campuses. There are opportunities for more conversations among IR professionals on the best ways to work with student satisfaction data.
My colleagues Julie Bryant and I attended the Association of Institutional Researchers Annual Forum in Cleveland earlier this summer. While we were there, we heard a lot of discussion about how to help institutional leaders be comfortable with reviewing data and how to help those leaders to be willing to take action on the data that has been collected from students. During the forum, we moderated a panel of institutional researchers who talked about these important topics. For those of you who were not able to be with us in person at this session, we are bringing it to you as a free webinar.
I invite you to join us on Wednesday, August 23 to hear from three campus partners, the University of Cincinnati (OH), Oakland Community College (MI), and Aurora University (IL). They will discuss these key topics:
Tips for sharing the results with key audiences on campus;
Partnering with departments on campus (Academic Affairs, Student Affairs, Enrollment Management) to utilize the data for planning and evaluation purposes;
Data analyses that have been most useful in understanding the results;
Building buy-in to conduct a satisfaction assessment;
Determining samples and logistics for survey administrations;
How satisfaction assessment fits in the cycle with other instruments (i.e. engagement surveys);
Examples of initiatives that have been implemented based on student satisfaction results;
Communication campaigns to inform the campus of priorities and activities resulting from student feedback.
If you are not able to join us for the live event, you can still register to receive the recording to listen at your convenience.
Student satisfaction data is a necessity for institutional health and wealth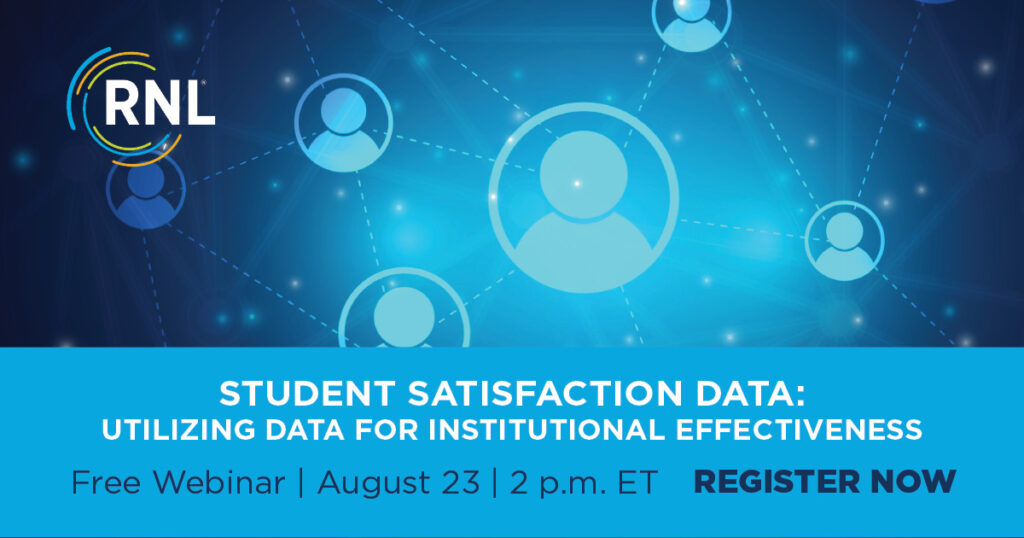 In today's environment, we are not in a position to simply check a box that a survey has been completed, nor can we continue to operate as if student satisfaction data is a "nice thing to have" but not a necessity. It is actually quite the opposit: student satisfaction data must be captured and utilized if we want to move the needle on retention. Unhappy students will leave, or worse, they will begrudgingly stay/graduate, but never become proud and loyal alumni.
Let's continue this conversation in August with our webinar panelists who have over a combined 55 years of higher education expertise, to gain a better understanding of ways to successfully implement satisfaction surveys, utilize the data to support decision making and partner with other campus departments to increase the dialogue around the results.