Student Ambassador Jennifer Vazquez shares valuable tips for newcomers to Ireland. Adapting to the Irish environment can be a challenge, and she understands the feeling of missing home during this process.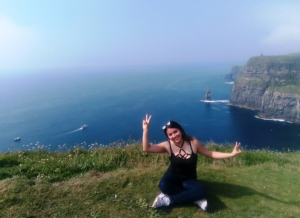 I moved from Mexico to Ireland in September 2022 to complete a one-year master's program at MTU in Cork. Even though this was not my first time living abroad, the experience was completely unique because this time is more of a long-term situation. 
Starting from scratch in a new country where you don't know anyone and the cultural differences such as the weather, food, and language… are so different can be overwhelming during the first months, and if you are not a particularly extrovert person like myself can be especially challenging, so here are some tips if you are experiencing homesickness when you move abroad, perhaps they don't work for everyone but those helped me and they may inspire other students as well. 
#1 Find yourself a new routine. 
Perhaps when you were in your home country you were used to hanging out with friends, going to your favourite places, etc and when moving to Ireland this is going to change. My first and probably most important tip is creating a new routine and keeping the things that are important to you. For example, if you love exercising you can join a sports club at your university, or you can sign up for the neighbourhood gym (they usually have special discounts for students). If you haven't tried some sports such as kayaking or equestrian (those surprised me when I came here) this can be a great opportunity to try something new. If you love being around nature, Ireland has a lot of parks and walking trails everywhere, and you can include in your routine going for a walk during the morning or evening. The point is to keep yourself busy but including your favourite hobbies and activities and also explore new possibilities that this new experience abroad will offer you. 
#2 Make new friends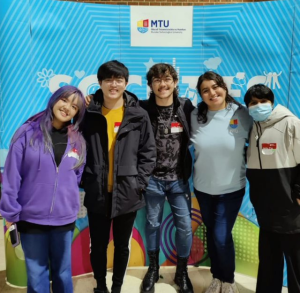 I know for some people this may be easier than for others, but here are some ideas from where you can start. Most likely you are going to share a flat with other students, so you can start having meals together with your housemates, watching movies together or just simply talking about your days when you encounter them. At college you will have more opportunities to socialize, starting with your classmates, but also you can join different clubs and societies which are an excellent opportunity to meet new people with similar interests to you. Usually, there is an international student community, and they organize different parties, events and trips to bring together all the overseas students which are in the same situation as you, looking forward to making new friends! You can also meet new people wherever you go, Irish people are welcoming and friendly, and if you start a conversation they will never turn you down. There is an Irish saying that states: "There are no strangers here, only friends you haven't met yet".  
#3 Travel and explore  
Studying abroad will become one of the most meaningful experiences of your lifetime, you can enjoy your free time exploring the new country you are in and if you have the possibility to go exploring other countries too! 
You can start exploring your city, Cork city has lots of nice places to visit, nature, castles, forts, art galleries, cafes and restaurants and of course a vibrant nightlife. Then you can explore the entire county doing a day trip to Kinsale, Cobh, Clonakilty, and Ballycotton… to mention a few and if you have a free long weekend, you can go to other places around Ireland! The Ring of Kerry, Cliffs of Moher, Dublin, Galway, Donegal… Ireland has beautiful landscapes and lots of history worth exploring and once you start you will want to have more time to travel around! 
Another advantage of being in Ireland is that you can get very cheap flight tickets to travel around Europe, we have the London airports and they have several connections with low-cost airlines, so, you could go anywhere in Europe for an Easter or Christmas getaway! Just make sure to check the travelling requirements for each country since Ireland is not part of the Schengen zone, so you might require a visa in some cases.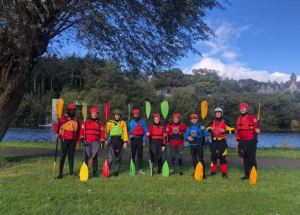 #4 Keep in touch with your loved ones and bring a little bit of home with you 
We have many ways to call and see our friends and family in real-time from overseas. Whatsapp, FaceTime, Zoom, Google meet or Skype can be your best allies to beat homesickness, and it's important that you keep involved with the people back home and share all these new experiences you are having abroad. The idea is not keeping you from interacting with new friends, but about finding a balance and feeling connected with all the people important to you. 
You can also bring things that remind you of your home country, such as foods that you can prepare and share with your new friends, photos from your family and friends, gifts or other items that have a meaning for you and whenever you find yourself missing home those will help you to feel closer to them. 
Finally, you could also try to find a community from your specific country. In Cork, there is a big Mexican and Latin-American community that celebrates different events such as Independence Day or Dia de los Muertos and you can feel at home celebrating and sharing the same culture, you could even join a folk dance club or sign up for Salsa lessons! 
I hope you find something useful in those tips, but remember that homesickness is a normal part of the process and it's okay missing home, be kind to yourself and allow you to feel all the emotions and let them flow. It's important to not isolate yourself and don't compare your own experience with anybody else's. 
Jennifer Vazquez is studying Global Business Practice at MTU