Earlier this summer, Dr. Yohuru Williams and his wife were enjoying what was supposed to be a routine ride on the New Jersey Turnpike.
Williams—a prominent Black historian who holds a Distinguished University Chair and is the Founding Director of the Racial Justice Initiative at the University of St. Thomas in Minneapolis—had flown into New York City, rented a compact car at LaGuardia airport, and was making his way to his alma mater, the University of Scranton, where he was set to receive an alumni award for his distinguished service.   
What was supposed to be a momentous and joyful occasion, quickly turned into every Black man's worst nightmare when Williams—who was in the driver's seat—was pulled over by a New Jersey state trooper and peppered with a litany of bizarre questions after he was accused of "driving too slow."
The encounter at 9:15 a.m. on June 9 near the Delaware Water Gap was caught on video and raises new questions about the history of policing along the busy thoroughfare 25 years after four young men—three Black and one Hispanic—were pulled over and shot by New Jersey state troopers while driving to North Carolina Central University for a basketball competition.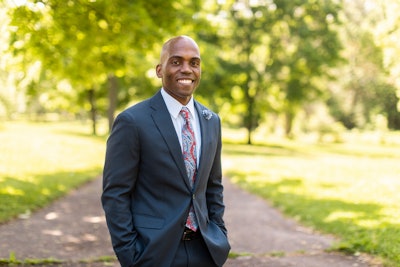 That case, which left Danny Reyes, Rayshawn Brown, LeRoy Jarmaine Grant and Keshon Moore injured, made national headlines and sparked around-the-clock protests organized by Reverend Al Sharpton and other civil rights leaders who down parts of the turnpike to demand justice for the New Jersey Four.
Ultimately, the late civil rights attorney, Johnnie Cochran, successfully secured a $12.95 million settlement for the young men in 2001, but not before the New Jersey state police was forced to undergo federal oversight including ongoing monitoring of its practices with the goal of eliminating racial profiling across the state. In 2000, it was revealed that state police commanders knew troopers were targeting minority drivers at least three years before the state admitted racial profiling existed. A state report noted that in a three-month period in 1994, 94 percent of New Jersey Turnpike motorists stopped by troopers were minorities.
In 2009, a federal judge dissolved the federal consent decree, but in the years that have followed, various civil rights organizations including the American Civil Liberties Union continue to express serious concerns about the disproportionate number of Black people who are still stopped and issued citations on the turnpike.
"Literally, that's where the term racial profiling entered our national lexicon because of the New Jersey Turnpike," said Williams, who has routinely been stopped on the turnpike across the years.
On the morning of the most recent traffic stop, Williams, who is also a regular contributor for the History channel, said that he was intentionally going 55 mph, much slower than the maximum speed limit of 70 mph, leaving plenty of time for him to get to the University of Scranton several hours away.  His wife was in the passenger's seat on a zoom call.
"I didn't have to be there until the evening, and I said to my wife, 'I don't want to have to deal with these clowns today,'" Williams recalled in an interview with Diverse.   
A short while after, a state trooper pulled him over, prompting Williams' wife to quickly exit her zoom call and begin recording the exchange.
"When he pulled me over, I said to her, 'I didn't do anything wrong, so I'm not going to ask him what I did wrong,'" said Williams, adding that he rolled the window down and was asked if he owned the vehicle.
"I said it's a rental vehicle, let me get the registration for you. And he started with the questioning," Williams said. Where was he coming from? Why was he in New York City? Where was he going? When did he come into the city?
And then the trooper looked at Williams' wife and asked: "Who is she?" Williams recalled, adding that he felt that the trooper was suggesting that he was either running drugs or engaged in human trafficking.  At one point in the exchange, the trooper asked the couple where their luggage was.
"It's in the trunk, where else would it be?" Williams thought. "I know he's fishing, and I know I haven't done anything so that's why I was playing cool," said Williams, an expert on policing, whose training had taught him how to deescalate these kinds of encounters. He told the trooper about his work as a university professor and well-known commentator. That seemed to work, with the trooper telling Williams that he would look him up on the internet. 
"I think he was looking for something and if I had responded to him differently, I would have been on the side of the turnpike sitting in a cruiser and once they've committed to that, you know there is no de-escalation," Williams added.
Williams was given a warning by the trooper and told that "he needed to keep his speed up." New Jersey State Police did not immediately respond to a request for comment about this incident. 
Williams and his wife went on their way and arrived at the University of Scranton to receive his award later that evening. Still, the incident bothered him, so much that he eventually posted a portion of the video exchange with the trooper to his Facebook page.
"Yeah, I didn't get a ticket and am glad that turned out alright, but this [trooper] is not being held accountable for the way that he engaged me as a member of the public and how disrespectful he was," Williams said.  
In recent years, more Black academics have used their public platforms to share how rampant and widespread racial profiling continues to be, whether it's driving while Black, or in the case of Harvard's Dr. Henry Louis Gates Jr., being wrongfully arrested in 2009 while trying to enter into his own home.
In 2010, Dr. Marc Lamont Hill successfully sued the Philadelphia police after he was pulled over and later assaulted by law enforcement. Hill, who is currently a professor at Temple University, was on the faculty at Columbia University's Teachers College at the time.  
Williams said that he posted the footage on social media to remind individuals that racial profiling not only happens in Minneapolis and Memphis, but that the problem is a national one that requires a national response like the passage of the George Floyd Justice in Policing Act
"People need to know what racialized policing looks like and that none of us are immune from it," said Williams. "This is our everyday reality, whether you have a Ph.D. or not. However we show up, we're always criminalized."