by Dr. Sarah Ruth Jacobs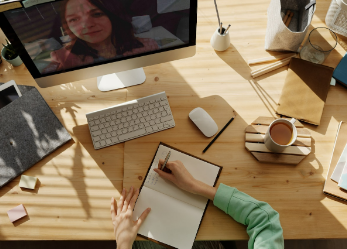 Julia M Cameron/Pexels
Transitioning from one online learning management system (LMS) to another is an extraordinarily time-consuming and challenging process for universities. Yet many institutions have taken this step in recent years as platforms continually innovate and tweak their value propositions to compete for clients. Most recently, the City University of New York and Missouri State University have announced plans to switch from Blackboard to D2L Brightspace. The LMS industry was long dominated by Blackboard, though in 2019, Canvas overtook Blackboard as the LMS with the greatest market share. Based on enrollment numbers, Canvas owns 44% of the market, followed by Blackboard at 21%, D2L Brightspace at 17%, and Moodle at 9%. However, these percentages can be deceiving because Canvas and Moodle offer free versions, which naturally boosts their enrollments. Perhaps a better gauge of the robustness of each LMS is its number of employees: Blackboard has about 2,404 employees, followed by D2L Brightspace with 1,040, Canvas with 459, and Moodle with 329. While Blackboard and Moodle have declined in market share in recent years, Canvas and Brightspace have seen significant and modest increases, respectively.
Phil Hill, an educational technology consultant, considers some of the trends that he sees in what colleges are currently seeking in LMSs: "For the past dozen years, the defining features of academic LMSs have been intuitive design, cloud hosting & scalability, and open integrations to third-party apps. Those trends remain, but what is emerging is a need for LMSs that make it easier for institutions to go beyond the for-credit course dictated by strict academic term definitions. In other words, support for non-matriculated students in noncredit and feeder programs, courses that can start multiple times per term and adjust length based on learner needs, smooth registration and payments, and an open course catalog." This observation is in line with increasing enrollment in and demand for certificate programs. "A longer-term trend," Hill adds, "has been the increase in mastery learning and competency-based education offerings."
With college enrollments on the decline, the ability of an LMS to aid in student tracking and retention can be crucial. This might mean built-in "early-alert systems, whether AI-based…" or "visualization-based," whereby "LMSs can make it more apparent, at an earlier date, that instructors and advisors need to reach out to specific students. And increasingly, the LMSs have CRM-type features to make…segmented communication easier," Hill states.
Colleges must consider the needs and preferences of their population of online learners in selecting an LMS. Voice of the Online Learner, a 2022 survey from Market Insights by Wiley, finds that online learners require mobile-friendly LMSs, with current and recently-graduated students reporting that they did 43% of coursework on their smartphone or tablet. The same survey found that 69% of online learners would prefer an asynchronous format, as well as to be able to complete work "at their own pace rather than having a lockstep cohort program." Yet 79% of online learners were "open to some form of synchronous online learning."
The following are some of the key strengths and weaknesses of leading LMSs:
Overall, on Capterra, a monetized software review site, all of the above LMSs are quite close in their review scores, with Canvas receiving 4.5 out of 5, Moodle 4.3, Brightspace 4.3, and Blackboard 4.1. Ultimately, then, colleges must weigh their institutions' unique needs and goals against the offerings of each platform. In their current iterations, Brightspace offers the ability to tailor content and communications to each student; Blackboard has well-supported and time-tested tools, including efficient administrative tools; Canvas supports efficient grading/progress tracking processes and non-credit offerings; and Moodle is extraordinarily flexible in its integrations and plugins, though it is not ideal in supporting large institutions.
In terms of what the future holds for LMS development, both Phil Hill and Jennifer Durant hint at the use of AI, with Durant stating that "AI tools can be used to support teacher efficacy, efficiency, and student success."