Immerse yourself in the world of lacrosse with Janika Engelhardt, our Student Ambassador from Germany, as she captures the spirit of sports and culture during her unforgettable time in Ireland.
Janika Engelhardt is doing a BA in Marketing at Dublin Business School 
I started playing Lacrosse at home in Germany some time ago and when I came to Ireland I knew I wanted to keep doing that. Lucky for me, Dublin is home to a fantastic Lacrosse Team.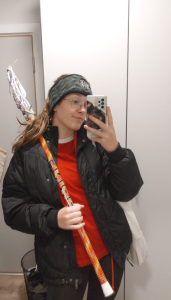 What is Lacrosse?
For those who don't know what Lacrosse is, it's a competitive sport where two Teams of usually 10 people use a long-handed stick with a net at the end to catch, carry and throw a ball into the opponent's goal. It's a modern version of the North American Indian game "baggataway". The men's version of it is also considered a high contact sport.  
Joining a Team
Lacrosse is a fairly unknown sport outside of the US so there are only a few Teams around Ireland. Most of the teams are university teams. The University College Dublin (UCD), the University of Galway and the Queen´s University of Belfast all have College Teams. Since I do not go to any of those colleges I was lucky to find the Dublin Lacrosse Club. That Team mostly consists of the university team´s alumni and therefore I was one of the youngest on the team. 
Playing Lacrosse in Ireland 
Even though I was one of the lesser skilled players on the Team, everybody was extremely welcoming, and I got to play on official matches as well. I never felt like a burden to the team and I got loads of compliments when I showed progress, even if it was only a little thing. 
Being one of the youngest on the team never felt weird since everybody bonded over their shared love for the sport.  
We trained once a week on Wednesdays at 8pm and even though its late in the evening, it was often extremely cold and already dark, we pulled through and in the autumn season we won the league. Our price were two bags of Haribo, who doe not get motivated by that?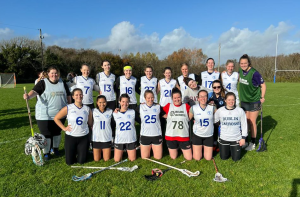 The Team is always looking for new players and Lacrosse is a sport were you can see improvements very fast. So if you want to try something new when coming to Ireland, try Lacrosse. Trust me its great fun.