The Descendants Truth & Reconciliation Foundation has launched a scholarship program in partnership with the Thurgood Marshall College Fund (TMCF) to provide educational advancement opportunities to descendants of Jesuit and Catholic slaveholding in the United States. The Descendants Truth & Reconciliation Foundation was born out of the 2016 discovery that in 1838, the Society of Jesus sold more than 272 enslaved men, women, and children from their plantations in Maryland to plantation owners in Louisiana in order to save Georgetown College, now Georgetown University, from financial ruin.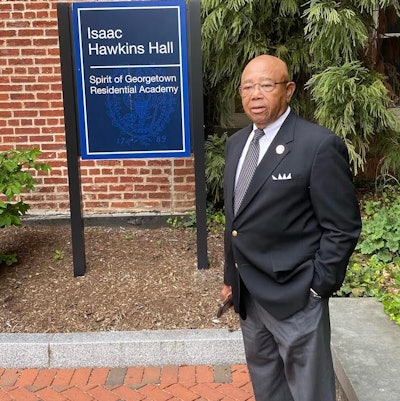 "The legacy of slavery remains a wound on the soul of our nation," said David Sheppard, chief business and legal officer for TMCF.  Sheppard added that "attempts to remediate that through projects like this can go a long way towards recognizing both what happened, acknowledging its impropriety, and then trying to remediate it."     
Year one of the initial five-year scholarship program, which will be administered by TMCF, will provide $400,000 for annual need-based scholarships of up to $10,000 to descendants of Jesuit and Catholic slaveholding for attendance at Historically Black Colleges and Universities (HBCUs) or other post-secondary institutions.    
The Descendants of Truth and Reconciliation states on its website that the enslavement and sale of 272 enslaved persons provided a tremendous financial gain for Georgetown and other Jesuit institutions. The Jesuit mission in the United States has developed into 27 institutions of higher education and 80 secondary and pre-secondary schools with billions of dollars in net worth. Yet the median net worth of descendants' families today is only 10 percent of their white counterparts.    
This scholarship comes on the heels of other initiatives and programs from peer institutions recognizing their involvement in slavery. In 2006 Brown University released a report about its founders' connection to slavery and created a center to research slavery injustice.  In similar fashion, Dr. Lawrence Bacow, president of Harvard University, released a report on Harvard's legacy of slavery in 2022. Alongside the report, Bacow also announced a commitment of $100 million to redress Harvard's early ties to slavery as well as plans to identify and support direct descendants of enslaved people who labored at the Harvard campus. 
Joseph Stewart, president, CEO and co-founder of the Descendants Truth and Reconciliation Foundation, said that the Catholic Church and the Jesuits "have a moral obligation to the people whose ancestors they held in slavery. … You cannot look at slavery and justify it under a moral umbrella, and that is the foundation on which we have built these organizations."    
In a statement, Dr. Harry L. Williams, president and CEO of TMCF, said that the partnership with the Descendants Truth & Reconciliation Foundation will help to advance the educational aspirations of the descendants of Jesuit and Catholic slaveholding.
"It is an unprecedented but essential step forward on our nation's path to racial healing and its ongoing efforts to finally honor the fundamental principles enshrined in our Constitution," he added.       
Veronica Fernandez-Alvarado can be reached at veronica@diverseeducation.com