In the world of university and nonprofit fundraising, direct mail campaigns play a crucial role in engaging donors and generating support. Direct mail drives everything from initial solicitation to pledge reminders, and every letter comes in a wrapper: the choice of envelope can significantly impact results. In the "promise" phase, right after a donor has made a pledge, the delivery mechanisms have never been more critical. Let's face it, a donor who has told you "yes" over the phone, via text, or to a peer ambassador but hasn't yet made a gift via needs the best possible treatment to convert to an actual donation with a pledge mailing.
To convert on the promise, you have to take every step you can to make the giving experience powerful, meaningful, and easy. You also have to avoid disaster. The pledge mailer might not arrive fast enough to capitalize on the donor's initial emotions, the mailer may be missing a premium feel (an idea that the donation is being put to good use), or it may be mistaken for a "bill" and ignored until the goodwill emotions of giving wear off.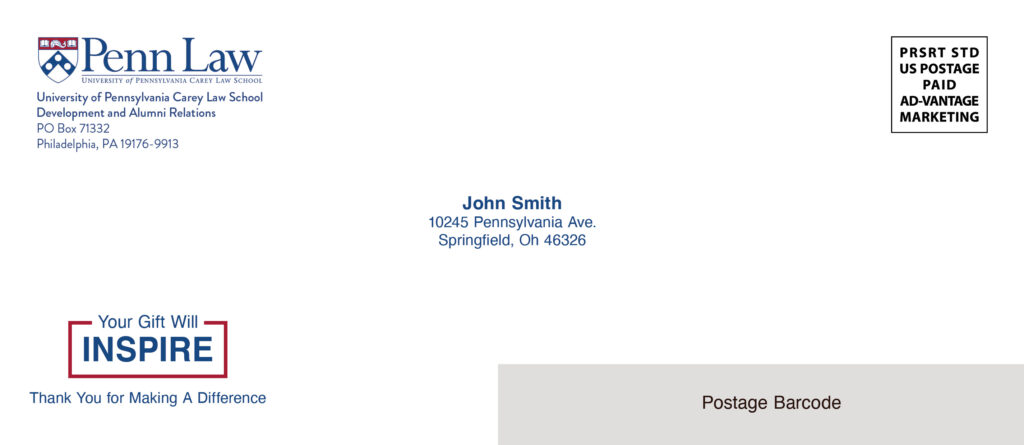 Recognizing the need for a more impactful approach, RNL is leading the way by switching our clients to utilize closed-faced envelopes instead of traditional windowed envelopes for pledge fulfillment in the coming year. Here's why:
Elevating the donor experience: An envelope is more than just a delivery vehicle. Because it's the first thing a donor sees, it's also an experience. The texture and perceived value of your logo on the cover are crucial. Retailers know this: think of it as the same as someone walking into Target versus a discount store. An acetate window distracts from the texture of the paper and lowers your brand's value. By choosing a closed-faced envelope, you are elevating the donor experience. This approach conveys that the recipient's contribution and support are highly valued and appreciated.
Avoiding having your envelope mistaken for a bill: One of the main drawbacks of window envelopes is their resemblance to bills or transactional correspondence. Giving is about relationships, and you are driving to something bigger down the road as these donors grow into future major givers. This association can inadvertently prolong or even prevent open rates. By adopting closed-faced envelopes, RNL ensures that your fundraising appeals stand out from the crowd and are not mistaken for routine financial documents. We believe this increases the likelihood of recipients eagerly and quickly opening the envelopes to discover a personalized message inside, ensuring your outreach can capitalize on the emotions that caused these recipients to make a promise to give in the first place. You got a pledge from a personal interaction. Going impersonal with the pledge reminder is a miss.
Personalized messages boost engagement: RNL recommends incorporating a unique message for your specific brand to boost open rates and engagements even further. RNL tailors the envelope's outside content to resonate with your donor. These messages can include variations such as thank-you messages, taglines, and a sense of urgency. RNL's approach to personalizing messages helps foster a deeper connection between donors and your institution. This level of personalization demonstrates your commitment to understanding and appreciating each individual's philanthropic contributions. Direct mail doesn't have to be impersonal. And we've learned that it starts with the envelope.
At RNL, we understand that every fundraising campaign is unique, and the preferences of our client partners vary. We collaborate closely to get the exact right feel in the direct mail vehicle that will achieve your fundraising goals. That means checking the samples before they fly out in the mail and reviewing proofs for approval. We ensures the final product aligns with your brand identity, messaging strategy, and donor engagement objectives.
It's about creating a better donor experience. Giving is about building a long-term relationship. The shift from windowed to closed-faced envelopes represent a strategic move to focus on that relationship. We're championing a premium donor experience, which is about increasing open rates, response, boosting the joy of giving, and fostering deeper donor engagement.
We invite you to join us in embracing this best practice and revolutionizing how we connect with donors. This is one simple way we're transforming the way we connect with donors. If you're an RNL partner, reach out to your RNL representative to find our more, and if you're interested in the idea of moving past transaction to engagement, drop us a line. We're ready to help enhance the success of your university or nonprofit's fundraising efforts and make a lasting impact on the future of your mission.
What's your best path to sustainable fundraising?
Let's talk about how we can help you build a robust donor pipeline, engage the right donors at the right time, and chart a course to fundraising success year after year.