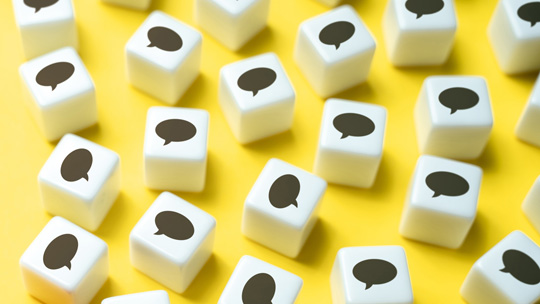 In personal and professional relationships, we often value those who are good listeners. We notice how they pick up and then act on important pieces of information. We feel more connected to them because they, after hearing what's important to us, meet us where we are. Engaging with a good listener, we're often left feeling a greater amount of trust in both their skills and ability to make decisions that will be beneficial.
Being a good listener is universally accepted as a valuable and positive trait.
If we all have such positive experiences with good listeners—and possibly even actively work on being better listeners ourselves—why do so many of us abandon those proven practices in our digital presence?
What is social listening?
Social listening is a technique that involves monitoring social media platforms and analyzing mentions, keywords, and discussions related to your brand, your organization, or sector. While many conversations in organizations revolve around what they as the brand will post, social listening is the opposite. It's the attention given to what everyone else is posting or saying about you, whether they be customers to competitors. It includes everything from carefully planned messaging to comments left seemingly on a whim.
Social listening for higher education can give individuals, teams, programs, and entire institutions an advantage in multiple ways. Because programs cross multiple industries and students come from anywhere and everywhere, staff may have questions related to industry or economic trends, routine events, or isolated incidents that drive change in the market. Social listening can provide answers. Buried among all that is being said, commented upon, or otherwise appearing is important information that can help you gain an edge, improve your positioning, or extend your service in new and meaningful ways—if you know where to look.
Challenges
Many people are surprised by how challenging social listening can be. After all, social media platforms are free and there are a lot of monitoring tools available. You have the opportunity to focus your "listening" on objective measures (i.e., likes and shares) or subjective measures (i.e, text responses), or both. All of the information and insights you could possibly hope for is at your fingertips. What could possibly be so difficult about social listening?
So much information can be hard to manage. Monitoring social conversations for discussions related to a brand or industry can be time-consuming and, even once skills have been developed, may feel overwhelming. In higher education, marketers are often monitoring industries and the economy in general, in addition to their own competitors. It's a lot of information, and it isn't always clear which data are most valuable.
Brand and market changes may be hard to keep up with. Social listening is an ongoing process and, if done well, is almost guaranteed to create work for you and your team. For example, when your efforts uncover a new market trend and you confirm that your competitors have already begun to respond to that change, you have work to do—work you probably hadn't planned for. It can feel overwhelming and it may lead to strained relationships. But institutions have to find a way to make it work because if we don't change with the world around us, we put ourselves at tremendous risk of becoming obsolete.
Your audience will likely be influenced by things completely out of your control. Because we ultimately support students in higher education, we will always have a human element to consider. For example, you may want to create content focused on an innovative change in one of your degree programs, but your audience may be stuck talking about the stress caused by a decline in job postings in their field. You'll regularly be faced with these types of challenges and there often isn't a solution within your control.
Benefits
While the challenges of social listening need to be considered, the benefits can outweigh those challenges. Social listening allows colleges and universities to tailor their programs and services to better meet customer expectations.
Learn more about your current market through a sentiment analysis. Gathering and analyzing customer sentiment allows institutions to identify both positive and negative experiences and feelings in the market. An organization may choose to focus on how people feel about their brand, but because of the open nature of social media, it may be useful to conduct a sentiment analysis more broadly and see how what people are concerned about/talking about aligns with your brand. Then you can think about things like: What's working? What's missing? What are people excited, concerned, or wondering about?
Keep an eye on your competitors. By monitoring conversations about competing brands, institutions can gain insights into their strategies, customer satisfaction levels, and overall reputation.
Gather fresh ideas. By monitoring social media conversations, institutions can gauge how their audience feels about their brand, programs, or other services. What ideas do they have that you haven't even considered yet?
It takes time, expertise, and commitment to set up social listening processes—and you can start small! But it can be the fastest way to get the most accurate information about the topics that matter to you the most.
How do you know if you're doing it right?
Social listening for higher education is an ongoing process that needs to be constantly monitored and refined because the world around us is constantly changing and sharing new things. That means you have to keep listening to make sure you always have the most relevant information.
Here are a few systems you can put in place to make sure that you're always at the top of your game.
Set up a routine. Don't make social listening something you do if you have time. You'll never have time unless you regularly make the time.
Share what you learn! Set up routine communication to inform new product development, current and upcoming marketing campaigns, and every other aspect of business development.
Invite feedback from your campus. You may find that individuals or teams have specific questions that social listening can answer. Partnering with others in your institution will increase your effectiveness and it will help you stay motivated.
Don't be afraid to make a change. You, your team, your audience, and your digital presence is going to change over time. Accept that from the start! Be prepared to modify your approach, the strategic plan you create, and the tools you're using to continue to maximize your efforts.
And most importantly, learn from your peers. Schedule a coffee chat to discuss how their campus is approaching social listening (and share your successes as well). Have lunch and talk about the biggest challenges you're facing and where you can get the most relevant information. You and your team are closer to being social listening experts than you may think!
Talk with our graduate and online enrollment experts
Ask for a free consultation with us. We'll help you assess your market and develop the optimal strategies for your prospective graduate students and online learners.