Giving USA: The Annual Report on Philanthropy, the longest-running and most comprehensive report
on the sources and uses of charitable giving in America, was released today and told us that an estimated $499.3 was contributed in 2022 from individuals, corporations, foundations, and bequests. This represents a decline in giving after strong years in 2020 and 2021, and only the third time giving has fallen in the past 40 years. Notably, this happened in 1987, 2008, and 2009, years impacted by significant recession and inflationary pressure.
The report is published by Giving USA Foundation, a public service initiative of The Giving Institute. It is researched and written by the Indiana University Lilly Family School of Philanthropy at IUPUI. RNL is proud to be an Institute member and co-sponsor of the report.
"Drops in the stock market and high inflation caused many households to make tough decisions about
their charitable giving for the year," said Josh Birkholz, Chair of Giving USA Foundation and CEO
of BWF, in the Giving USA press release. "But despite uncertain economic times, Americans demonstrated how essential they view the nonprofit sector and its ability to solve big problems—by still giving nearly half a trillion dollars in 2022."
Key market challenges and inflation impacted fundraising in 2022
Giving USA also reported stark economic indicators of which we are all aware of last year. In 2022, the S&P 500 dropped 19.4% (-25.4% adjusted for inflation), the largest drop since 2008. Personal income was flat in current donors, or nearly 8% negative when that level of record inflation is considered.
While a strong labor market and GDP growth contributed positively, this volatility and uncertainly had a strong impact on donor response.
"The economic picture that emerges suggests that many households were stable—we did not see job losses or an increase in unemployment the way we did in the Great Recession. However, households tend to give when they are financially and economically secure—and the inflationary pressures meant that fewer households had extra to give," said Una Osili, PhD, associate dean for research and international programs at the Lilly Family School of Philanthropy. "In addition, donors may not have been as compelled to respond to immediate needs as they had been during the early days of the COVID-19 pandemic or during the Great Recession."
International affairs giving rises, education declines, individual giving still rules
There is a lot to unpack in the full report which is on its way soon, and I encourage you to subscribe to Giving USA, which has moved to a full year model of expanded reports and research to help drive your strategy. An overall trend for 2022 is that international affairs giving, after adjustment for inflation, is the largest area of increase for giving by 2.7%. Education giving declined, after inflation, by 10.7%.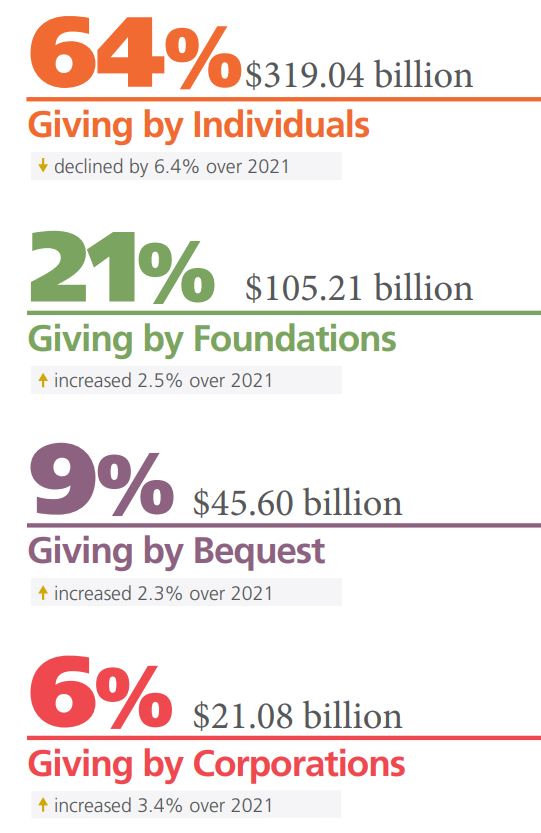 Image From Giving USA: Individual giving still rules in American philanthropy, but things are shifting. Check out the full GivingUSA infographic and subscribe to the full report to find out more
Individual giving remains the largest portion of philanthropy at 64%, but once again declined in its share, which has been a continuing trend. One factor at play here is donor-advised funds and other vehicles that take previous individual contributions and distribute them through foundation giving. As I've continued to state, your organization must have a strategy to adapt to this changing pattern of strategic giving by donors and how you will thank them and show impact.
Fundraisers adapted in 2022, and consistent engagement is the key to success
When RNL consultants saw the preview results of the report, the data echo what we heard in the field with our partner clients. "Inflation and a tough stock market presented hurdles for many donors in 2022. This was definitely a challenging fiscal year for fundraisers," says Sarah Myksin, senior vice president at RNL, who leads our team of senior consultants. Staying present with donors matters, however. She says that the organizations that stayed the fundraising course are often now seeing better results in 2023 now that things have improved.
"The organizations that doubled down on consistent, personal engagement at scale now find themselves in a much better place to convert on that relationship with donors with the modest economic improvement we've seen." Sarah also reminds fundraisers to look forward. "It's not always just about the donation you're getting today. When you stay with donors for the long term, you're building a pipeline of good will. That can pay off for decades to come, with major gifts down the road."
Engaging donors in a time of economic uncertainty will be a key topic at the upcoming RNL National Donor Engagement Workshop in Nashville, July 26-27. Register today to join peers and RNL experts for this action-oriented event to kickstart your FY24 strategy and beyond!
What's your best path to sustainable fundraising?
Let's talk about how we can help you build a robust donor pipeline, engage the right donors at the right time, and chart a course to fundraising success year after year.