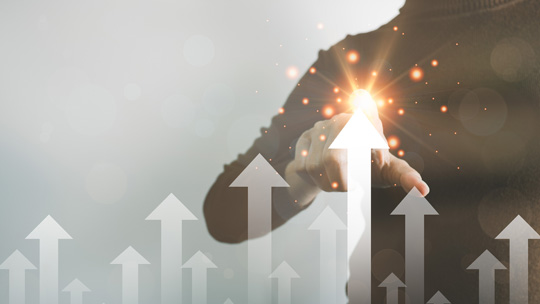 To focus on operating sustainably, we've seen multiple announcements of colleges and universities needing to make cuts to stay responsive and relevant. With enrollment rates eroding and costs skyrocketing, everything is being evaluated at these institutions to make them more resilient and better prepared to compete in a changing higher ed landscape. But how do you identify and balance resources for re-allocation to ensure the best return on investment?
In our work with colleges and universities, the most successful ones do not think about enrollment stabilization and growth as the ultimate goal. Rather, they focus on a series of higher-order strategies and tactics that are critical to stimulating demand and ensuring their sustainability. Today's ever-changing environment means that year-to-year viability of colleges and universities depends now more than ever on their ability to innovate. Yet too often, many institutions do not manage innovation strategically. They will embark on a collection of ad-hoc, stand-alone efforts that compete with one another for time, money, attention and prestige. Instead, colleges and universities with the strongest innovation track records manage for "total innovation."
A key part of this innovation is how institutions emphasize and prioritize adapting their strategic planning process to the current environment to maximize impact of their marketing, recruiting, and retention efforts. It's an approach that's illustrated by the Ansoff Growth Strategy Matrix.
The Ansoff Growth Strategy Matrix for enrollment management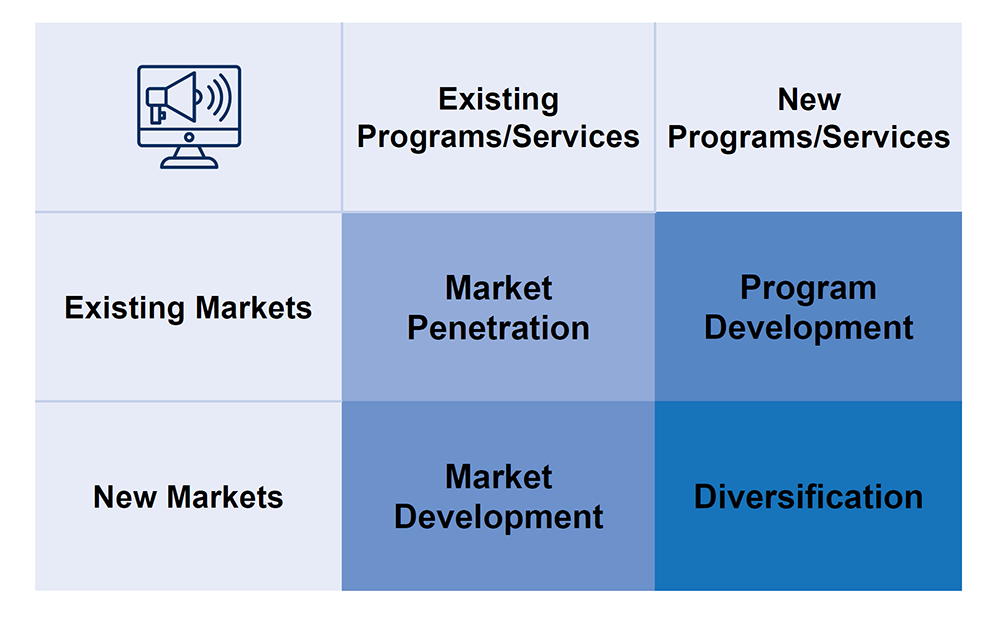 The Ansoff Growth Strategy Matrix was developed in 1957 as a framework for business growth and has been adapted for nearly every business, including higher education. For enrollment managers, it provides a valuable model for strategic planning. With its attention to the development of new academic and co-curricular programs or the expansion and enhancement of existing programs, it is a key tool to consider for future sustainability. Here's how we discuss this enrollment sustainability approach with our campus partners.
Market Penetration
Market Penetration means taking existing programs, both academic ad co-curricular, and doing a better job of educating the marketplace and convincing your marketplace that your institution is the better option. Institutions need to have the right Market Penetration strategies in their strategic enrollment plan.
However, in a flat or declining marketplace, trying to ring out market share can be dangerous as you can be sure competitors will come right back at you to regain their market share. This strategy can also lead to price competitiveness. You must complement Market Penetration strategies with strategies for Program Development and Market Development.
Program Development
Program Development would include programs both inside and outside the classroom that have the potential to create and stimulate new and or additional demand. This can also be revisions of existing programs to make them more attractive and market-relevant to today's jobs.
Market Development
Market Development involves taking existing programs or slightly modified versions of programs (online, for example) to new geographic or demographic markets. RNL defines markets not simply geographically, but as groups of prospective students who have similar buying behaviors and characteristics that you are trying to target. A market, therefore, could be a medical center down the road that you provide health care credentials and degrees to their employees, or Hispanic students if you are underserving them.
Diversification
Finally, Diversification means creating opportunities to take brand new programs to new markets. The failure rate is high here, but a strategic enrollment planning process should have an empirical approach to include a strategy here.
When it comes to enrollment sustainability, we're all in this together
When done well, strategic planning is not an us vs. them exercise. It's a "we are all in this together" process that reveals the data-informed logic behind decisions. Furthermore, integrating academic and co-curricular planning ensures we are integrating faculty into the transparent, inclusive process. (For a more in-depth look at this process, see our book Strategic Enrollment Planning: A Dynamic Collaboration.)
RNL has worked with hundreds of institutions to help them be successful and sustainable. We invite you talk with us about how we can help you find the right strategies for reaching your current goals and creating a successful enrollment future for your institution. Contact us today for a complimentary consultation and we will arrange a convenient time to talk.
Talk with our enrollment experts
Ask for a free consultation with an experienced RNL consultant and learn how you can increase engagement, make a compelling case for enrollment, and bring in the class you want.