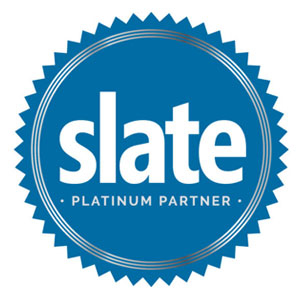 For many Slate campuses, the Slate Summit conference held every year in June is always a highlight of the year. While conference attendees look forward to many things at Summit each year (late-night coding, breakout sessions, or breakfast momosas) perhaps the crown-jewel of the show is the opening session when Technolutions CEO Alexander Clark announces the new features and functionality that will be released in the upcoming months.
Because of our platinum-level partner status, RNL got a sneak-peak for some of those announcements ahead of time at a preferred partners event in New Haven in early May. But despite already knowing some of what was coming, Alexander (and the whole Slate team) still managed to surprise by announcing some spectacular new features. Here are some highlights
Slate Support – When you click on Slate logo on any page within Slate an expanded support page will appear that will (at some point) utilize AI to help troubleshoot and offer a support tree. Combined with this, Slate will be deprecating the traditional service desk. Having a reliable preferred partner in your corner will be even more important now!
Dashboard Editor – All dashboards will now be able to be created and edited within one place in Slate, utilize CJ queries and merge fields, and preview the dashboard with specific records.
Open API and Configurable API – Slate will begin offering both a pre-delivered API as well as the ability to build your own API that allows use of CJ to build the data elements, code options, and multiple options for output and shows responses, requests, and query parameters
Ping Deep Tracks – Slate will be expanding the ability for Ping to track users across different sites, provide a specific link where the record originated, and expand the ability to query on this information.
Slate Credit Accounts – Slate will finally allow shared instances to segment their Slate credits so each unit can keep track of their own funds and expenditures.
Query Profiler and Report Profiler – Slate will show visible progress of queries and reports as they render and more insight into which elements may be taking the longest to run.
Perhaps the most timely and techy announcements of all that will begin incorporating AI into Slate:
First Draft – Utilizing large language models and generative predictive text, Slate can provide a first-draft message for you based on your inputs, very similar to ChatGPT!
Quicker Queries – Along the same lines, type in a description of the query you want to build and Slate will create a first draft that you can then revise and expand upon!
Of course, this only covers a fraction of all the new features that Technolutions announced (and when they go live is a completely different question). To see the full list of new features, check out Slate's 2023 Slate Innovation Summit Executive Summary.
If you're interested in chatting about how RNL can assist with implementing some of these new features, reach out and schedule a free consultation with our CRM experts. We're happy to talk with you about how you can optimize your CRM to maximize your enrollment results.
A CRM solution that drives enrollment results
Are you getting the greatest ROI out of your CRM? Find out how RNL's CRM experts can help you with:
Implementation acceleration
Enhanced communication flows
Data integration
Assessment and remediation
Training and guidance