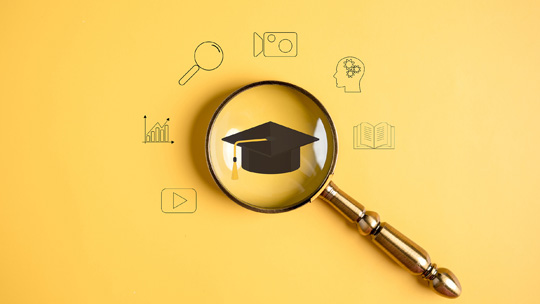 When resources are limited and growth is a priority, how do you determine where to invest? In my work with partner institutions, I often see competing priorities come to light as the marketing team, the enrollment team, and the academic team all have different evaluation tactics for program growth. Perhaps this sounds familiar to you, too:
Marketing Director: "Invest in those programs with the greatest growth potential!"
Enrollment Director: "Invest in those programs with the quickest growth potential!"
Program Director: "Invest in my programs!"
With all these fully empowered voices, how do you make strategic decisions that will result in growth for your university?
Start by conducting a comprehensive portfolio analysis
Based on the research RNL has conducted in the graduate and online (adult) student market for the past decade, there are five essential factors that must be assessed and understood that are critical in building a growth strategy:
Geographic market conditions
Program-specific demand (and supply)
Course and program design
Marketing and recruitment
Student success
Assess your geographic market conditions
First, you need to examine your region's market by mining data related to leading and lagging indicators of each program category. Remember that your region is larger than your "service area"—it is the "economy" in which your institution operates. Then, begin to gather information and data on the competition (enrollment history, growth/decline trends, cost, online or campus modality, etc.) and the job market (total jobs available, open positions, titles, salaries, etc.). Is the market saturated, causing schools to export graduates to other regions? Or is there unmet demand, causing employers to pay starting salaries higher than the average salary that the long-term employee makes? This is useful information you will need to prioritize growth programs and also information your marketing department will want to use in program promotion.
Assess program-specific demand
Second, dig deeper into the data and information at the program level (yes, for every program that you think has growth potential). This will help you learn more about both current competitive conditions and future demand projections based on job market data as well as the compound average rate of growth among your competitors. Unfortunately, some of these data are difficult to surface; you'll need to gather them by reviewing other college's program pages to learn more about their positioning strategies, hybrid offerings, time to completion, and other factors that help define the program landscape.
Compare what you have learned to current program design
Now, take what you've just learned—particularly what you discovered about the design of competitor programs and the national research about student's program preferences—and check to see that your programs are designed to fit the needs of the market based on this research. Is the program priced right and designed for the right market? How long will it take a student to complete the program? Are there embedded certifications the student can earn? Have you examined the design of your courses, especially if they will be offered online?
Factors Influencing Enrollment in the Graduate/Online Student Market
Assess marketing and recruitment strategy with market demand
Fourth, determine how you will establish (or reconfigure) a marketing and recruitment strategy for your portfolio with a full understanding of regional market conditions. There are two parts to this component:
Developing a portfolio matrix to guide investment.
Developing the tactics that best fit your budget.
In our work with campus partners, RNL scores each academic program based on market demand from recent jobs data and projected trends, and also on market share based on its enrollment position compared to regional competitors. The scored programs are placed on the matrix (see below) and then evaluated to get a realistic viewpoint of their comparative positioning.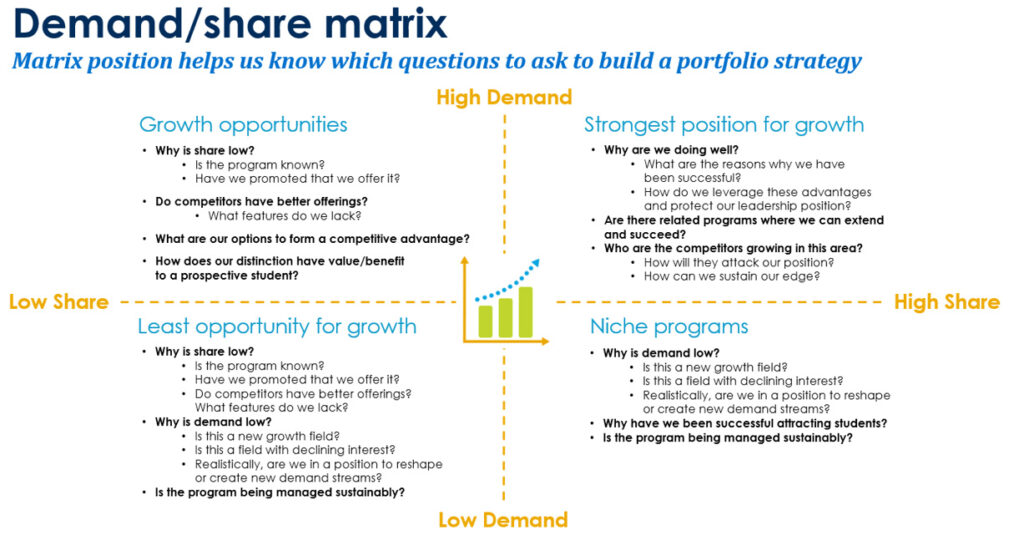 Talk with our graduate and online enrollment experts
Ask for a free consultation with us. We'll help you assess your market and develop the optimal strategies for your prospective graduate students and online learners.
Using the matrix to drive strategy
Does this mean that you should only invest in the top right quadrant of the portfolio (high demand and high share)? No. Programs in all four quadrants have merit and value, but enrollment expectations need to be scaled accordingly. And correspondingly, your marketing tactics will be different for each quadrant. (As an example, you may choose to use organic search engine optimization only for the bottom left quadrant, target list purchases and dedicated communication flow for the bottom right quadrant, and digital lead generation strategies for the top two quadrants with a higher investment in advertising spend for the high/strong growth programs.)
Don't forget retention
Finally, student retention challenges may vary among the programs in your portfolio, based on many factors: course sequencing, subject matter, admission criteria, financial aid strategy, and cohort make-up, and more. These challenges are "owned" in many different teams (academic, enrollment, marketing, etc.) but retention benefits all of these teams. Your various teams will want to prepare in advance for opportunities to address these concerns and coach students through key milestones. Leadership can take an active role in getting all institutional teams focused on these challenges because student success=institutional success.
Campus culture
Surrounding all of this work—and not to be minimized—is the influence of campus culture. Every university has a mission to fulfill, branding and history that may be recognized, and faculty talent to consider. This is the beauty of higher education and what inspires all of us to maximize student potential with our careful thought and planning.
How can you optimize your portfolio and positioning?
RNL's experts can help you assess and optimize your portfolio planning, conduct market research to guide decisions, and help you with your enrollment strategies. Reach out to set up a complimentary consultation with us and we'll arrange a time to share our insights and strategies with you.