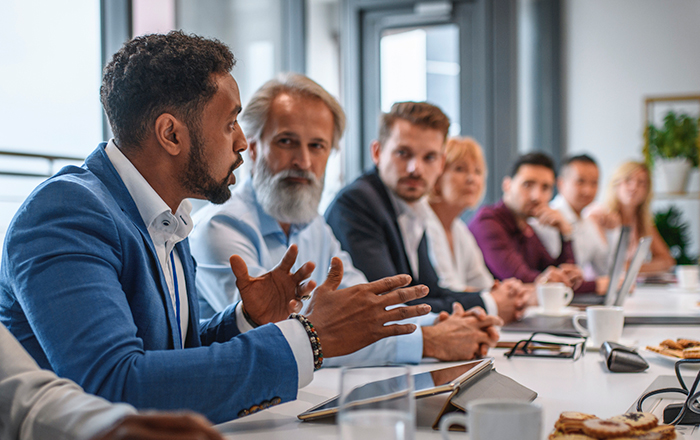 ---
Editor's note: This article was originally published on the OECD Forum Network in May 2023.
---
Immigrants and refugees bring skills, knowledge, and an enduring drive to fulfill their aspirations for a better future. For host communities, their potential contributions are immense.
Still, they often struggle to find jobs that make full use of their talents. According to the OECD report Settling In 2018, almost 45 percent of college-educated immigrants and refugees in OECD member countries, or more than 15 million people, are unemployed or underemployed.
Countries around the world are taking an increasingly restrictive immigration stance, tightening borders and restricting visas. These exclusionist policies impede the dreams of immigrants and refugees and deprive their own nations of their invaluable contributions.
These political headwinds demand a coordinated response. Practitioners committed to building immigrant- and refugee-inclusive economies need to find ways to harness local enthusiasm and expertise to drive national change.
World Education Services (WES) is a non-profit social enterprise committed to helping people learn, work, and thrive in new places. Helping immigrants and refugees achieve academic and professional success is central to our mission. To foster inclusive communities, WES evaluates international academic credentials, engages in policy advocacy, and provides technical assistance, philanthropic support, impact investments, and pragmatic programming.
In many of these efforts, WES joins organisations and policymakers working to promote immigrant and refugee inclusion at the local level. Our close contact with these partners has convinced us of the power of cross-community collaboration to solve common challenges and advance shared goals. National networks that connect practitioners, policymakers, and advocates can help accelerate the creation of innovative integration programs and channel local energy into national policy advocacy.
We believe that networks like these are essential to the creation of immigrant- and refugee-inclusive communities and economies—especially in the absence of government support. In 2017, amid growing hostility towards immigrants and refugees in the United States, WES Global Talent Bridge launched the Skilled Immigrant Integration Program (SIIP), an initiative that connects practitioners across the country to advance state and local programs that promote immigrant and refugee workforce inclusion.
Now comprising 40 communities across the U.S., SIIP operates on the premise that local practitioners are uniquely positioned to identify and address the challenges immigrants face in their communities. The program also recognizes the relevance of local solutions to nationwide challenges. SIIP participants join a national network of like-minded organisations, gaining access to the network's technical expertise and receiving customised assistance to help them develop and implement strategies for integrating internationally trained immigrants and refugees into their local economies.
In participating communities, the insights of the SIIP network deliver results. In Massachusetts, SIIP partnered with the African Bridge Network to support its Immigrant Professionals Fellowship. Through upskilling, individual career coaching, and job placement, the fellowship helps internationally educated health care and finance professionals expand their networks and position themselves for job opportunities in their fields. The SIIP network has supported similar workforce inclusion initiatives in many of the other 39 communities across the country.
Cross-community collaboration can also improve immigrant and refugee employment outcomes in more supportive political environments. Although Canada's national immigration policies are generally more welcoming than those of the U.S., immigrants to Canada are still twice as likely as the Canadian born to work in a job that does not fully utilise their qualifications.
This disparity prompted WES and immigrant employment councils across Canada to form the #ImmigrantsWork coalition, an alliance dedicated to promoting the value of immigrants in the nation's labor market. Drawing on decades of experience, the coalition released an employer playbook in 2021 that outlines practical strategies and best practices to bolster immigrant inclusion in workplaces across the country.
Subsequent community engagement initiatives helped crowdsource strategies tailored to local needs. Through interactive workshops in three pilot communities, WES engaged local partners and employers to co-design immigrant-inclusive workforce solutions customised to their specific circumstances. The insights drawn from these workshops informed the creation of localised digital playbooks for each of the three communities. The latest phase of the #ImmigrantsWork initiative will expand this employer-driven, crowdsourcing approach to five new locales.
Both SIIP and the #ImmigrantsWork initiative harness the collective knowledge and resources of nationwide networks to help transform lives and communities at the local level. But national networks can drive change at broader levels as well.
In September 2021, the IMPRINT Coalition, a network of like-minded organisations based at WES, launched the #UntappedTalent campaign. The campaign targeted U.S. policymakers, employers, and the public to raise awareness of the economic mobility barriers faced by internationally educated immigrants and refugees, and to put forward policy reforms.
The IMPRINT Coalition's campaign mobilised more than 130 local and national institutions in support of federal reform. By leveraging the collective power of the coalition, the campaign achieved widespread success. In the fall of 2022, the U.S. Congress adopted the Bridging the Gap for New Americans Act, a historic milestone and a legislative priority of the campaign. This measure calls on the U.S. Department of Labor to study the obstacles that effectively bar internationally trained immigrants and refugees from jobs across the country and to issue recommendations for nationwide reforms.
We applaud the efforts of local advocates and practitioners to confront common challenges and pursue shared goals. As CEO and Executive Director of WES, I am committed to supporting the economic and social integration of immigrants and refugees. By nurturing nationwide communities of practice, we can amplify the impact of local initiatives and drive systemic change.
Others across the OECD community can build on and expand these networks. By sharing knowledge, resources, and expertise, community-based practitioners can overcome the challenges posed by restrictive immigration policies and sentiments to help immigrants and refugees thrive in their new communities. Harnessed collaboratively, local action can help shape a more inclusive and prosperous future across nations and around the globe.