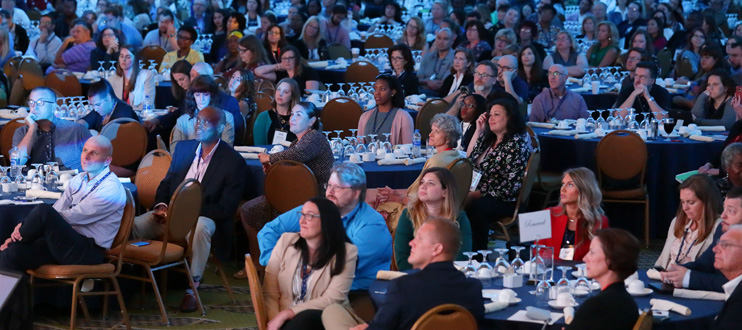 The RNL National Conference in Nashville (July 25-27, 2023) will feature its fifth annual Graduate and Online track. RNL's graduate and online theme this year is "Scaling for Growth," and our sessions will deliver techniques, tactics, and strategies to help you do just that. The full program is ready and it is jam-packed with content. Here are a few key sessions that graduate and online enrollment managers will not want to miss.
Scaling and sustaining online programs
Susan Aldridge (who served as president of Drexel University Online and UMGC) will kick us off with A Futurists Mindset Leads to Scaling and Sustaining Online Programs. Susan will address a set of questions derived from feedback among attendees of RNL's 2023 Graduate and Online Innovation Summit and include: "Why do some universities excel in launching online programs and others experience mediocre results?" and "What are the key variables that lead to scalability and sustainability?" The session will build on Susan's RNL white paper last year focused on Creating a World-Class Online Degree Program.
Marketing and recruitment strategies
Jon Korhonen and his team at Boston University's Metropolitan College has successfully developed a scalable approach to graduate enrollment that is successfully growing enrollment. In their "Developing Scalable In-House Marketing and Recruitment Operation" Jon and his team will describe how consultative advising, an automated communication strategy, and a mindfulness of student timing and personalization expectations, has resulted in BU growing graduate enrollment in a manner that is both replicable and scalable.
Demographic shifts and enrollment trends
Emily Ross from University of Arizona and Matt Bice and Courtney Haller from Baker University will participate in a panel focused on "The Next 20 Years Won't Look Like the Last: Preparing for the New Enrollment Management Conundrum." Panelists will talk about how continuing financial pressures, enrollment challenges, and demographic shifts that will extend right up to finding qualified enrollment staff from the point of view of big and smaller institutions, public and private institutions, and undergraduate and graduate enrollment perspectives.
New graduate student research
Finally, I will be unveiling data from RNL's soon to be published 2023 Graduate Student Recruitment Report. I will be joined by my colleague Nate Mouttet, who until recently served as Vice President of Enrollment Management at Seattle Pacific University and Phil Cavalier, Provost at University of Tennessee Martin for a discussion of how newly surfaced trends related to primary motivation, paying for studies, and students expectations for personalization and timely response can be most effectively incorporated into enrollment practices.
Join us and hundreds of colleagues in Nashville
If you haven't been to RNL's national conference in the past, you should really consider doing so this year. I am now five year's into this and it is a conference like no other. While you will be able to network and see old friends and make new ones among our 1,600 attendees, you will also have the opportunity to dig into topics and issues and learn in an almost seminar-like format. Finally, by offering unparalleled discounts for multiple registrations, you can bring your team and fan out across the six different tracks and then come together at the end of the day to process all that you have learned. See the session descriptions and register by May 8 for biggest savings.