by Lemuel W. Watson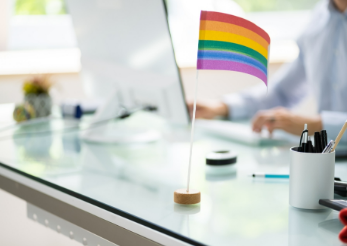 Andrey_Popov/Shutterstock
I am reminded of the collective energy to make the world better from the '60s when I think about Generation Z's passion for changing the world and their courage to define themselves. Yes, this generation is driving most workplace trends. They are outspoken and unwavering in their beliefs, so it stands to reason that they will advocate for significant workplace reforms, particularly changes that support LGBTQ+ equity.
Generation Z and the LGBTQ+ Community
There's a lot we can learn from Gen Z members in the workplace. According to a Gallup poll from 2022, 20% of adults in Generation Z identify as members of the LGBTQ community, and this percentage is only anticipated to rise. The percentage of LGBTQ+ adults in Gen Z is projected to rise from 10.5% in 2017 to 20.8% in 2021. As the first generation to grow up in a society where same-sex marriage is legal and gender identity is more commonly accepted, it's not surprising that this generation is a pioneer in developing diverse and welcoming workplaces.
By encouraging institutions to implement comprehensive nondiscrimination policies, provide diversity and inclusion training, host Pride events and celebrations, and adopt other initiatives to ensure their workplaces are welcoming and inclusive of LGBTQ employees, Gen Z has been instrumental in improving workplace rights and protections for LGBTQ people.
When it comes to discussing sensitive topics like sexual orientation and gender identity, this generation is leading the way. By doing so, they are encouraging organizations to adopt measures that foster an environment that values and welcomes differences among employees. This generation is paving the way for the proper treatment of LGBTQ students, teachers, and staff in educational institutions through initiatives like employee resource groups and mentorship programs.
Personally, I've learned a lot from this generation as a higher-education professor and administrator through research, experience, and reflection. Here are my top five lessons:
Generation Z's experience with the LGBTQ community has taught us the importance of openness and acceptance of all people, regardless of their sexual orientation or gender identity. They have taught us that embracing diversity and accepting people of all backgrounds is the key to building a better community.
They aren't scared to be themselves, which is a refreshing change from previous generations. They are unafraid to speak out for what they believe in and to make mistakes in the pursuit of their goals.
This generation takes full advantage of technology and digital tools to broaden their networks, share information, and advocate for Gay equality.
Compared to previous generations, today's youth have a greater capacity for empathy. As a result, they try to learn about and appreciate the varied viewpoints of their members.
Despite these valuable lessons Gen Z has taught us, there is still much work to be done to properly address LGBTQ issues in the workplace, particularly trans issues among LGBTQ Gen Z.
Challenges to Address
The following are important factors for university administrators and teachers to keep in mind as they create welcoming spaces for this population.
First, employment discrimination based on sexual orientation or gender identity is illegal under Title VII of the federal Civil Rights Act was passed in 2020; however, not all states have nondiscrimination laws, and it remains challenging for organizations to safeguard their workers from discrimination. Even if legislative safeguards exist in a given jurisdiction, they may not be effectively implemented or sufficiently clear for organizations to know what they should be doing.
Second, the LGBTQ community typically has trouble obtaining health insurance and other medical benefits, especially trans people, because existing coverage policies may not effectively fulfil their demands. As a result, people may go without vital medical care or be forced to pay exorbitant out-of-pocket expenditures for it.
Thirdly, LGBTQ people are underrepresented in the workforce, which means they may be less likely to be promoted or taken seriously by their peers. Some people may feel unwelcome and alone in their roles as a result of this, prompting them to consider a departure.
Fourth, there may be a lack of knowledge or sensitivity to LGBTQ concerns in some workplaces. This can create a hostile atmosphere where offensive jokes or comments are made. A lack of clear policies on how to address cases of discrimination or harassment can also have an adverse effect on an employee's mental health.
Moving Forward
All generations bring something unique to the table. What I have found most inspiring about Gen Z is their tolerance and acceptance of others. According to Seemille and Grace's book, Generation Z Goes to College, this comes from witnessing multiple societal shifts related to minority groups, including the 2009 inauguration of Barack Obama, the first African American president, and the 2015 legalization of same-sex marriage in all 50 states. As Gen Z's prevalence in the workplace grows, higher education institutions must adapt and embrace the changes these employees (and students) seek in today's dynamic world.

Disclaimer: HigherEdJobs encourages free discourse and expression of issues while striving for accurate presentation to our audience. A guest opinion serves as an avenue to address and explore important topics, for authors to impart their expertise to our higher education audience and to challenge readers to consider points of view that could be outside of their comfort zone. The viewpoints, beliefs, or opinions expressed in the above piece are those of the author(s) and don't imply endorsement by HigherEdJobs.