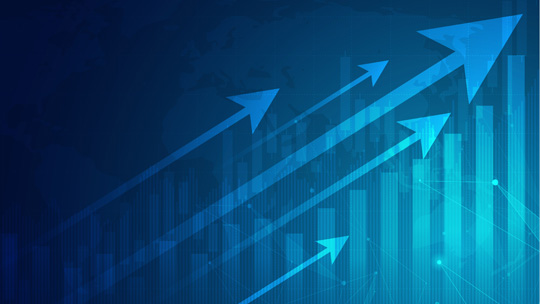 What is the best way to ensure a healthy enrollment outlook? Planning: holistic strategic enrollment planning. Every president and campus leader knows that enrollment growth (or in some cases stabilization) is crucial to the financial viability of their university. But every year the tyranny of the "urgent" chokes out the very thing that will give a college or university a fighting chance at shaping and overcoming enrollment headwinds. That thing is true strategic enrollment planning (SEP).
RNL wrote the book, literally, on the topic—Strategic Enrollment Planning: A Dynamic Collaboration. I was so impressed by the experience and the insights gained for my campus that I've joined the company. I found that it was eye-opening to understand the process of SEP, to capture the full scope or holistic planning needed for modern campuses and to recognize the urgency to start as soon as possible.
Our process of strategic enrollment planning is like having a guide or Sherpa walk alongside you and your campus as you make take a comprehensive approach to planning for the future. The process is enlightening and innovative.
The SEP Framework

As the RNL team comes alongside you in Phase 1, we work with you to prepare by surfacing enrollment trend and other data you will need and then helping do data analysis that will be used throughout each succeeding phase. In Phase 2 we move to working with campus teams to develop potential strategies and priorities for the future. (This is RNL's version of the famed "Shark Tank" according to SEP leader Lew Sanborne.) It is important to note that goal setting doesn't come until Phase 3 because it needs to be informed by what you know (by completing Phase 1) and what you think you can accomplish (by working through Phase 2).
That is a crucial difference in the SEP process and one that I would encourage you to explore. This process works to eliminate the "magical thinking" that often results in goals that are unachievable and waste crucial institutional time and resources.
This is not a replacement for but an operationalizing of your institutional strategic plan. As a former EMVP, I know you can't bring to life most strategic plans until you have clearly identified the students that are a part of those strategic goals. That is what SEP does. It is the crucial sub-set (arguably the most important) of your institutional strategy.
A way to look at this is …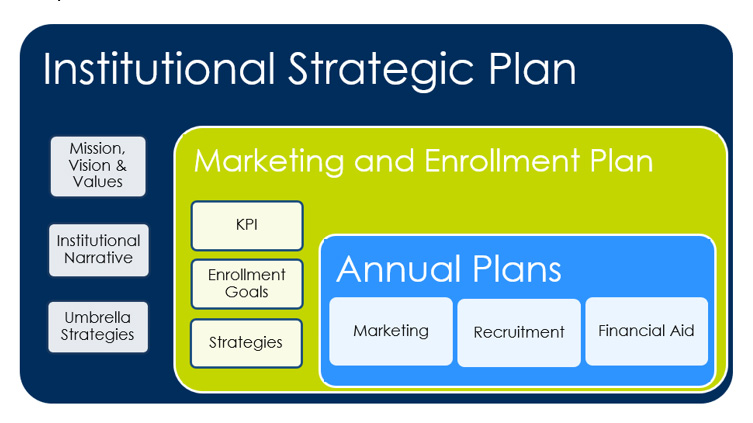 The institutional strategic plan is overarching and sets the long-term direction for the institution, then the strategic enrollment (and marketing) plan is the primary component and "sub set" that translates the strategic plan into achievable, measureable enrollment goals and strategies. The plan gives you specific goals as well as indicators and strategies to show that the strategic plan will come to life. Finally, you have annual plans that operationalize the strategies developed in the SEP process that are even more detailed (to the program level).
Holistic planning is at the heart of SEP. It means that every aspect of enrollment is considered in your SEP process. This is crucial because the headwinds are strong, and one type of modality or level of program may not withstand the enrollment storm. Every aspect of new student enrollment must be considered: traditional new students, transfer students, student athletes, nontraditional or working adults, graduate students, and unique populations that your institution can serve. Importantly, enrollment isn't just new students but the retention and success of your entire current student population. So academic advising, student development and career planning must be directly involved in this process.
What the data reveals over the past decade is that online enrollment growth—at the undergraduate, graduate and continuing education level—is the only modality that has seen growth.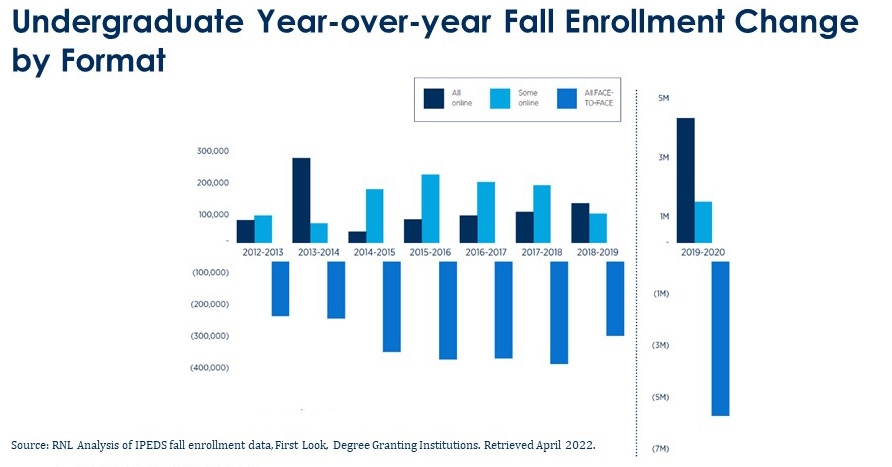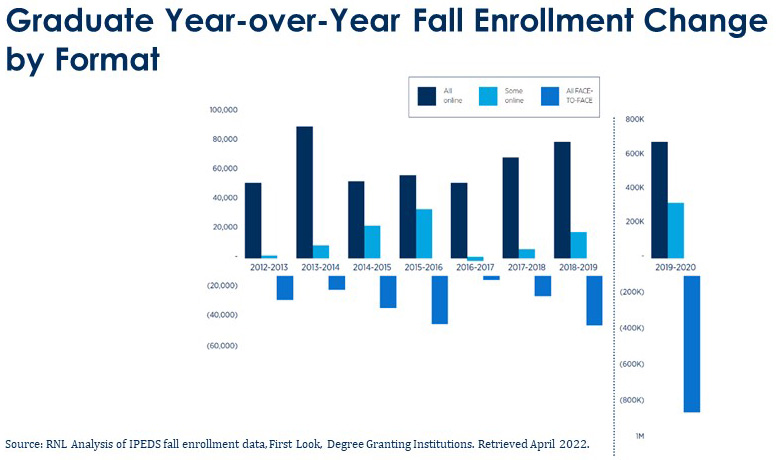 That means that in order to tap into this growth you need to invest and plan, for program offerings, infrastructure and ongoing market insight that help you provide your education in all modalities. (For more, see these slides on Strengthening Adult, Online, and Graduate Efforts from our Strategic Enrollment Planning Executive Forum.)
The rapid market changes in higher education demand urgency to begin this process. We give you the road map and your guide towards a strategic enrollment plan. But you must have the will to make it happen. Be bold and courageous and start planning now for ways to plan for your future enrollment.
Read the book and reach out to talk with our SEP experts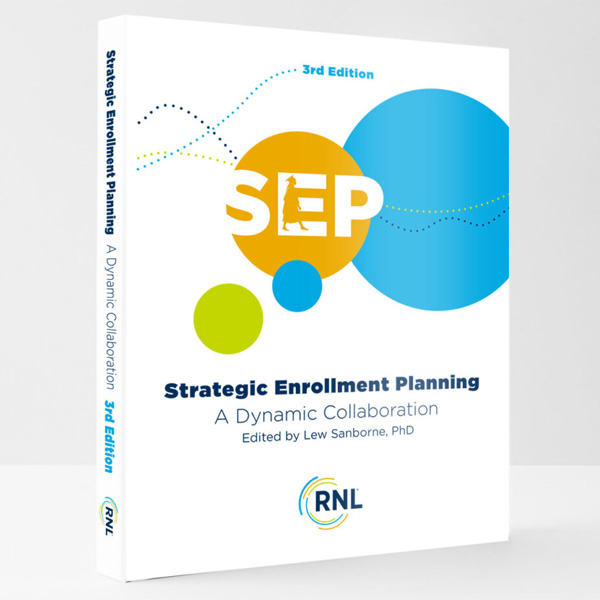 Like I said, we wrote the book on strategic enrollment planning! The third edition contains 15 chapters on strategic enrollment planning, marketing, recruitment, graduate and online enrollment, and much more. Learn more and purchase your copy.
You can also explore how strategic enrollment planning can help your institution achieve its enrollment goals and secure its long-term future. Reach out for a complimentary consultation and we will connect you with an RNL enrollment expert.