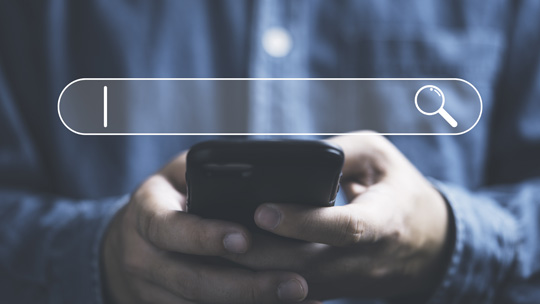 If you regularly read RNL's Graduate and Online Innovations newsletter, you may think we have an obsession with SEO. Well, we do. Why? Because in study after study we have learned that no method is used more by prospective graduate and online students to find their program. In fact, in our upcoming 2023 study of graduate students, we document that upwards of 90 percent of students use a search engine in the early stages of their search.
With this in mind, we held our Driving Organic Growth webinar to focus on the latest strategies to get the most out of your SEO. For 60 minutes, we talked with our strategic partners at BrightEdge about trends, tactics, and strategies as well as what to make of a lot of market and trend data. We had a lot of questions from our audience and I selected a few that were the most timely (and frequently asked) to address here.
Q: How do you think ChatGPT may affect SEO?
A: This is a tough one. At the very least, ChatGPT is likely to become yet another tool that will help people get to information quickly. Additionally, ChatGPT and other AI will likely further emphasize the need for quality content that is written in a manner that is useful to the reader—something that each advancement of technology has focused upon. The difference is that in this latest iteration, sites that include good content will have better AI results than sites that do not. Finally, ChatGPT and AI in general will bring content hierarchy, user experience, and technical optimization to the forefront.
Q: You mentioned that the first spot on Google is most effective in terms of click-through rate (CTR). How does that compare to paid ads which are in the first several positions.Is it really the paid ad or the top SEO position that is picked?
A: Various studies have found that the first position has on average about a 25%-30% CTR. This is for organic rankings because SEO has no effect on the placement, position, or performance of paid listings. In terms of the performance of paid versus organic, 2022 data from Endpoint Digital indicates that between 70 and 80 percent of all searchers ignore paid ad listings, but 75 percent of those that who do click indicate that the paid ad makes it easier to find the information they need. In short, the best plan is for your strategy to blend organic search and paid search to ensure that you maximize click-through and maximum exposure/efficiency.
Q: With the new Google Analytics 4 (GA4) launch, how have SEO best practices changed?
A: GA4, and GA in general, is a tool used to measure website activity. The move to GA4 has no direct impact on SEO. It won't directly affect search rankings or best practices to gain search visibility, but it does offer improved methods of capturing data to inform on-site changes and decisions.
The GA4 launch was focused more on how and what types of data you are collecting from your website to then better inform either your paid or organic efforts after the fact. The major change is the move away from session-based tracking and toward what Google calls event-based tracking. This is a focus on the engagement on the website—tracking what people are doing, what they're clicking, what they're seeing. This allows us to be able to build audiences based on those particular engagements (or what they call events) on a website. As an example: If people are clicking a particular download, or if they're viewing a certain page, or scrolling a certain percentage down a piece of content, we can now measure that engagement to make a specific audience to then target in paid media.
Q: Where do we get the data to begin to assess and build an SEO strategy?
A: There are a number of good SEO tools available today. There are free tools like Google Analytics and Google Search Console, and these are a great places to start. But you need a more advanced tool that can provide a thorough SEO technical audit of your website in order to identify and address any technical issues negatively affecting your site. These tools include Screaming Frog, SEM Rush, and Ahrefs. A third level of tools provide on-page content insights, keyword rank tracking, and keyword research. Many of these tools allow the user to add discovery features for increased capabilities. These adaptable tools include SEM Rush, Ahrefs, and Moz. With all of these tools, institutions should be able to assess and build an SEO strategy for your website. We at RNL use BrightEdge, which as the advantage of including all of these features into a single tool.
Talk with our digital marketing and enrollment experts
RNL works with colleges and universities across the country to ensure their digital marketing is optimized and filling their academic programs. Reach out today for a complimentary consultation to discuss:
Search engine optimization
Digital marketing
Lead generation
Digital engagement throughout the enrollment funnel