INDIANAPOLIS—Amid the ongoing legislative battles that are being waged across the nation against a wide-range of diversity initiatives, student athletes, coaches and administrators gathered over the weekend to affirm their commitment to inclusion, vowing to push back against the onslaught. 
"There are no final victories," warned Dr. Harry Edwards, professor emeritus of sociology at the University of California, Berkeley and one of the keynote speakers who addressed the more than 600 participants who attended the eleventh-annual NCAA Inclusion Forum.
"This is nothing new," Edwards said of the recent attacks on voting, LGBTQ, women's rights and the ongoing attempt by state legislators to eliminate college diversity offices and programming aimed to support students of color.
"I have seen it all before," said Edwards, adding that he's encouraged by the wave of activism put forth by collegiate and professional athletes in the wake of these attacks. 
Edwards said that activism grounded in athlete protest, has a long and storied history in the United States, dating back to the civil rights movement and continuing through today.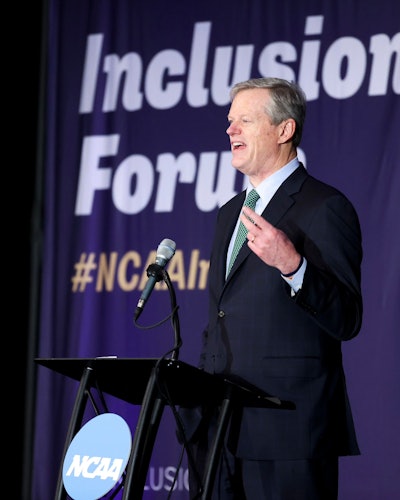 According to organizers of the forum, that kind of activism is needed now more than ever, given the growing assault on colleges and universities who are being pressured to do away with equity, and inclusion efforts and penalized if they refuse to do so. 
"There should be concern because there are people in this room who have built their life's work, their life's philosophies on exactly what is being dismantled and what is trying to be erased," said Felicia Martin, Senior Vice President of Inclusion, Education and Community Engagement at the NCAA. "There's been so much work around belonging and making sure we get the right training and the right staffing so that we can be supportive of creating environments where all feel welcomed and included. So yes, that level of concern, I think, is warranted."
Throughout the weekend, student athletes engaged in tough conversations about equity issues with athletic coaches and college administrators who say that they remain deeply worried about the political landscape. 
Workshop sessions focused on a number of issues, including Title IX, mental health, cultural competence with international students, ADA compliance at athletic events and the intersection of race and LGBTQ.
"There is a strong desire to be in these spaces, in proximity, to have these conversations, to learn together and so we've got to go back and keep thinking about how we expand these opportunities," said Dr. Amy Wilson, Managing Director of Inclusion at the NCAA, who added that this year's theme—"The Power of Proximity," symbolically reflects the forum's first in-person gathering in four years because of the COVID-19 pandemic.
Charlie Baker—the former governor of Massachusetts who was named the sixth president of the NCAA back in March—said that the NCAA's ongoing inclusion work remains a top priority.
"It is a very tumultuous time with sports," said Baker, a former college athlete, who said that college athletics remains "one of the most powerful human development programs that we have as a nation. And there are a lot of forces at work that can have a lot of positive or negative consequences on where it goes or what it becomes."  
Maria Vega, Director of Student-Athlete Development at the University of Massachusetts, Amherst agrees.
She spent the weekend networking and strategizing with colleagues and students about the important work that must be done to strengthen diversity efforts in collegiate sports programs.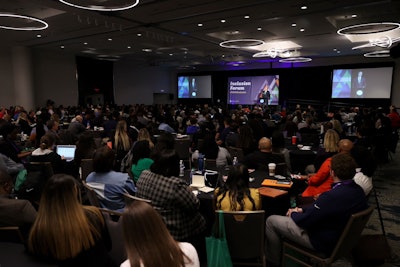 "I think it's beautiful that everyone can come here as their truest self and that there is a safe space where we can talk about these issues, and reflect on our own identities," said Vega. "Networking and being around like-minded individuals who are committed to the fight for equity is very empowering."
Attorney and author Bryan Stevenson delivered a moving keynote, sharing his experience of advocating for death row inmates and children who have become prisoners to a "broken" criminal justice system that often punishes poor people.
"I always had this idea that we're more than the worse thing we've ever done," said Stevenson, who leads the Equal Justice Initiative in Montgomery, Alabama. "If someone tells a lie, they're not just a liar. If someone takes something, they're not just a thief—even if you kill someone, I don't believe you're just a killer. And justice requires that we understand the other things you are."
Stevenson, the author of the book Just Mercy that was turned into a movie starring Jamie Foxx and Michael B. Jordan, said that redemption, reconciliation, rehabilitation, and repair should be the goal.
That social justice message resonated with those at the forum.
"I am hopeful because there are a whole lot of people here who care and this work for them is navigation and they're dedicated to it," said Wilson, adding that sports is an important pastime to bring people of all backgrounds together to advance humanity.   
"If we're going to get on the field, we can accomplish something together, and that shared experience is powerful," she said.