Throughout her life and career, Dr. Shirley Ann Jackson has proven to be a leader, innovator, and motivator.
Following her retirement as president of Rensselaer Polytechnic Institute (RPI) in July 2022, Jackson continued to have an impact on academia, industry, and public service.
Jackson was a 2009 recipient of the Dr. John Hope Franklin Award but was recognized at this year's American Council on Education (ACE) annual meeting in Washington, D.C. — regrettably, the award ceremony was cancelled in 2009. The Dr. John Hope Franklin Award was created in 2004 to pay tribute to Franklin, a historian, writer, educator, and humanitarian who made significant contributions to shaping the perspective of American history in the 20th century. The individuals and organizations chosen are those whose contributions to higher education are consistent with the highest standards of excellence.
"Sometimes, a window in time opens for you, and if you are prepared to step through, then it can create opportunities for you to make a real difference in the world," said Jackson. "I've had that kind of extraordinary set of opportunities. I have always felt it's important to make a difference and leave an imprint."
Early inspiration
Her father was an inspiration. He had an overall philosophy that he articulated: Aim for the stars so that you can reach the treetops and at least you will get off the ground. "His basic message was if you don't aim high, you will not go far," she recalled.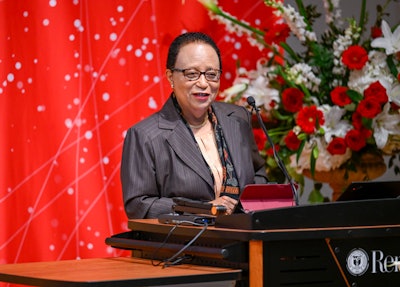 Although not a high school graduate, he was mechanically inclined and ultimately achieved a position in charge of the vehicle operations for the U.S. Postal Service in Washington, D.C., where they lived. "He had a big influence on me because he had an interest in things scientific and technological," Jackson said.
"I was always interested in the natural world," she said. "I collected live bumble bees. I used to keep them in Mason jars under our back porch. My parents would allow me. I'd vary their diets, the amount of daylight and darkness they were exposed to. I had a log of their behavior and how that affected how active or aggressive they were."
Jackson said her mother was more inclined to the language arts. She taught Jackson and her three siblings to read at an early age, and they became avid readers. In high school, she was placed in an accelerated academic program. Given her stellar grades, she had the privilege of working in the principal's office, where she interacted with the principal and vice principals. The assistant principal for boys suggested she apply to the Massachusetts Institute of Technology (MIT). Her father knew of MIT and encouraged her to apply.
She had a love for mathematics. She took a course her freshman year called PANIC (Physics a New Introductory Course), and she loved it because it combined understanding the physical world with mathematics. There, her life in physics began.
In a 2022 interview with ABC News, Jackson recalled, "At MIT, it wasn't always friendly. No one would sit next to me sometimes, and I was left out of study groups, even with women study groups. So, in that sense it was very isolating. I thought about how quiet I'd been as an undergrad, and I felt there was something I needed to do and should do at MIT to get more African American and minority students in and to make it more hospitable."
Jackson did that by co-founding the Black Student Union. After earning her bachelor's degree, Jackson became the first African American woman to receive a doctorate at MIT. A tragic moment in history propelled the theoretical physicist's decision to attend MIT for graduate school and to bring about meaningful change as a leader.
"I had dealt with different indignities and sometimes outright hostilities when I was an undergrad," Jackson said. "I graduated the year Dr. Martin Luther King Jr. was assassinated."
Jackson applied to several graduate schools in addition to MIT and was invited to visit the schools. Jackson, a member of Delta Sigma Theta, had a sorority sister drive her to the airport following a visit to Philadelphia and the University of Pennsylvania. En route, they heard on the radio that King had been shot and killed.
"That forced me to think about what I was doing," she said. "I felt it was important to try to make a difference. I thought I could make more of a difference at MIT because of its unique role in science and engineering."
Jackson and a few other African American students came together and created a list of recommendations that was submitted to administration and prompted the formation of a task force. She joined the task force, and over the next year, members laid out a program for recruiting and retaining minority students. Within a year, the number of students of color increased exponentially. A bridge program called Project Interphase was created, which still exists (now called The Interphase EDGE/x), an eight-week summer program to improve certain skills. She taught in the physics section for two years, leaving when she became immersed in her doctoral research.
Jackson is a Life Member Emerita of the MIT Corporation (MIT's board of trustees). Time Magazine once referred to Jackson as "perhaps the ultimate role model for women in science."
During graduate school, she attended a summer program at the University of Colorado Boulder where she met a distinguished theoretical physicist from Bell Labs. After her postdoctoral fellowships, she was looking for a position. A dean at MIT suggested she look at some industrial research labs. She called the physicist she met at the summer school. He made an introduction, which led to her giving a seminar at Bell Labs that turned into a colloquium, which was attended by all the scientists from the research area at Bell Labs. That launched her 15-year career at Bell Labs, which is where she met her husband, Dr. Morris A. Washington, a fellow physicist. They have one son who works in real estate development and finance. 
In March 2023, Black Enterprise named Jackson among the Female Business Leaders and Businesswomen Who Paved the Way. Calling her "a pioneer in technology," Black Enterprise also named Jackson a Women of Power Legacy Award Winner. "Jackson leveraged her knowledge of physics to advance telecommunications research at Bell Laboratories, which influenced the creation of the portable fax, the touch-tone phone and the technology behind caller ID and call waiting," the Black digital media publication notes.
Opportunities arose for her to get more involved with science, technology and public policy. In 1995, President Bill Clinton appointed Jackson chair of the U.S. Nuclear Regulatory Commission, where she served until 1999. During that time, the implementation of risk-informed, performance-based regulation became the norm. 
The move to RPI
The last year of the 20th century brought the opportunity to lead RPI. As RPI's 18th president, Jackson was the first African American woman to lead a top-ranked research university. At her 1999 inauguration, she vowed to increase RPI's profile. Within her first year, she formulated The Rensselaer Plan, which the board approved. During her 23 years at the helm, more than $1.25 billion was invested in transforming the campus, including state-of-the-art research platforms. Sponsored research awards tripled and more than 325 tenure-track faculty members were hired. There have been curriculum advances, increased scholarships, growth in undergraduate research and innovations in student life.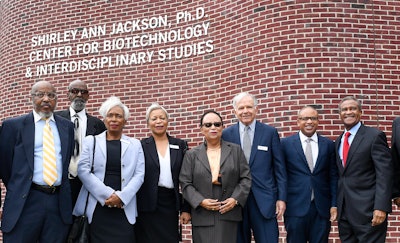 "I really was focused on improving the student experience even as I was focused on elevating the university as a research university," she said. "You can't be in the academy if you don't have the best faculty and support those faculty. You're always learning things because of the research that goes on at the university.
"The final thing, in all honesty, I love leadership, I like being able to shape institutions and to have a plan and then carry it out and see the results," she added. "Seeing things come to fruition is very gratifying."
Jackson has also been an advocate for gender equity. RPI's athletic department largely competes in Division III, but it had a men's ice hockey team that competed Division I. There was pressure to make the whole athletic program one division. She refused to do that, but she did elevate women's ice hockey to Division I.
"I believed we're going to live out Title IX," she said. "Then, I built an athletic village, a huge complex for all the sports, and had them exactly equal for the women and the men."
Prior to the end of her presidency — she now has the official title of President Emerita — Jackson helped shape The Rensselaer Plan 2024, reflecting its upcoming bicentennial. It is designed to increase RPI's global impact and address the overarching challenges in energy, water, food security, national and global security, human health, climate change and the growing scarcity of natural resources. The Shirley Ann Jackson, Ph.D. Center for Biotechnology and Interdisciplinary Studies was renamed in her honor.
Among her current commitments is serving as a member of The Nature Conservancy's global board of directors, a position she will hold until 2029. Jackson is on Secretary of Energy Jennifer Granholm's Advisory Board and on the International Security Advisory Board, which advises Secretary of State Antony J. Blinken. She also is a member of the Defense Science Board, which advises the U.S. Department of Defense on science and technology. Jackson currently serves on the corporate board of Kyndryl, a multinational information technology infrastructure services provider that designs, builds, manages and develops large-scale information systems.
"It wasn't enough just for me to succeed; I had to do things to bring other people along," Jackson said. "And do it in a way that was true to my being a scientist."