With climate change posing a significant threat to our planet, most major cities are taking steps to become more sustainable. From reducing carbon emissions to increasing the use of renewable energy sources, cities around the globe are working to create a greener, cleaner, and more sustainable environment for their residents. 
In honor of upcoming Earth Day, here are some of the most eco-friendly and sustainable cities on Earth: 
1. Wellington, New Zealand 
Its conservation efforts are one reason why Wellington ranks among the most environmentally friendly cities in the world. At the heart of Wellington, there's an eco-sanctuary home to over 40 rare species native to New Zealand. Wellington has also made major strides in developing low-carbon transport, sustainable buildings and educating residents on how to reduce waste in their communities.  
2. Copenhagen, Denmark 
With its reputation for being very bike-friendly, it's not surprising that Denmark's capital ranks as one of the most sustainable cities. In fact, less than 30% of households in Copenhagen own a car. Copenhill, one of Copenhagen's most famous landmarks, is an energy plant that turns waste into energy to power the city's houses and buildings. Additionally, most hotels in Copenhagen are eco-certified, with an environmental manager on staff to ensure industry sustainability standards are met.  
3. Zurich, Switzerland  
Switzerland's largest city, Zürich, is one of the most eco-conscious places on earth. Impressively, over 80% of Zürich's energy now comes from renewable energy sources. The city also lends out bicycles for free (with a small cash deposit) through the Züri rollt program. 
4. Madrid, Spain 
Madrid is one of the greenest urban centers in the world. In recent years, Madrid has taken the bold step to ban all diesel cars from the city center. The city has also invested in green infrastructure and electric-powered buses. The goal is to reduce air pollution by making Madrid more pedestrian and bicycle friendly. 
5. Berlin, Germany 
Berliners have embraced earth-friendly practices for many years. Germany's capital city has slashed its CO2 emissions by over 30% since 1990. With efficient public transportation, thousands of green spaces and eco-friendly buildings, Berlin has shown its commitment to sustainability.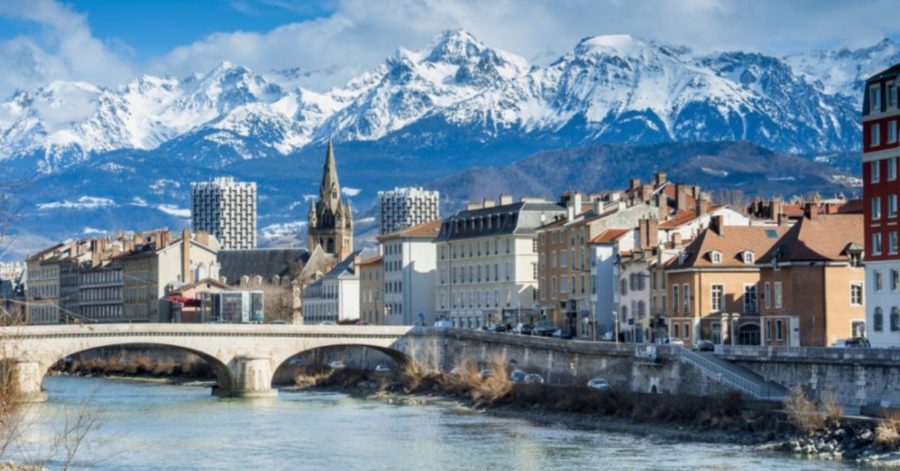 6. Grenoble, France  
Grenoble was named the European Green Capital 2022 by the European Commission for its commitment to urban sustainability. The city has ambitious environmental goals, aiming for a 50% reduction in greenhouse gas emissions by 2030. Fun fact: Grenoble is also regularly named the best French city for cycling (bonus: it's also France's flattest city).
7. LONDON, England 
Did you know that 40% of London is made up of public green spaces? England's capital city is home to over 3,000 parks. Famous for its red double-decker buses, London recently invested in diesel-electric hybrid buses to help reduce carbon emissions. The city hopes to reach net zero greenhouse gas emissions by 2050. 
There's an eco-conscious way to study or intern abroad in many of these cities (and more!) 
AIFS Abroad is dedicated to working towards a sustainable world through our Green Initiative. Environmental education is built into all our study abroad and international internship programs. We address sustainability best practices in host countries, and each participant is provided with incentives and tools to reduce their environmental impact. Additionally, all AIFS Abroad participants will have their international air travel offset by the purchasing of carbon credits.  
You can learn more about our commitment to sustainability – and see all the amazing places YOU could be living and learning: