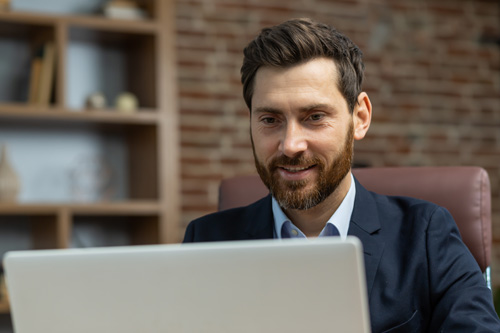 Last month, I presented overview data documenting how satisfied graduate and online students are with their chosen programs, but this month I want to focus on how these data can help recruitment leaders in planning strategies that can optimally position institutions and programs for success.
National data from administrations of the RNL Adult Student Priorities Survey (ASPS) among graduate students and the RNL Priorities Survey for Online Learners (PSOL) provide valuable information on student retention/success, but these data also provide valuable insights into student perceptions regarding the factors that influence graduate students' and online learners' decisions to enroll in their program of choice. This is valuable information for recruitment and enrollment leaders to consider in informing how to position your institution in marketing materials.
Enrollment factors for graduate students
In the survey, students are asked to indicate the level of importance they assign to a variety of potential factors in their decision to enroll. For the 21,487 graduate students from 96 institutions who completed the ASPS between the fall of 2019 and the spring of 2022, these are the levels of importance associated with each enrollment factor: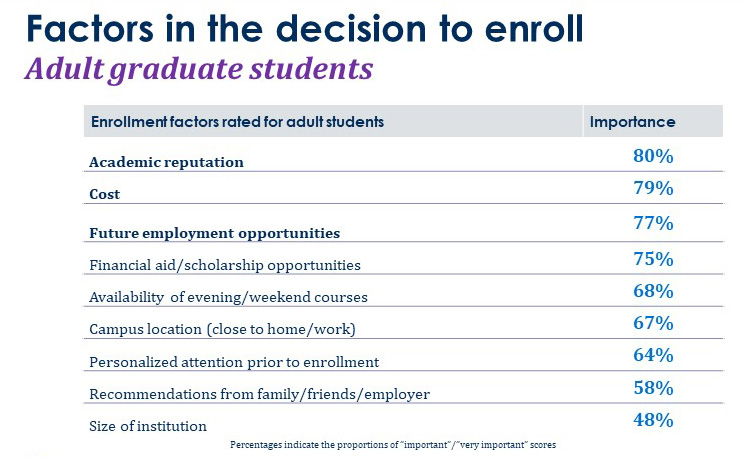 Graduate students place the greatest emphasis on academic reputation of the institution, but cost is an important consideration as well. Graduate students also have an eye to the future with their potential employment opportunities after earning a degree, and while financial aid and scholarships are fourth in importance, 75 percent of students still say they are an important consideration. Be sure to include these factors in your messaging when recruiting graduate students, and be ready to talk cost and financial support with prospective students.
Enrollment factors for online learners
The PSOL also asks students to indicate how important each enrollment factor was in their decision to enroll. The 95,512 students from 146 institutions who completed the PSOL between the fall of 2019 and the spring of 2022 reflected these levels of importance: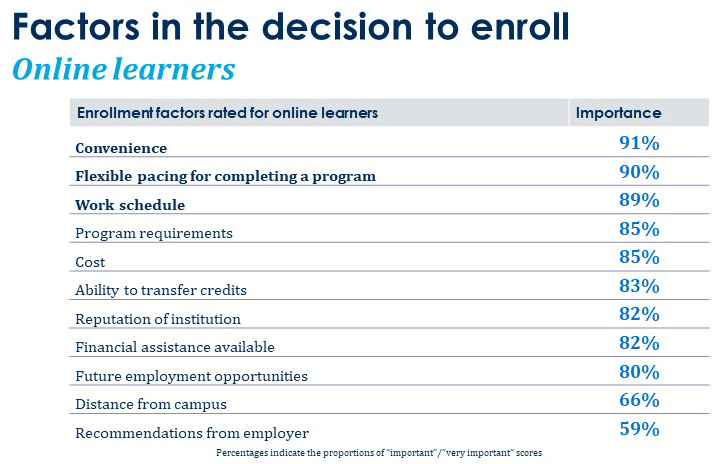 The list of potential enrollment factors is different for online learners as compared with graduate students. In these results, we see several things we would expect to see for online student populations at the top of list as being important: convenience, flexible pacing, and work schedule. But the majority of options here are important to 80 percent or more of students, so they are all important messaging components for recruiting online students to institutions. Your admissions team will want to be ready to help students understand how your online program can benefit them in all of these critical ways.
Sharing enrollment factor data
If you already regularly assess student satisfaction, be sure to share these data points with the individuals responsible for recruiting students for your graduate and online programs.
If you aren't already capturing student feedback data, you may want to invite your colleagues in enrollment management to support an effort to administer the satisfaction surveys with your online learners and your graduate students, possibly by even contributing to the investment with their budget allocation. You can build the case on why it is valuable to have these data points, along with the identified institutional strengths which can attract new students to the programs who are going to value what your students say are already doing well, with current information gathered from either the Adult Student Priorities Survey or the Priorities Survey for Online Learners.
Optimize the online learning experience
The RNL Priorities Survey for Online Learners provides actionable data to improve the online student experience and increase student retention. Find out how it can benefit your campus.