Earlham College senior Marisol Cora-Cruz has been selected as one of 42 U.S. undergraduates for the Watson Fellowship for the 2023-24 academic year, making her the 44th person from Earlham to be chosen.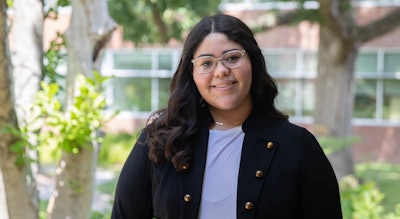 The fellowship – from the Thomas J. Watson Foundation – gives those selected a $40,000 stipend for independent international travel and research.
For Cora-Cruz, her project is "Understanding Maternal Healthcare Around the World." 
Cora-Cruz said the project will entail an exploration of access and quality of maternal healthcare and social impacts of care delivery in countries with different healthcare models, Bolivia, England, and Germany.
"Quality of life is a human right. It means having all the necessary components to live a healthy, peaceful, and long life without extraneous barriers, including having access to quality healthcare," said Cora-Cruz, a senior neuroscience major. "This level of care requires evidence-based, people-oriented and safe services to be delivered in a timely, integrated and efficient manner at the disposition of all individuals."