Who doesn't love food? Dublin is packed with restaurants, so there really is something for everyone.
In her blog, Student Ambassador Alessandra Caballero narrows it down to FIVE of her favourite places in the city. 
 What is one of the many things that unite people, regardless of their differences in culture, race, and ethnicity? Food—exactly. Whether you are going out to celebrate, catch up with friends, or just wants to try new restaurants/dishes, I have just the right recommendations for you that I have personally tried myself!   
Joe's Chicken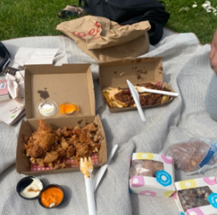 It's located in Bray, which is only one dart (train) away if you're coming from the City Centre.  This is honestly my top 1 and the trip is worthy especially if you want to enjoy it with a nature view around you or in front of the seashore. 
We laid out a blanket to enjoy our food like having a picnic while enjoying the sea breeze and the peaceful environment.
Their Maple and Chicken Waffle is to die for! It is my favourite among their menu followed by Taco Fries. Their milkshakes are also very popular.
All I can say is that I definitely will keep on coming back here.
 
  2. Pacino's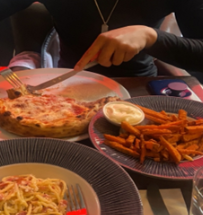 It is an Italian Restaurant located in Suffolk Street, near Grafton. Actually, my aunt brought and introduced me to this restaurant which I found slightly intimidating at first as it looked a bit fancy. And as a student myself, I always choose the cheapest options but I was very surprised when their prices aren't far from the usual 10 euro meals. 
So, I just had to come back. And when I did, I ordered the same thing I had before—Carbonara. It is a dish you can easily make at home, but there was just something about the way they prepared it that really got me on the hook. I also would have to rate their sweet potato fries which are extraordinarily delicious.
On top of that, they also serve alcohol so you could also enjoy it with a few nice cocktails to just relax after eating.
3. Pink Restaurant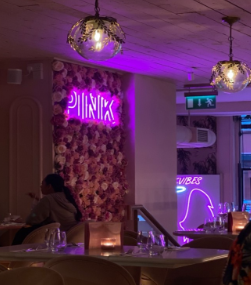 From the name itself, Pink, you could say that the restaurant's vibe and ambience is based on that. It is newly built and offers lunch, brunch, afternoon too, and one that I've tried—night-time dining. I can't deny, indeed it was truly a beautiful experience. 
We took advantage of the aesthetically pleasing ambience and interior design of the restaurant and captured too many pictures.
Their service was great, and my friend even pretended it was my birthday and the staff surprised me with a song and a slice of cake free of charge.
 
4. Kakilang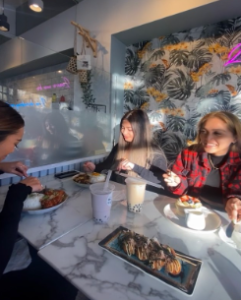 They're well-known for their boba's but what many people doesn't know is that they also sell different variety of food, from rice meals, to Takoyaki, and fluffy pancakes. 
They are located at Bachelor's Walk across River Liffey and is very easy to find.
It is one of the hang-out spots of the teenagers in town and is usually busy most of the day. They also keep on improving their menu by hearing out customers' requests and launching new things in store.
Whenever I stop by there, one thing I noticed about the restaurant, is their impeccable taste in music! So, it'll definitely be a vibe just going in to check it out.
5. Lao Chinese & Korean BBQ Restaurant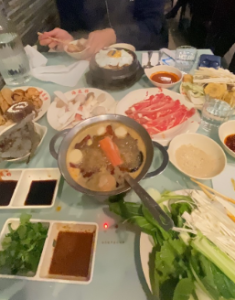 Last but not the least– Lao is located at Parnell Street. They serve Chinese & Korean dishes.   
One of their most popular offer is Hotpot, which is unlimited for as long as you can so you better be hungry when you're about to come here!
I have seen youtubers and tiktokers go to a Hotpot place and I just can't seem to understand what the hype was all about so I had to try it out myself.
It was everything I could imagine and more. By the time I finished, my stomach was already too full I can't even finish what I got from the buffet-like serving area. Fortunately, they let me have a take-away tub and plastic!
 
Alessandra Caballero is doing a BSc in Computing and IT at CCT College