According to the VSE survey from CASE, charitable support of U.S. higher education institutions totaled $59.50 billion in the fiscal year that ended on June 30, 2022. This is a big increase: 12.5 percent over 2021.
Among the 781 institutions that reported in 2021 and 2022, support increased 11 percent. Nearly two-thirds of this core group reported their charitable giving totals increased by an average of 25.7 percent. Giving to higher education in total dollars remains strong.
This 65-year survey is a key part of the research CASE provides to members and the broader philanthropic community. CASE has also made a great shift to rebrand its research arm "CASE Insights," which I like because it's always been about what we can take from the data to craft strategy.
You can read the full VSE key findings release here, and here's a few things I noticed in this year's data when I did a deeper dive.
CASE Releases enhanced data on grad year giving, gift distribution
There have been some significant changes to the VSE survey in the past year to align with the CASE Global Reporting Standards. These standards are a key tool, and I strongly recommend that you subscribe and use them. The survey allows for submission of core stats as well as some expanded stats for those who can get them done. Alumni participation has been removed, in alignment with the CASE focus on alumni engagement metrics beyond this single stat.
There are some great data insights in the survey from institutions that report advanced stats. One neat thing was the breakdown on alumni giving rate by class year, based on data from 200 institutions. While this isn't a full picture of giving given the low submission rate, it was interesting to see that very recent alumni are slightly above those 6-20 years out. We definitely have some work to do with young alumni giving. I'm still a strong believer in alumni participation as one core metric to always be tracked, and if we look at a future where the 50+ year alumni generation leaves us, it's concerning.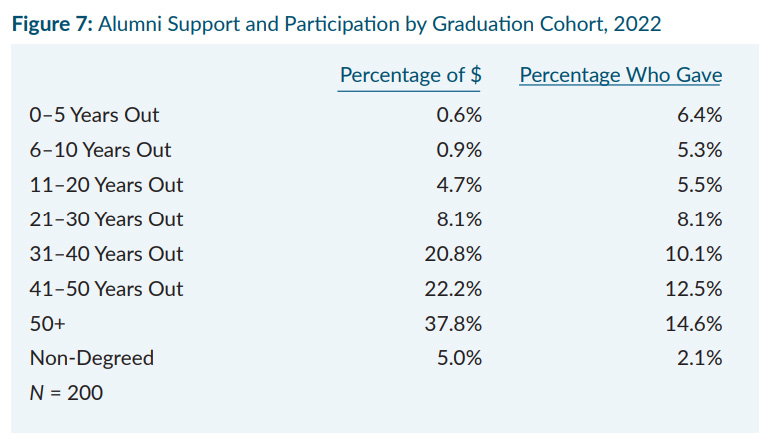 CASE now collects key additional data to go deeper into fundraising statistics, like alumni giving by generation.
Alumni donor counts remain down, and this will impact major gift pipeline
Over the past week, I did my usual deep dive into alumni donor counts, and I can report that over three quarters of institutions are still down on alumni count from the pre-pandemic 2019. Since we know that so many of our big givers have been multiple-year givers in the past, this is very concerning for future major gift pipeline.
Alumni Donor Count (VSE)
| | | | | |
| --- | --- | --- | --- | --- |
| | 19 to 20 | 20 to 21 | 21 to 22 | 19 to 22 |
| UP | 19.7% | 54.6% | 26.2% | 18.9% |
| DOWN | 80.3% | 45.4% | 73.8% | 81.1% |
| N= | 737 | 727 | 687 | 667 |
RNL Analysis of 2022 VSE Data from CASE.
Of the 667 institutions that reported in both 2019 and 2022, 81 percent are down on donor count between these times. There's significant volatility in this metric, which indicates donor churn and a trend toward abandoning alma mater as a chosen charity. "Donors down, dollars up," is a key trend in our philanthropic world right now.
My take is this: It's inspiring to see so much giving to higher education. But I can't help but wonder if we are in a phase of wealth distribution, and given that so many institutions (and charities across the world) are down on total donor count, is this really sustainable?
One ray of hope: While the large number of institutions who are down on alumni donor count are down by an average of -24 percent, the group that is up increased by an average of 46 percent. It's truly possible to grow alumni donors, and there are institutions hitting this metric out of the park even through the pandemic and tough 2021 economy.
CASE Insights is a crucial tool for your fundraising strategy, so join the community
Are you regularly submitting data to CASE? Getting your results into collections like the VSE survey helps us all see trends, and can be really powerful for your benchmarking to peers. And when you participate as a CASE member, you automatically receive access to the full data. CASE also conducts research on so much more these days, from studies on principal giving, to the valuable alumni engagement metrics. If you've lapsed in your reporting, or you're just trying to figure it all out, drop me a line.
And of course, my colleges at RNL are always ready to talk fundraising strategies with you. Reach out for a complimentary consultation and we'll set up a time to talk about your challenges, your goals, and the right strategies for your institution.
Talk with our fundraising experts
Let's talk about how you can increase donor engagement and strengthen your donor pipeline. Ask for a free consultation with our experts.