Why study in Ireland? There are so many reasons!
Hear some great ones from our Student Ambassador Pov Pheung
Top Reasons to Study in Ireland 
About Me 
Greetings from Ireland, Western Europe. My name is Pov Pheung; born and grown up near the World Heritage Angkor Wat in Cambodia. I am proud to be pursuing a one-year taught Master of Education at the prestigious Mary Immaculate College (MIC) of the University of Limerick. Thanks to Irish Aid for providing a scholarship to facilitate my participation on this course. 
I have big dreams. I want to teach at the university level and work with influential educators to improve education in my country. Studying abroad has been my ambition since I completed high school in 2001. However, the opportunity did not appear straightway to me. I completed teacher training courses in two colleges before I graduated with a Bachelor Degree in Mathematics in 2011 in Cambodia. Ten years later my desire to study abroad remained strong, while I still had many questions that had put me off the journey for so many years. I wish I had learned the answers in my twen
ties or so. I would love to share my top three questions and answers with you.  
Why choose to study in Ireland? 
All Irish universities are among the top 3% in the world.  
I must admit that difficulties such as distance from my home and climate differences came straight to my consideration. However, my desire to gain experience in one of the world's top-quality educational establishments strongly overrides these difficulties.  
What will I get from studying in Ireland?  
The direct output is that you will get a highly-regarded degree that will influence your future career. 
Believe me, I am learning much more than that. If you are like me, you will appreciate the following:  
Cooking: I did not cook at home, but I cook every day in Ireland. My family is looking forward to tasting my food when I get back!  
Embedding technologies in daily life: Did you know that Ireland is home to giant multinational companies like Google, Facebook, Microsoft, PayPal,Twitter, and LinkedIn? You will feel that hi-tech is everywhere in your daily life. Bring your smartphone with you; you will find everything on it. 

 

Interpersonal connection: You will have many opportunities to engage with people from different cultures worldwide. 

 
Self-regulation: I call Ireland "A World of Choices." You will have full autonomy to lead your daily life (within the limits of laws!). For example, I used to drink a beer every day at home, but now I replace alcoholic drinks with tea. Irish tea is lovely! You will see me with a pint of Guinness for occasional social events!

 

Hard-working: You may have heard people complain about Irish rain, but if you look on the bright side, the mild weather in Ireland helps you to work hard indoors in all seasons. 
Positivity: You may have read or heard about the laws of attraction. If you agree with this theory, Ireland is the best place to train your mind.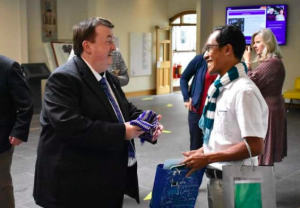 How do people in Ireland treat me as an international student?  
Ireland is very cosmopolitan. The Irish government is very welcoming, particularly to people in the educational sector.  
You can buy food from all over the world, including from ASEAN countries, in most stores.  
In a Podcast interview recently I was asked about three things I love the most about Ireland. I said "People, people and people." I really mean it!  
I have no hesitation in reassuring you that Ireland is the right option for your higher education. Together we will bring world-class competence back home to develop our respective countries.  
It is always possible to learn, but it is much better if you start early!  
Pov is pursuing Master of Education at MIC