Civil Rights leader the Rev. Al Sharpton traveled to Tallahassee on Wednesday to protest Florida Gov. Ron DeSantis' attempts to "bring the state back to the pre-Civil Rights era by banning Black history from the classroom."
Sharpton, president of the National Action Network and the host of MSNBC's PoliticsNation, took aim at DeSantis and the College Board that administer the exam.
"Gov. DeSantis is using his office to sanitize Black history from the education system," said Sharpton. "He might call this a crusade, but everyone can clearly see this is a campaign tactic for him to run for president. He is sending a message that it is permissible to make racism state policy."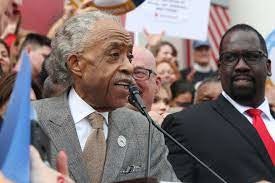 DeSantis' latest efforts to halt Advanced Placement (AP) African American Studies in Florida public schools continues to face nationwide backlash.
Sharpton joined members of the educational community, students, parents, clergy, members of the Black caucus, fellow civil rights leaders, and elected officials on a march to the Old State Capitol to protest what he called DeSantis's attempts to disenfranchise Black Floridians.
Over the weekend, Kimberlé Crenshaw, a leading critical race theory scholar, said it was "a shame" that the College Board removed the topic of intersectionality from its new Advanced Placement African American studies course.
"Intersectionality is a uniting framework. People seek common cause with each other," Crenshaw told Sharpton during the weekend airing of his nationally televised show on MSNBC. "So the reality is that Black people are not just straight, they're not just men, they're not just middle class."
"When we expand our understanding of Black reality to include the way the patriarchy, homophobia, class shapes our reality so we can better transform it, it means that we have connections with other movements and other people," Crenshaw, a law professor at Columbia University and UCLA, told Sharpton. "And that is exactly why they're trying to force us to give up intersectionality and that's why it's a shame that the College Board went along with it."
A number of civil rights organizations have called for the resignation of College Board CEO David Coleman and some prominent scholars have chastised the Educational Testing Service (ETS) for its support of the College Board during the public debacle.