Looking for a part-time job? Student jobs can be a great way to meet new people while making money too!
Student Ambassador Elgene Rong Jin Soh gives us the low-down on his experiences finding work in Ireland!
I am Elgene and I am from Malaysia. I am now doing my second year of Civil Engineering in Technological University of Shannon in Athlone campus. 
First and foremost, we know that it is not easy to stand a chance to study overseas as an international student particularly in Malaysia, which is located 10951 miles from Ireland. Before deciding to study abroad, a variety of factors need to be taken into consideration. Money is the first and most obvious cause. As a result, and I am not an exception, some part-time occupations may support international students in covering their living expenses while studying abroad. Currently, I am employed by Kin Khao Thai, an Athlone-based Thai restaurant. 
The opportunity to meet new people is the first benefit I can discuss from having a part-time job. We will interact with a variety of customers from various areas. As a result, it offers us a great prospect for our future careers. For instance, we met a lecturer from UCD in Sean pub, the oldest bar in Ireland, and had a nice conversation with her. She gave us the chance to get in touch with her in order to apply for summer internships. Additionally, we learn some important lessons from the lectures about university life as well as our future.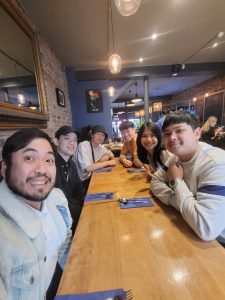 Second, I get an opportunity to participate in a Malaysian activity that I have never done before. I go kayaking in Lecarrow during the summer with the entire staff and the boss and his family. In addition, we have an evening barbecue session. We all take pleasure in the present and are blessed with wonderful memories. The fact that I met a decent employer and a group of amiable people in Ireland makes this noteworthy for me. The chance to study in Ireland has given me the chance to explore new cultures and attempt activities that I might not have had the opportunity to do in Malaysia. 
Aside from that, doing a part-time job at a restaurant allows us to taste various cuisines and learn how to cook. Despite being a Malaysian, I do not regularly eat Thai food. As a result, working in a Thai restaurant allowed me to try a variety of mouthwatering Thai dishes. While working in the kitchen, I can pick up cooking skills. We all understand that independence is a necessity for every college students. So, in order to survive in Ireland, one needs have good cooking skills.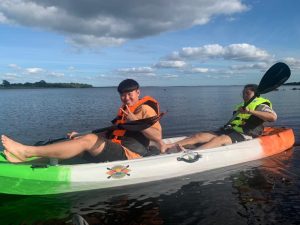 Last but not least, working in restaurants allows us to make significant financial savings. Every day, I eat two meals there. I occasionally bring back food that I can use for the next few days' lunch or dinner. I therefore save money as I make money. 
Last but not least, having a part-time job is only a small part of our university experience because we prioritize studying over working. Time management will be my final topic of discussion. As full-time students, we are allowed to work 20 hours a week in Ireland. We must therefore create our own schedules if we are to effectively manage our time. I only work weekends, therefore I will complete all of my tasks throughout the week and revise on the weekends in the morning before I go for work. Plan may not always be able to keep up with change, therefore we must learn how to handle everything to put us on the right path. Time management is therefore essential to avoiding all of this. 
Elgene Rong Jin Soh is studying Civil Engineering in Technological University of Shannon