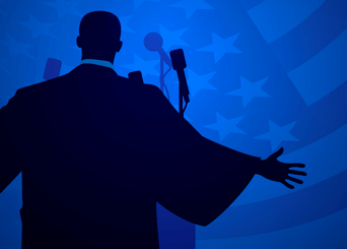 Irina Qiwi/ Shutterstock
Dr. Kelisha B. Graves remembers being a young student in public school, looking forward to the third Monday of every January as a day off.
"Every King holiday is a day out of school, without intentional reflection," said Graves. "At The King Center, we always say that the King holiday is a day on, not a day off. It's a day of not just reflection but concrete action. You can never take a break from social justice work."
Graves is the chief research, education and program officer at The Martin Luther King, Jr. Center for Nonviolent Social Change, a nonprofit organization founded by King's widow, Coretta Scott King, as a living memorial to King's philosophies and dedication to progress. This time of year, The King Center is buzzing with activity, coordinating and leading celebrations of King's life next Monday.
That activity is mirrored at institutions of higher education and educational organizations, where King's lessons of resistance to what he called the "triple evils," poverty, war, and racism, align with postsecondary missions.
"Higher education institutions are the engines of change in our society, premier hubs for knowledge production," said Graves. "They have an outsized role to play in terms of advancing the legacy of Dr. King and Mrs. Coretta Scott King."
King's alma mater, Morehouse College, an all-male Historically Black College and University (HBCU) in Atlanta, GA, is hosting several events between Jan. 16 and 31, including lecture and conversation series featuring speakers of national and international importance. Journalists Toluse Olornnipa and Robert Samuels will discuss their new book, His Name is George Floyd, connecting the past with the present.
"The idea here is to engage the Morehouse community and the community beyond our borders, to engage with history as well as contemporary issues," said Dr. Vicki L. Crawford, director of The King Collection at Morehouse, which holds over 13,000 original items that belonged to King, including speeches, sermons, and correspondence. The King Collection is an open resource for Morehouse faculty and students and is often exhibited for the public.
"This commemoration holds a lot of value for us at the college. It helps us to think about and rededicate ourselves to our mission, which is to develop men of disciplined minds who will lead lives of leadership and service," said Crawford. "I can't think of a better exemplar of intelligent leadership, character development, and moral and ethical leadership than Dr. King."
Morehouse students and others across the U.S. will turn the holiday into a "Day of Service," to go out and work directly with those in need in their local communities. At St. Mary's College of Maryland, the Alpha Kappa Alpha sorority will collect donations of food, school supplies, new clothing and shoes for area children. Kelsey R. M. Bush, St. Mary's chief diversity officer and lead organizer of the college's King celebration this year, said the event has always garnered positive local attention.
"The day of service is the reaffirmation of Dr. King's legacy. Service beyond oneself is a constant reminder that we are all here to serve one another, to work toward the 'beloved community' Dr. King spoke about," said Bush.
Dr. Glenell M. Lee-Pruitt, provost and vice president of academic affairs at Jarvis Christian University (JCU), said he hopes attendees of King Day events learn how they can help turn King's dream into "a global vision where all people of the Earth can share in its abundance.
"I do think that all colleges and universities should acknowledge and continue the work of Dr. King, because the same issues that Dr. King addressed in his life are still alive and well today," said Lee-Pruitt.
JCU, an HBCU in Hawkins, Texas, will host its annual prayer breakfast on Jan. 14. Members of the Hawkins community and the surrounding area, including business, religious, city and county leaders, have offered JCU "overwhelming support" for their King day events, said Lee-Pruitt.
And it isn't just colleges and universities that will be celebrating the life and legacy of King. So too will organizations and associations that work to advance equity issues both at the K-12 and higher education level.
At the Educational Testing Service (ETS) in New Jersey, employees are planning to engage in a week of service.
The organization's Center for Advocacy and Philanthropy have planned a number of service projects to address food and housing insecurities, and will feature several speakers including ETS's President & CEO Amit Sevak. Reverend Darrell Armstrong, pastor of the historic Shiloh Baptist Church in Trenton, New Jersey is slated to speak along with Lisa McNair, the sister of Denise McNair, one of the four little girls killed in the 1963 bombing of Sixteenth Street Baptist Church in Birmingham, Alabama. McNair is the author of a new book titled, Dear Denise: Letters to the Sister I Never Knew.
In 1965, King spoke at Queens College in New York City. This weekend, the college will use the day to celebrate those new voices who continue King's work, like journalist, activist and New York native Dr. Jelani Cobb, dean of Columbia University's Graduate School of Journalism, and singer Samara Joy, who will open the day with the Black national anthem, Lift Ev'ry Voice and Sing.
"Nearly 55 years after [King's] death, our nation is still in a fight for racial and social equality," said Simone L. Yearwood, associate dean and chief librarian at Queens College. Yearwood headed the planning committee for the day's commemoration.
"For many students, college is the first time they will encounter diversity, not only racially but through their experiences," said Yearwood. "Colleges and universities should use Dr. King's legacy to provide students the ability to engage with each other and have meaningful conversations about their experiences. This will help facilitate the development of empathy and allow students to gain an understanding of the world from different perspectives."