We've just launched our first 2023 Advancement Leaders Speak Survey. Prompted by RNL's fundraising advisory board and discussions we've had with RNL partners, we launched the survey early this year to answer some key questions we're being asked:
Are you up or down on donors, dollars, compared to last January, as you begin to complete the fiscal year?
What has impacted those results, from key strategy shifts, changes to events, the economy, and competition from other causes?
What are your key FY23 priorities, and do your priorities match with your leadership?
What holds the most promise and most challenge for fundraising in the coming year?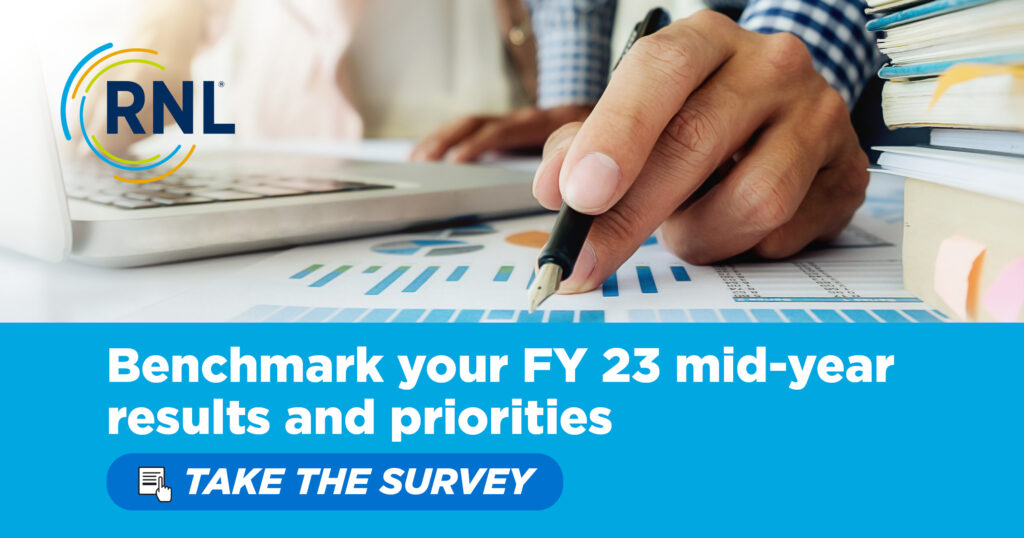 Please take the survey today. It's quick, but you can also spend any amount of time you have on the open-ended questions. It's also anonymous so that you can freely share your opinions.
It's hard to get benchmarking on how everyone is doing, across the fundraising universe, so we're excited to share this data with the donor engagement community as we craft strategy. Call it our Happy New Year (and Happy Half Fiscal Year for many) present to you.
We'll have the results of the survey, posted here, in a few weeks. While we wait for that, if any of these topics hit home with you, and you'd like to hear what our RNL consultants are hearing as we work with clients to move into the second half of FY23, reach out and we'll schedule a time to talk. And check out our fundraising research reports from 2022 and earlier for more great insights.