The U.S. Department of Education (ED) is proposing policies to reduce federal student loan payments costs, especially for low and middle-income borrowers. The new rules would create an affordable income-driven repayment (IDR) plan for student loan borrowers, simplify the program, and remove common pitfalls.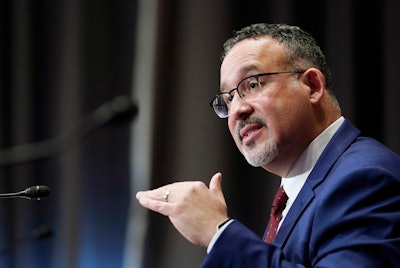 The proposed regulations would modify the Revised Pay As You Earn (REPAYE) plan to offer $0 monthly payments for individual borrowers who make less than roughly $30,600 annually and any borrower in a family of four who makes less than about $62,400; halve monthly payments on undergraduate loans for borrowers who do not have a $0 payment per this plan; and ensure that borrowers stop seeing their balances grow from accumulation of unpaid interest after making monthly payments.
"Today the Biden-Harris administration is proposing historic changes that would make student loan repayment more affordable and manageable than ever before," said U.S. Secretary of Education Dr. Miguel A. Cardona. "We cannot return to the same broken system we had before the pandemic, when a million borrowers defaulted on their loans a year and snowballing interest left millions owing more than they initially borrowed. These proposed regulations will cut monthly payments for undergraduate borrowers in half and create faster pathways to forgiveness, so borrowers can better manage repayment, avoid delinquency and default, and focus on building brighter futures for themselves and their families."
The proposed regulations will be open to public comment for 30 days, and ED aims to start implementing some provisions later this year.