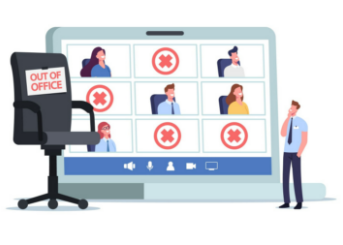 ivector/ Shutterstock
After a widespread meltdown and the cancellation of thousands of flights, a Southwest Airlines memo sent to some of the company's employees surfaced that stated workers who called out sick and didn't provide a doctor's note in person would be fired. Similarly, an Olive Garden manager made headlines last month when she told workers to prove they were sick or find another job. (She has since been fired.)
The anti-absence sentiments from some employers that are making the rounds come during a precarious time in managing sick leave and employee absences. As cases of COVID-19, flu and respiratory syncytial virus (RSV) continue to soar — in what some experts are referring to as a "tripledemic" — employers are faced with record employee absences.
"Many employers, particularly in the retail and restaurant industries, are still grappling with staffing shortages left over from the COVID and Great Resignation days, so the tripledemic is pouring fuel on the fire," said Kim Buckey, vice president of client services at Optavise, a Carmel, Ind.-based benefits administration firm.
Also, the newest COVID-19 variant, XBB.1.5, is predicted to result in a new surge of illnesses that will likely impact employers around the country. It's all causing one big headache for HR and company leaders.
But trying to put limits on employee sick policies and not allowing employees to take time off when they are sick, experts contend, is the opposite of how organizations — a la Olive Garden and Southwest — should best handle a wave of mass absences. And it will ultimately only create more problems.
"If your employees feel as though they're being forced to work in unsafe or unhealthy conditions, forcing them to come into work is a very effective way to really crush engagement," said Annie Rosencrans, people and culture director at HiBob, a New York City-based HR software firm. "If a manager or team lead wants to engage employees, they need to make sure their employees know that their well-being is a priority to them. The moment someone signals employee health isn't important, they'll see a dip in productivity and engagement."
Not only will productivity and engagement ultimately take a hit, but employers are also likely to lose out on talent. Research finds that employees who feel that their employer doesn't prioritize their health and well-being are more likely to leave their organization. For instance, a survey of 9,000 workers from employee well-being platform Gympass found that the majority of employees (77 percent) say they would consider leaving a company that doesn't focus on well-being.
Although it's a complex time for employers, it's also a difficult time for employees as they deal with so many health threats. Experts say proper management, workforce planning and empathy are key, as are disease mitigation strategies that may help employers keep cases from spreading.
Focus on the Long Term
Employers and HR leaders should ensure that managers are equipped to prepare for mass employee absences and sick-day requests. First, they should understand that now is a difficult time when it comes to illnesses, and they should expect a significantly higher number of workers to be out sick. They should also be aware of state, federal or local laws that require paid sick leave for employees.
Allowing — and even requiring — employees to come in sick will only cause more problems and likely result in more staff getting sick, as well as customers or clients, experts said. So even if it seems helpful in the short term to keep employees working, long-term issues will likely arise that will impact more staff. Ensuring sick employees stay home can keep a staff outbreak at bay.
"[Employers need to] consider including empathy as a performance measurement," Buckey said. "They need to understand the need to balance staffing requirements with protecting those who do come to work; for instance, don't allow sick employees to come in and risk infecting healthy employees."
Employers can ask employees to help try to cover shifts if they are up for doing so. And employers can allow employees to work remotely if they are sick with mild or asymptomatic cases — if they choose to.
"Ask or empower employees to try to find others to cover all or part of their shifts," Buckey said. "Management may need to be prepared to step in and fill certain roles short-term. In the end, we may need to go back to the early days of COVID — where companies, especially small businesses or locations, shut down temporarily due to staffing shortages. A short-term closure now might prevent longer-term issues later."
Rosencrans suggested that, when possible, employers and managers have a process in place for when people are out. "Make sure there isn't one sole person who holds all the information for a project, a deal, a client and so on," she said. "Make sure there are resources in place so if someone has to drop off, someone else can pick up the pieces. Having a single source of all the key information puts this employee in a position where they can never take time off, and it doesn't create continuity for the team."
Buckey added that employers should have a shutdown plan as well as a plan to determine whether and when to approve other time-off requests — like for vacation — that don't have to do with illnesses. And the further in advance employees take time off for vacations –especially at times when employees often look to take the same days off — the better. "Be sure to communicate this to employees throughout the year, particularly in advance of the holidays," she said. "Emphasize the need to balance physical, mental and financial health."
Mitigation Measures
Health experts also point to tried and true mitigation efforts — like mask wearing and good indoor ventilation — that can help offices cut down on rampant COVID-19, flu or other infections among their employees. Organizations may also want to consider other measures taken by many organizations at previous stages of the pandemic — like cutting down on in-person meetings and events or capping the number of people in offices at once. That's because if one employee gets sick, it often causes a domino effect for a workforce.
Overall, empathy and understanding are vital during this time, experts said.
"For sick leave and time-off requests, assume positive intent and practice empathy," Rosencrans said. "If you think there is abuse of a policy — someone is taking time off last minute around holidays or frequently on Fridays — then it's OK to ask for a doctor's note from them, in partnership with HR or a benefits professional, or just ask, 'Is everything OK? How can I help? Is there anything at work that's impacting your health?' This shows that you care and you want them to be well."