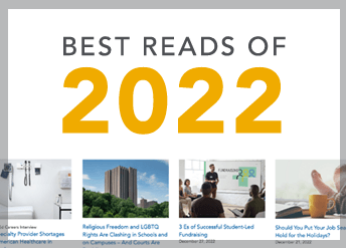 2022 was a special year for me. Those who know me closely might say it's because I had my first child, but among the many treasures 2022 brought, I also advocated for and accepted a long-sought-after position. It was a year for reflecting and taking control of the direction I wanted my career to take. At HigherEdJobs, through our editorial content, we hope to play a small part in helping you, our readers, do the same in your higher education careers. In that spirit, we've gathered some of our top articles from 2022 — ones that piqued your interest, gave you hope, and inspired you to keep pursuing your dream career.
We hope this list gives you courage and hope in your careers as you kick off 2023. Thank you for reading and joining in the conversation!
Thank you for reading! We look forward to being a part of your career journey wherever 2023 takes you.

Disclaimer: HigherEdJobs encourages free discourse and expression of issues while striving for accurate presentation to our audience. A guest opinion serves as an avenue to address and explore important topics, for authors to impart their expertise to our higher education audience and to challenge readers to consider points of view that could be outside of their comfort zone. The viewpoints, beliefs, or opinions expressed in the above piece are those of the author(s) and don't imply endorsement by HigherEdJobs.