RNL's 2023 graduate and online research agenda will include an analysis of the policy and practice adjustments that are most likely make graduate or online students select your institution rather than the others they are considering (75+ percent of these students consider at least two institutions). To accomplish this and make the results as useful as possible, we are giving you the chance to help shape our research (more on how to do this at the end of this blog).
First, here's the context for the research. We will conduct two simultaneous surveys:
A survey of students about the policies and practices that are most likely to make them select one institution/program over another
A survey of institutional enrollment leaders (people like you) about the level of difficulty in making the changes that would align policies and practices with what is most important and compelling to students.
Here is a how we will pose these questions:
Students: For each of the following, please rate the level of importance in selecting the institution/program in which you will enroll.
Institutions: For each of following, please rate the difficulty in making each of the following things happen at your institution.
Our analysis will use a matrix to chart both the importance to the student and the level of difficulty in making these things happen at institutions. It will look something like this: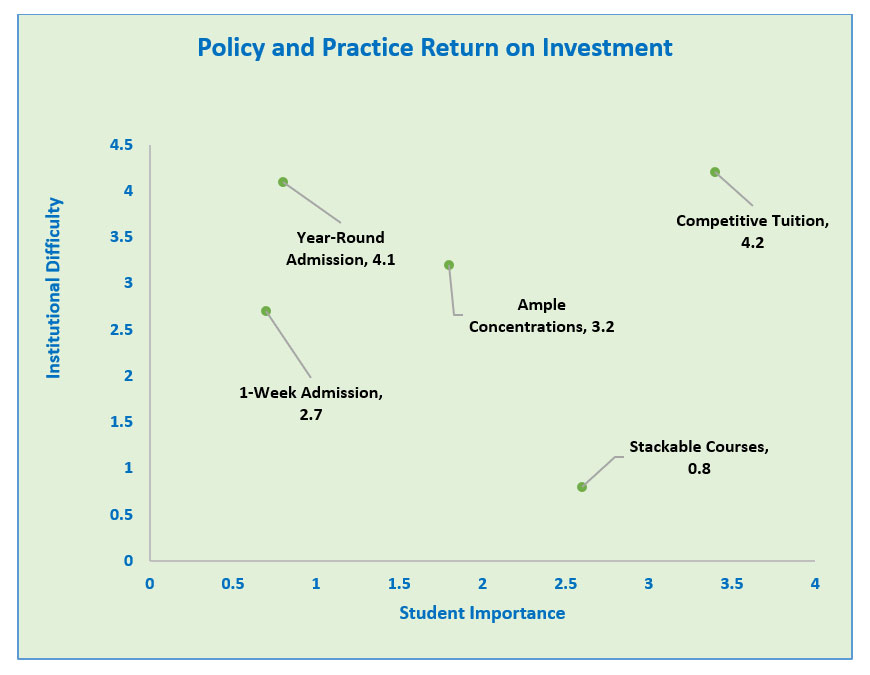 Our list of these policies and practices begins with factors that arose from our 2022 survey of 1,600 prospective online students. These factors are:
Tuition is competitive with other programs I am considering.
Program offers considerably electives, concentrations and other ways to customize the program to my interests.
Admissions decisions are made within two weeks of application submission.
Inquiries and questions are responded to within minutes or hours, not days or weeks.
Classes are shorter than semester length.
Data on the career success of graduates is readily available.
You can start the program at times other than the fall semester.
You can enroll in courses year-round.
The reputation of the institution.
You can "stack" accelerated courses to qualify for full-time status.
Now, here's how you can help craft our final research set….
Take 60 seconds and help shape our research to meet your interests
Click here to answer two quick questions:
The five things that you are most have included from our list of topics.
An open-ended question to recommend areas of study we have not listed.
This should just take a few moments. And be sure to also include any additional concepts you'd like to see included in our final list.
We appreciate your help with the research and look forward to sharing our findings with you in 2023. Again, just click here to provide your input.