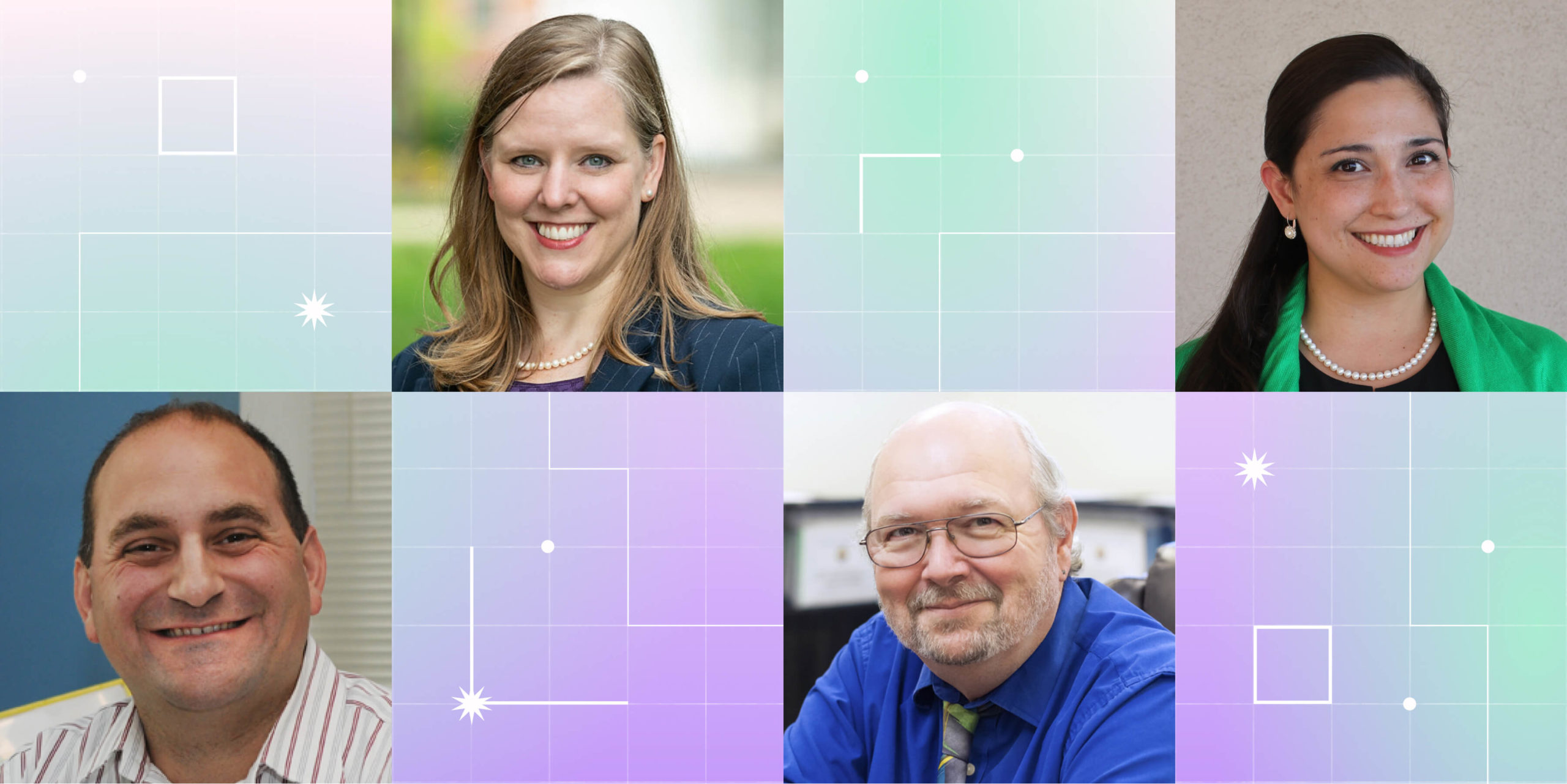 Communication. It's one of our most powerful tools to solve ethical challenges, present diverse perspectives and improve the quality of human life and relationships. So it's no surprise that millions of academics have dedicated their careers to highlighting the importance of communication in and out of the classroom. 
The National Communication Association (NCA) brought together more than 4,000 Communication scholars, teachers and practitioners at their annual convention held in New Orleans from November 17–20, 2022. Attendees enjoyed three days of programming designed around Honoring PLACE: People, Liberation, Advocacy, Community and Environment. 
At the convention, four authors of Top Hat's dynamic textbooks were recognized for their outstanding contributions to the basic course and broader Communication field. Made clear by their collaboration and teaching expertise, all authors are passionate about creating learning experiences that are personalized, inclusive and designed to prepare students for their careers. Get to know them below.
What is the Basic Course Division?
The Basic Course Division of the NCA promotes the teaching, study, research, assessment and administration of communication in basic course settings. Further, institutions adopt one of two models that make up what's known as the "basic course." The first is a public speaking model that equips students with the skills to deliver effective presentations. The second is a hybrid course model that offers an overview of communication subjects such as interpersonal communication, small group communication and public speaking. Almost all first year college students are required to enroll in the basic course to apply general principles of inclusive, positive and effective communication in a variety of contexts. 
At the Basic Course Division Business Meeting—a space where those who oversee the delivery of their institution's basic communication course convene—Top Hat authors Melissa Broeckelman-Post, George Griffin, Kristina Ruiz-Mesa and Joe Valenzano took home awards for their contributions and dedication to the Communication field.
Distinguished Article Award: Melissa Broeckelman-Post
The Distinguished Article Award recognizes one outstanding published scholarly article that contributes significantly to the administrative, delivery or curricular aspects of the basic course. Melissa Broeckelman-Post took home this award for two peer-reviewed, co-authored articles (titled Improving Well-Being in the Basic Course: The Impact of Interpersonal Communication Anxiety and Public Speaking Anxiety on Loneliness, Belongingness, and Flourishing1 and What Communication Skills Do Other Disciplines Value Most? A Communication Across the Curriculum Needs Analysis).2 Broeckelman-Post is a Professor and the Basic Course Director in the Department of Communication at George Mason University. She also currently serves as Chair of the Faculty Senate.
About her Top Hat titles: Broeckelman-Post is co-author of three dynamic Top Hat texts, including Inclusive Public Speaking, Communication Pathways and The Speaker's Primer. Inclusive Public Speaking weaves diversity, equity and inclusion through chapters that invite students to reflect on their intersectional identities. Communication Pathways unpacks the role of dialogue in helping students debate ideas civilly and disagree without being disagreeable. The Speaker's Primer is an essential  guide that offers an ethical focus on public speaking as it occurs in academic, professional, and personal situations.
Textbook of Distinction: George Griffin
The Textbook of Distinction Award recognizes a basic course textbook in public speaking, interpersonal, hybrid or custom content areas. The award acknowledges a Basic Course Division member and the efficacy of their textbook within the basic communication course at their institution. George Griffin is the winner of this prestigious award. Griffin, Adjunct Professor in the Humanities and Communication department at Stetson University and Embry Riddle Aeronautical University, was recognized as lead author of Effective Public Speaking, a dynamic Top Hat text. "We created a tool that works across the board—a book that a seasoned professor can use as well as a beginning speech teacher. But more importantly, we accomplished the goal of developing a student-friendly, non-intimidating guide for developing competence and confidence as students become effective speakers," says Griffin.
About his Top Hat title: In partnership with several Communication scholars, Griffin's Top Hat text tackles the single biggest challenge students face when delivering public speaking engagements: stage fright and speech anxiety. Taking a practical approach and conversational tone, Griffin's text gives students an opportunity to learn about speech concepts in the form of short videos and 'read, watch, do' vignettes.
Basic Course Division 2022 Program of Distinction: Kristina Ruiz-Mesa
This award recognizes the distinctive excellence of basic communication course programs and to identify programs that can serve as best practice models for other programs nationwide. Kristina Ruiz-Mesa is the recipient of this honorary award. Ruiz-Mesa is an Associate Professor of Communication Studies and the Basic Course Director for COMM 1100: Oral Communication at California State University, Los Angeles. "Being a Basic Course Director for a large program that teaches up to 4,000 students annually is incredibly rewarding. I am proud of my team and the work we have done over the last 9+ years to design a program grounded in student needs, reflective of diverse student experiences, and that builds oral communication skills to support personal and professional growth," Ruiz-Mesa says.
About her Top Hat title: In addition to her role overseeing the basic course structure at California State, Ruiz-Mesa is co-author of Inclusive Public Speaking with Melissa Broeckelman-Post. The textbook uses a diversity and inclusion framework to ground communication theories and models. Students are invited to reflect on their intersectional identities and experiences, and to explore how their social positions inform their communication decisions and interactions. 
Don Yoder Distinguished Faculty Award: Joe Valenzano
The Distinguished Faculty Award recognizes a current or former basic course instructor or director who has demonstrated a commitment to the basic course in any format. This individual is recognized for their research, training or assessment, in addition to teaching excellence in the basic course for more than 15 years at minimum. Joe Valenzano, Professor and Chair of the Department of Communication at the University of Dayton, is the recipient of this esteemed award. "The award truly holds special meaning for me. It doesn't just recognize me, but all the folks whom I worked alongside with as Basic Course Director at UNLV and then UD. They deserve a ton of credit for all we did together, and I am proud to see their work recognized in this award as well," shares Valenzano.
About his Top Hat titles: Valenzano is the co-author of three dynamic Top Hat textbooks including The Speaker, The Speaker's Primer and Communication Pathways. In The Speaker: The Tradition and Practice of Public Speaking, Valenzano and co-authors Jim A. Kuypers and Stephen W. Braden emphasize the historical significance of speech communication as social action in conjunction with skill-centered pedagogy, helping students understand the "why" and "how" of their craft. In partnership with Melissa Broeckelman-Post and Braden, The Speaker's Primer offers an ethical focus on public speaking as it occurs in academic, professional and personal situations. For courses using a hybrid approach, Communication Pathways emphasizes communication theory in the context of meaningful dialogue. The text was authored again in collaboration with Broeckelman-Post and with support from Erin S. Parcell.
References
Broeckelman-Post, M. A., Hingle Collier, A., & Huber, H. K. (in press). Improving well-being in the basic course: The impact of interpersonal communication competence and public speaking anxiety on loneliness, belongingness, and flourishing. Basic Communication Course Annual.
Broeckelman-Post, M. A., Norander, S., Ball, T. C., Quesenberry, B. A., Adebayo, A. L., Munson, S., Collier, A. H., Stewart, B. M., & Taylor-Heflin, S. M. (2022). What communication skills do other disciplines value most? A communication across the curriculum needs analysis. Communication Education, 1–21. https://doi.org/10.1080/03634523.2022.2136395