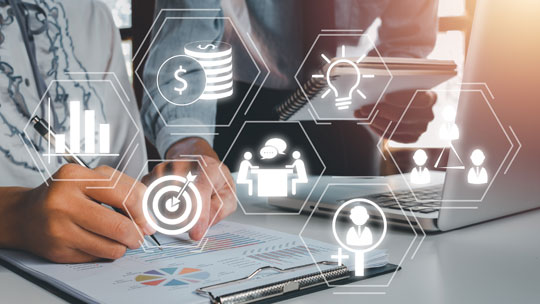 You call them when you need data. You rely upon them for information when conducting self-studies and when you go through accreditation reviews. But do they know what your department does and needs? Your campus partners in Institutional Research (IR) sit a virtual gold mine of data. As institutions have embraced technology platforms and systems, the additional data that is (or can be) available can unlock many hidden institutional secrets. Of course, there are a plethora of variables impacting the usability of that data, but if it can be harnessed, analyzed, and utilized appropriately, there is a treasure trove of information to leverage.
I've been thinking about these relationships in my work at RNL, which centers on helping institutions advance their marketing and enrollment success. We do this through a "hands on" workshop approach. A critical component of this work focuses on applying what institutions know about their prospective and enrolled students to their marketing and enrollment planning. The core team we work with are marketing and enrollment staff (while drawing in others as needed), and I've noted that these stakeholders often do not have an ongoing working relationship with their IR team—and for that reason are not sure what data IR has available.
With this in mind, we have identified five areas in which enrollment/marketing and other stakeholders and the IR team can work together for institutional success.
1. Enrollment data
Not only can you look at your historical application and enrollment data, but you should be able to slice and dice this data to further explore trends among demographics, geolocation data, feeder information, application completion rates, conversion rates, and much more. It's even stronger if your IR expert can glean data at the prospect and inquiry stage. This is usually accomplished by either integrating data from the admissions customer relationship management system (CRM) into the student information system (SIS), or having the ability to port all the data into a data warehouse and mine data as needed by status type.
That said, IR personnel may only have a surface level understanding of which data are most important for the admissions funnel. This is why it is worth building a working relationship with IR and helping them understand the levers that make a difference in enrollment. A recent client indicated that after building such a relationship, her IR leader came to her and said, "Did you know that last year only 3 percent of our applicant pool came from this neighboring state, but the year prior it was 6 percent? This may be one of the factors at play for the decline in our applications." This is exactly what developing the relationship can do to accelerate data-informed strategy.
2. Financial aid data
Financial aid data can also reveal many things about new incoming students and continuing populations. Of course, there is interest in knowing the "usual things"" such as the percent of Pell eligible/receiving students, but there are implications in knowing less typical data points—percent of students (and parents) taking out loans, average loan amount, and work study. There is an important relationship between enrollment data and financial aid data that can assist enrollment officers in understanding student needs, calls-to-action that might engage particular populations more, and more. Also, for private grants and awards, understanding utilization rates to see which funds go underused (and why) are important for enrollment leaders to consider when adjusting strategy. There may be a need to change language (with permission of grantor, of course) to open up the funds to other populations if funds are continuously underutilized.
3. Institutional research grants
Depending on the type of institution (R1, R2, R3, etc.), there may be dedicated resources to oversee research grant expenditures, allocations, and other usage of those funds. That data should be shared with IR to track and analyze in order to be available to other campus stakeholders for uses that may not be clear unless those relationships with IR leaders has been cultivated. For example, marketing may be interested in knowing the total number of grants, the dollars allocated, who the grant funders are, and how those dollars were used to do research, attract faculty, support lecture series, support publications, etc. from an aggregated perspective, that is valuable information for the institution to promote in a number of ways and venues.
Talk with our enrollment experts
Let's talk about how you can find the optimal strategies for digital marketing, inquiry management, financial aid awarding, optimizing yield, and other key actions.
4. Student accounts and net tuition revenue
Knowing what the net tuition revenue (NTR) per student at the full-time equivalent (FTE) level may seem like a basic information—particularly as institutions continue to deal with the pressure of constrained resources that demand more strategic decision making. However, many institutions do not track NTR and how it fluctuates from one year to the next (or even one term to the next). Your IR team, in concert with student accounts, enrollment, and a chief financial officer (or designee), can work together to develop a way to look at NTR on a quarterly or biannual basis. This is a critical way for institutions to focus on fiscal health by knowing what NTR they need to hit to be fiscally sound. A firm understanding of NTR will help with setting budgets, discount rates, and other critically-related academic decisions.
5. Academic data
Along with NTR, data such as adjunct costs, classroom capacity studies, and cost of instruction can be very insightful when making cost-related decisions. In addition, data on student success rates and withdrawals, D and F grades, or WDF data by course/instructor are helpful in student retention efforts. Waitlist and course load data by modality can also be analyzed to understand student behavior as it relates to persistence. There is a truckload of data that can be explored in the academic arena providing insights to persistence, academic readiness, and other factors which may be of interest to the institution. And once you have it all, distribute it widely. While it is clear that academic stakeholders can use these data, it is also helpful for other stakeholders to know what is going on. Again, it is all becomes so much clearer when the relationships have been developed.
Getting to know your Institutional Research office pays off
The five areas mentioned above simply scratch the surface. There is more that can be explored with student success (including academic advising), student services (including many offices), facilities and housing, dining services, institutional technology, the registrar's office/registration services (aside from just the academic data mentioned above), and so much more. The point is—get to know your IR office personnel and be sure they know you too! Collaborations with your office and IR could make a HUGE difference in your strategic enrollment planning efforts!
And if you want to discuss how you can increase collaboration, uncover data for strategic planning, and align your enrollment efforts, reach out to us for a complimentary consultation.