For as long as I have worked in higher education, there has been an ongoing debate about the extent to which higher education ought to embrace business practices, think of students as customers, and tailor offerings based on market demand rather than other institutional objectives.
This is an open debate, and while I generally end up leaning slightly—but cautiously—into the "embrace business practices" when it comes to ensuring that both student expectations and student demands are being met, I have seen enough examples of applying other business practices that objectively do not work for organizations that are NOT businesses.
With this in mind, I was skeptical when my colleagues told me about a new consulting service we are offering at RNL. Student Journey Mapping is described as "applying business process mapping to higher education."
So what does this mean in practice? Student Journey Mapping applies the principles of business process mapping to ensure that the administrative processes (admissions, registration, on-boarding, financial aid, etc.) are delivered in a manner that is "student-centric." After talking about it with my colleagues on a recent webinar, I think I got it. They're talking about good customer service, and I'm all on board for that.
Here's a 60-second excerpt from the webinar (click to watch the entire webinar).
During that webinar, we asked our audience the extent to which they think their administrative processes are designed to be user-friendly (or "student-centric.") While the largest proportion indicated that they are on their way toward offering good customer service, only 5 percent indicated that they had absolute confidence that the processes that their students are required to complete are highly "student-centric."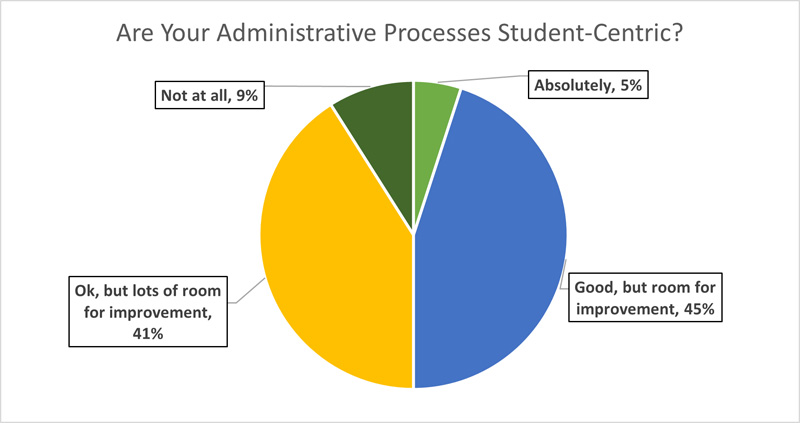 The Student Journey Mapping process has three essential components
1. Understand your current state
This may seem obvious, but how often do you bring together a team from a cross section of your institution to analyze what, how, when, and why you do what you do? This is an essential part of the process.
2. Create your process maps
Only after you have really dug into the what, how, when, and why of your processes today should you begin to map those processes with an eye for how what may seem like disparate processes and policies work together (or against each other.) The analysis of your current state also provides an opportunity to find the things that really do work, the things that you can celebrate and build on.
3. Develop your action plan for change
In 20 years of working with colleges and universities, one of the most challenging parts of change management is taking the research and applying to make meaningful change. This is the point at which a professional facilitator may be of invaluable importance. While all institutional stakeholders have a full plate, a facilitator can ensure that as little gets added to each stakeholder's plate and that everything they are asked to do is of the most vital importance to the student experience.
Watch the full webinar and contact us for a complimentary consultation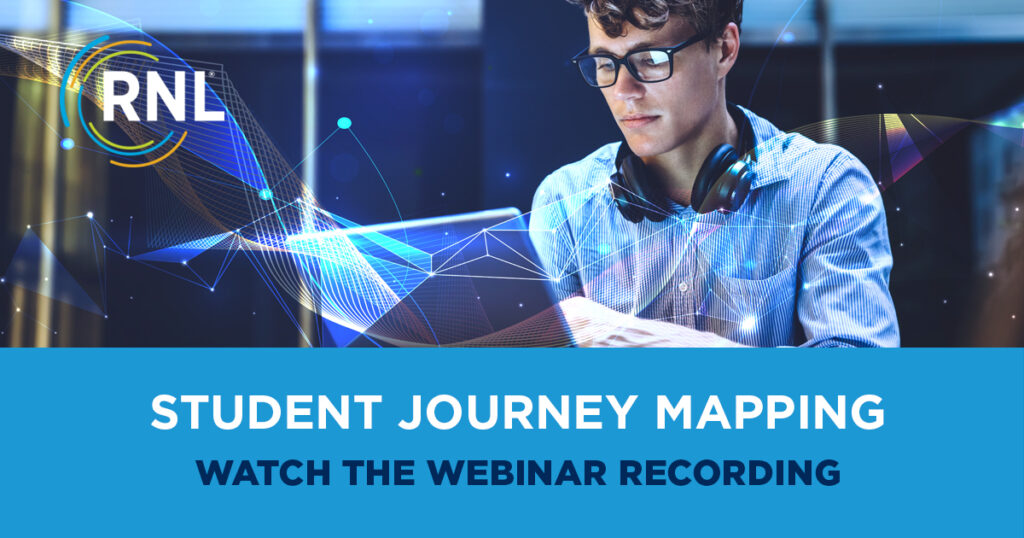 The full 45-minute webinar is an excellent exploration of how you can strengthen the student experience with Student Journey Mapping. You can watch it now.
We are also happy to provide a complimentary consultation about student success and enrollment. Simply reach out to our enrollment experts and we will set up a time to talk.